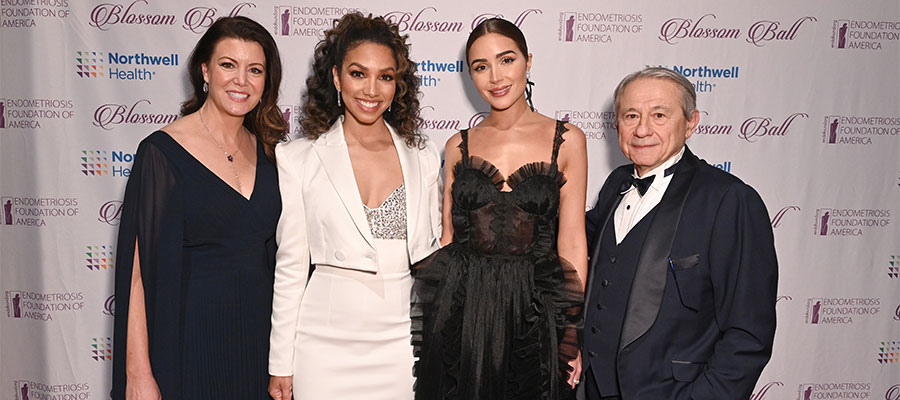 Photo: Getty Images for the Endometriosis Foundation of America.
Last night, the Endometriosis Foundation of America (EndoFound) celebrated the 11th annual Blossom Ball in New York City. EndoFound's signature fundraiser raises funds for essential research and advocating at the top levels of the federal and local governments to garner much-needed support for endometriosis.
Attendees included Blossom Award Honoree and EndoFound ambassadors Olivia Culpo and Corinne Foxx. Both made acceptance speeches, touching on their own battles with the disease and how their communities have supported them to address the night's theme – More Than The 1 in 10 (1 in 10 women have endometriosis). Each honoree was also feted by a parent, with Jamie Foxx sending a video message to Corinne and Olivia's mom Susan Culpo in person.
Michael J. Dowling, CEO of Northwell Health, received the Industry Award. It was accepted on his behalf by Kevin Beiner, Senior Vice President and Regional Executive Director, Western Region, Northwell Health.
Endo Found co-founders Tamer Seckin, MD, and Padma Lakshmi, and EndoFound Executive Director, Dr. Tracey Haas, were also on-hand for the festivities, as were Molly Qerim, Lexie Stevenson, Leslie Mosier -- Momager of Doug the Pug, Amanda Fuller, Avery Singer, Samantha Stockton, Judy Joo, and Adam Richman. The evening was emceed by Alicia Vitarelli, anchor and reporter for 6abc Action News in Philadelphia.
Though she couldn't appear in person, Bindi Irwin, who recently underwent endometriosis surgery, appeared by video alongside her mom Terry and brother, Robert, to tell her emotional story about her battle with endometriosis and her recent procedure.
The Irwin family also surprised the crowd with a signature auction item – a specially planned trip to the Australia Zoo and The Crocodile Hunter Lodge – won by Corinne Foxx! Other big auction winners, Olivia Culpo and Padma Lakshmi, each won a trip to Iceland.
Producer and host of EndoFound's EndoTV, Diana Falzone, was doing interviews on the red carpet.
The evening culminated with an amazing rendition of "Over the Rainbow" by theater actress and singer Hannah Elless, followed by an after-party with DJ Rimarkable.
Presenting sponsor for the evening was Northwell Health.
Olivia's Speech
Corinne's Speech