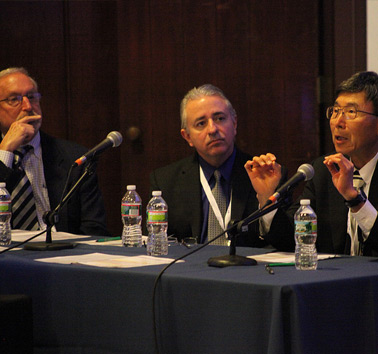 Endometriosis Foundation of America
Endometriosis 2013 / Endometriosis Q&A
C.Y. Liu, MD, Harry Reich, MD, Juan Salgado Morales, MD
C.Y. Liu, MD: By looking at the picture, you know looking at Ted Lee's data does hysterectomy, play any role in the treatment of severe endometriosis after they complete their reproductive desire?
Dan Martin, MD: About five years ago I published a review on why hysterectomy has worked for pain. All the data we have on pain cannot distinguish between dysmenorrhea, cyclic pelvic pain, non-cyclic pelvic pain and constant pelvic pain. All the data gets mixed together, nor do I know how to develop a research protocol that I could effectively separate those out into something. Hysterectomies decrease pain if for no other reason because you do not have dysmenorrhea after a hysterectomy. So you get rid of that part of the pain. The rest of the pain is much more variable.
C.Y.Liu, MD: So your answer is yes, for severe endometriosis after they complete their reproductive desire.
Dan Martin, MD: That is too specific.
C.Y. Liu, MD: With continuous pain.
Dan Martin, MD: Yes in general.
C.Y. Liu, MD: Okay, right.
Dan Martin. MD: Not in specific.
C.Y. Liu, MD: All right, Ted do you have a comment on that?
Ted Lee, MD: When I started showing my slides there are many reasons hysterectomy helped the patient's pain. A lot of times as we get better and better at diagnosing endometriosis, Dr. Martin showed different variations of endometriosis, just because it is there that does not mean it is a source of a patient's pain. That is why they instructed me a lot of you allow a higher success rate in terms of pain relief and so on. Also in patients with severe endometriosis I think it helps those patients, it makes it easier to remove the disease en bloc when the uterus is there. When we remove the uterus with it I think we do a more complete excision with the uterus out of the way. Also the fact that you do not have retrograde menstruations anymore your pelvis is not being challenged repeatedly every month with retrograde menstruations. That will decrease the disease burden and maybe, hopefully, allow your body to respond to that by itself. Those are many different reasons but I think if patients are done with childbearing, and I have many patients who want to keep their uterus for various reasons, I try to talk them out of it. If they do not keep the uterus for fertility reasons I strongly discourage them to keep it.
C.Y. Liu, MD: So your answer is you recommend it if after you did the excision surgery, you did the radical excision of surgery, and yet patients still...a normal desire with childbearing you recommend hysterectomy.
Harry Reich, MD: Ted, you said, used the word en bloc. With hysterectomy I believe we should do it. Endometriosis - it is two surgeries. Endometriosis excision surgery followed by hysterectomy. I do not know of anybody who does for endometriosis a hysterectomy en bloc, taking endometriosis and everything else with this single specimen.
Ted Lee, MD: I think I showed you my videos earlier today that connected with... For the pelvis I cut... That is how I do it. Especially for really severe endometriosis I leave endometriosis as the last part of the procedure. It is not the first part of the procedure, it is the last part. For me it is easier to cut off the blood supply first and then deal with endometriosis later.
Harry Reich, MD: So you do not have one specimen? You do not have one specimen you have - once the uterus is out then you have to go after the rectal stuff. You usually do not do that until the uterus is out. Okay.
Ted Lee, MD: Having the uterus out is easier for me to do the rest.
Harry Reich, MD: Definitely.
Tamer Seckin, MD: I just want to make a comment. After the radical excision surgery, if the uterus looks normal in MRI, no uterine pathology no adenomyosis I am not sure...
C.U. Liu, MD: The patient still has pain.
Tamer Seckin, MD: Yes, we need to really - the pain itself, the character of pain tells most of the time what is wrong in these patients. Most of these - this is such a multi-organ disease. If the disease is that advanced to retroperitoneum, then disease in the bowel and if the bowel symptoms do not go you need to really look for it because it is the most common place we miss the disease, bowel and the pelvic sidewall. And I do agree that hysterectomy has a definite place in the manual, particularly if there is adenomyosis. However, when we look at these cases back and back again, the lesions are really most of the time on non-reproductive surfaces, really pelvic sidewall, pararectal areas and everything. This is one, the second thing is I am very challenged - I appreciate Abrao showing and we really it is exciting to see the rectal sonogram and MRI and such. But, many times you put your - you examine the patient you really feel, Abrao, the lesions are there.
My challenge are the ones that I do not feel 10 cm above which I was really humbled many times, even just recently, But you do not know, MRI is negative, everything, colonoscopy is negative, even inspection laparoscopy if you really do not stop and look for it you can easily miss it. That is the most challenging part, do you agree with that.
C.Y. Liu, MD: Mauricio here.
Mauricio Abrao, MD: Yes.
C.Y. Liu, MD: We just continue this question for that.
Lone Hummelshoj: Can I just - we have not got a lot of time, can I ask people to keep their questions and answers and comments brief, thank you.
C.Y. Liu, MD: Mauricio I see you use a CA125 as a biomarker before surgery. Do you also use a CA125 for the post-operative follow-up?
Mauricio Abrao, MD: In terms of this question C.Y. I use it before much more CA125 before they tell me the hemogenates. Now sometimes I use it - it depends on - but when I use it before the surgery I try to make the dosage during the menstrual cycle. After the surgery I try to use to follow when there is some residual pain, but it is not the exam. Many, many studies are being done to look for a new marker but there is no conclusion yet. I hope that in the next three or four years we have a combination of markers, metaproteomics. I think that Michael spoke very well about this.
C.Y. Liu, MD: Your answer is we do not have a good biomarker to follow up the patient post-operatively for endometriosis.
Maurico Abrao, MD: Unfortunately, not. Yes.
C.Y. Liu, MD: Now, The answer Tamer just gave - would you recommend to the patient after you did radical, incisional surgery on endometriosis, where the uterus looks normal, the patient still has pain, would you recommend to the patient to have a hysterectomy as part of pain management? Or it just depends on the psychologist?
Mauricio Abrao: Two comments on this CY; one of them is I agree with Tamer that if the uterus is normal as seen by MRI or even by ultrasound, no signs of adenomyosis I do not see indications to remove the uterus, even because we can use the uterus. For example to place an intrauterine device with progesterones if you want with low side effects. And the other thing is that the concept of pain related to endometriosis is changing a lot. If you look for the last World Endometriosis Congress in Montpellier the study that won the prize of best study was related to pain showing that the pain may be related to other aspects, not just the site of the disease. We need to think about myofascial pain or the central control of the pain. It is not removing the uterus that you solve the problem.
C.Y. Liu, MD: Okay, Harry?
Harry Reich, MD: It is my belief that hysterectomy with extensive endometriosis operations should still remain a patient choice procedure because you can do very good excisional surgery and leave the uterus in I would say 99 percent of the cases. Agreed?
Ted Lee, MD: I think that one of the things we omit is that part of the physical exam regarding pain. If the patients have endometriosis removed that...uterosacral is not tender anymore and you palpate the uterus and they say, "That's my pain". If the uterus itself is the source of the pain then you remove the uterus whether the MRI or ultrasound shows any evidence of adenomyosis, in general my clinical practice. If I can reproduce the pain on exam then generally the patient's surgical outcome would be better.
C.Y. Liu, MD: So you depend on the physical exam.
Dan Martin, MD: A question for Harry, Mauricio and Ted. I think this is a one percent question but I'm not sure. When endometriosis wraps around the uterus coming from the uterosacral through the broad ligament and goes to the bladder, if I do not want to do a hysterectomy, I have intentionally left it and the perimetrium near the uterine artery, because I think it is better to leave that than it is to take out a uterine artery if we had to. Would you make comments?
Harry Reich, MD: I agree.
Audience Member: Dr. Lee, when you were talking about your exceptionally, not yours, just everybody's exceptionally high recurrence rate even after deep excisional surgery, there could be two reasons; either some tissue is left behind, which I doubt in your case, or it is still retrograde menstruation as you just mentioned. For that reason you do hysterectomy. Would it make sense to tie their tubes if they are not interested in fertility? For all the cases of deep excision and for patients not interested in fertility, you at least eliminate this contributing factor potentially.
Ted Lee, MD: That is an interesting thought. I am sure I leave disease behind, okay, I know I do. I do not know about other people, I know I leave disease behind because just simply at times it is impossible to know where the disease ends and normal tissue begins, so I definitely do. You know, tubal ligation as a way to reduce retro-menstruation may be a strategy but I do not see any studies to do that. I think it is interesting. That is the only thing I can say.
Harry Reich, MD: Let me say that when most people do surgery for endometriosis you have fibrosis all over and if you use electro surgery you have whitened areas that look like fibrosis that you cannot tell. I have always been amazed that when we look at a nodule there is no good definition of where is the most endometriosis in the nodule? I tend to think that it is more in the center or diffuse, but we are operating on the junction of normal tissue with deep fibrotic tissue. W are trying to clean out but we do not know how much that little deep fibrotic tissue still has endometriosis glands in it.
C.Y. Liu, MD: Okay, Dan, your last comment now.
Dan Martin, MD: This is coming from Gary Frishman's the oncology group with Gary Frishman at Brown. In the future we are likely to never to tubal ligations. If you have to open somebody up, remove the tube, it may be related to ovarian cancer if you leave it behind. So, if we are going to do anything to the rube, if we believe the oncology group at Brown, it should be removed.
C.Y. Liu, MD: Well, that is a very, very good comment. I think I opened the cancer forum, so I am going to close it, about hysterectomy now. Okay, you have a comment about hysterectomy or what?
Audience Member: Well, I have a question for one of the other speakers. Just quickly, a comment especially following on Dr. Lee's - the study he showed. I would have to say to this audience where there are physicians and practitioners and other researchers that we have to really take that information with a lot of caution because you are either a splitter or a lumper in terms of how you look at the patient population. I worry that a lot of those studies have attempted to lump people together that are actually very different from each other. So, just a note of caution in terms of taking that information and applying; the numbers are small and even when they are controlled it is still about lumping and I think we are developing the tools now to be able to split people apart into different phenotypes, genotypes, molecular subtypes and we need to make a push for that in the management.
I do have a question if I could to Dr. Beste who presented on some of the molecular aspects. I was actually intrigued by your presentation and the way you describe the endometriosis phenotype as not a benign disease reminds me very much of another disease from sort of another realm of medicine called lymphangiomyomatosis or LAM. A disease of reproductive age women with a cell type that causes disruption with various organ beds with many different phenotypes. And I might suggest to the researchers here of doing some of the basic biology to think about crosstalk between LAM researchers and the endometriosis community because there are a lot of shared features between those two diseases.
Michael Beste, MD: Thank you very much for your very insightful comments. I would completely agree with that. I think there is much overlap between endometriosis and a number of other chronic inflammatory diseases. Among my colleagues there is a recurrent theme that has been emerging of divergent genotype but convergent phenotypes and the thought that a number of genetic lesions may manifest themselves in different organs in different facets may ultimately lead to common downstream manifestations and disease. I think your comment is very well made and thank you very much.
Audience Member: Briefly, just to follow up. I certainly agree with the physical exam and the uterus and if the tenderness is there. Also a word of note, not to forget the pelvic floor physical therapists, I think you can get all these fascial changes and everything.
C.Y. Liu, MD: Very good comment.
Audience Member: I would hate to do a hysterectomy for fascial restriction. And secondly, with Dr. Martin in the ureterolysis do not forget the little right angle dissector. I think is great for getting some of that stuff off and even the uterine vessels. You can really get in there and dissect the tissue away. While I certainly am not a proponent supposedly you can do a bilateral uterine artery ligation and preserve the uterus and fertility. There are some people, more radiologists, doing that. So unilateral, I think, you would be okay, it would not be a first choice but...
Harry Reich, MD: That has been done a lot for myomectomies, where people devascularize the uterus with the uterine artery early in the case. It does not have any long term effect.
Audience Member: Hard to believe but yes.
Dan Martin, MD: I agree with that - that is hard to believe. It is biologically implausible.
C.Y. Liu, MD: Any other questions? Okay, I am going to ask - I was very impressed with - Mauricio's talk about the University of Sao Paulo, you have a division of endometriosis. I see a lot of AAGL here, the past president Keith is here. The future president - Anie and Ceana are here. This is a good idea for us as an organization to push for a center of excellence for endometriosis.
Keith Isaacson, MD: I think it is a wonderful idea and I think Frank is here, Frank Lawford, I do not know where he is. That was one of the reasons why Frank came today was to see how the AAGL could get more involved in organizing and structuring a research group and to combine with the clinicians for endometriosis. So, you are very insightful.
C.Y. Liu, MD: Ceana, I saw Ceana here somewhere. Okay, make a comment please.
Ceana Nezhat, MD: About what?
C.Y. Liu, MD: About the center of excellence for endometriosis.
Ceana Nezhat, MD: Oh, you want me to go there. I am sorry, I was fixing my talk because I have to give a talk too. It will not be here. So, if you repeat the question I may give you an answer.
C.Y. Liu, MD: Okay, Mauricio in Sao Paulo they have a division of endometriosis in their department at their university. And I said well the future leaders are here for the AAGL. Should AAGL as an organization start to push the idea of a centre of excellence for endometriosis?
Ceana Nezhat, Md: Actually, that is a very valid question. AAGL not only has to focus on a center of excellence, AAGL should have more teaching and courses on endometriosis and involve more of the PhDs and engineers and the scientists. Just simply we should shy away from just cutting into the disease because the more you cut sometimes the more it comes back. So I have good news for you. The focus of AAGL this year is endometriosis. For the first time we have more of the immunologists, we will have the PhDs in hormonal and endocrinology. We have the bioengineers coming and talking about endometriosis. So that is an excellent question.
C.Y. Liu, Md: Wonderful! Arnie do you want to make some comment?
Arnold Avincula, MD: My only comment would be that it is only logical that we have these discussions now given the complexity of the disease and the discussions that we have had around it all day today thus far. It only makes sense to me that we move in that direction. It is certainly a disease that requires a multi-faceted approach and centers of excellence are really one of the ways to go at addressing that issue.
C.Y. Liu, MD: Okay, thank you Arnie.
Lone Hummelshoj: I am actually going to disagree with term "centers of excellence". I think it should be "centers of expertise" because how on earth do you define excellence?
C.Y. Liu, MD: She is from England, you know?
Lone Hummelshoj: And even worse, I am actually from Denmark. And Denmark is the only country, as far as I know in the world, where endometriosis is recognized as a sub-specialty. And I got that through the National Institutes of Health in Denmark more than a decade ago. This means that women with endometriosis, also suspected endometriosis in Denmark have the right to be referred to one of two national centers of expertise that owns the subspecialty of endometriosis.
We are about to finish a paper describing ten years experience with this subspecialty. I am hoping to get that published in the next few months so that perhaps this could serve as some kind of model. I know that we have national health care in Denmark. It is different to here but I see it as a subspecialty and expertise is the key word and that excellence is sort of almost the byproduct. That was just my comment.
Harry Reich, MD: And it is certainly possible to do that. It is certainly possible because we do have experts who can review and look at the videos of what is going on. And with some of the...stuff with AAGL it is just some reviewer comes in and looks at your charts. That does not make sense. Let us do it right with endometriosis.
C.Y. Liu, MD: The reason I asked that question is endometriosis is such a complicated, complex disease, probably more so than cancer. It is not as fatal as cancer. The oncologists have come to the conclusion cancer is a genetic defect. And we, as gynecologists, we do not know even what causes endometriosis. The etiology is still confusing.
So I think you know we need to - the surgery is one piece, the environmental factors are another piece, genetics are another piece. There are so many small pieces and we are, right now, focused on the small pieces. We really need to have a center so we can look at the big picture and hopefully we can have better coordination and get some kind of answer from this very complicated disease and misery for our patients this week. Hopefully we can do that. And personally, I think a biomarker has to be developed.
Tamer Seckin, MD: One more comment on this excellence and expertise business. We need to say something because I want to warn everybody the word excellence in treating endometriosis is not an appropriate word. Just for the record. Expertise, to a degree, is acceptable because there is a definition of expert if you are doing something over and over 4,000 times and you do not know what else to do and you only know that there is something you could call expert - expertise could be appropriate. But excellence. I am really not going to go to that because it is disrespectful but we cannot treat this disease perfectly. We know that. So many failures, maybe, in the future - thank you.
Lone Hummelshoj: I would like to take this opportunity to thank the chairs for excellent work this morning. Thank you very much indeed. Give them a hand, the speakers.