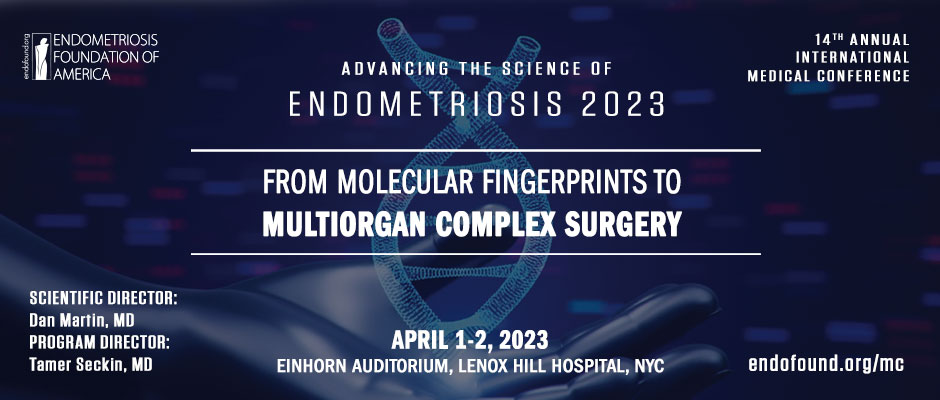 Only four papers on endometriosis are cited from 1926 to 1929 in PubMed—a database of 35 million scientific abstracts and references managed by the U.S. National Library of Medicine. Among those, 32,698 include endometriosis.
Forty-five years later, in 1977, 113 papers were cited about the disease. By 2010, the yearly number of documents was 1,108.
And 12 years after that, in 2022, there were 2,024 in that year alone!
Endometriosis awareness and research have made significant strides, but few medical professionals have time to scour those publications and try to understand the various discoveries.
That is the purpose of EndoFound's 14th Annual Scientific Conference, "Endometriosis 2023: From Molecular Fingerprints to Multiorgan Complex Surgery." The two-day event will be held April 1-2 in Einhorn Auditorium at New York City's Lenox Hill Hospital.
"We want people to walk away with an increased understanding of where we stand in the world of endometriosis," said Dan Martin, M.D., scientific and medical director for EndoFound. "The conference will try to cover the high points of those references to keep everyone updated in terms of research, medical treatments, and surgical treatments."
The more than two dozen speakers will include some of the top scientists and surgeons in the world. Dr. Martin said both days are geared primarily toward doctors, nurses, and other medical professionals, though patients may also gain general knowledge from the information presented.
The conference will be from 8 A.M. to 4:30 P.M. each day and kick off April 1 with Tamer Seckin, M.D., co-founder of EndoFound, performing a live surgery. Attendees will watch 70 minutes of the operation on a video screen as Dr. Seckin, equipped with a microphone, will explain each step of the process.
Following the surgery, a few of the 11 presentations scheduled for that day include "Pros and Cons of Hormonal Interventions for Endometriosis" by Sarah Berga, M.D., "The Effect of Endometriosis on Fertility" by Michael Nimaroff, M.D., and "AI-Driven Early Detection of Endometriosis from Observational Clinical Data" by Noemi Elhadad, Ph.D.
Day two will feature 17 presentations, including "The Systemic Nature of Endometriosis" by Hugh Taylor, M.D., "Deep Endometriosis: The Place of Laparoscopic Shaving," by Jacques Donnez, M.D./Ph.D, and "Real Role of Robots in Endometriosis Surgery," by Dr. Seckin.
Each day will allow multiple chunks of time for discussion about the presentations, and breakfast and lunch will be served on both days.
The cost of the conference is $250 per person. Residents and Fellows $125. To register, view the schedule of events, and learn more about each presenter, visit www.endofound.org/medicalconference.