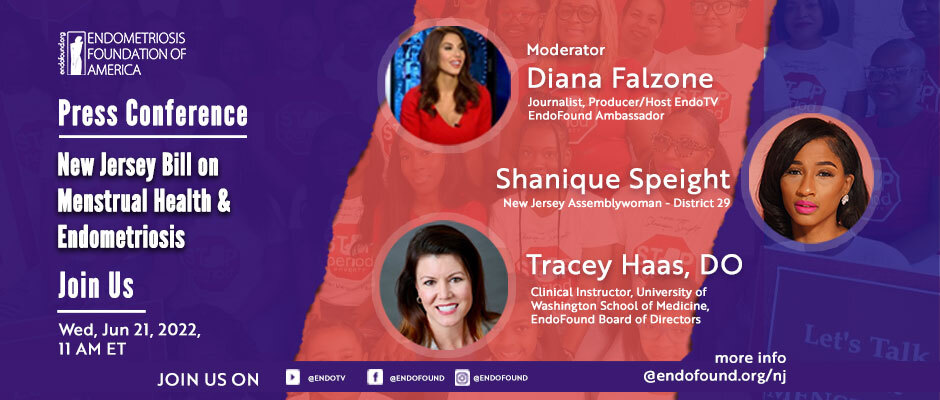 We're thrilled to be working with New Jersey Assemblywoman Shanique Speight (NJ- 29th Legislative District) to create awareness and support for her 2022 menstrual health bills focusing on early endometriosis education and intervention. New Jersey marks the third state where our advocacy team is making strides in affecting legislative change for the endometriosis community, striving to secure federal funding for endometriosis research and education in every state, and as soon as possible.
On Tuesday, June 21, at 11 AM EST, we're hosting a press conference moderated by journalist Diana Falzone, the Producer/Host of EndoTV and EndoFound Ambassador. Joining Falzone are Assemblywoman Speight and family physician and EndoFound Interim Director, Dr. Tracey Haas, to present the bills and educate the public about endometriosis.
Assemblywoman Speight introduced eleven bills to create legislation addressing menstrual disorders, including endometriosis. These bills include establishing a requirement to screen women diagnosed with preeclampsia for endometriosis and a women's menstrual health screening program to screen appropriate patients for endometriosis and polycystic ovary syndrome (PCOS). In addition, establishing a menstrual health public awareness campaign and designating May 17 of each year as "Menstrual Empowerment Day" in New Jersey.
The 11 bills introduced range from requiring school districts to permit students excused absences while experiencing symptoms of menstrual disorder to requiring certain public assistance programs to include menstrual hygiene products among covered benefits available to eligible recipients.
The bills require schools to provide menstrual products in all buildings and provide instruction on menstrual health and hygiene as part of the implementation of New Jersey Student Learning Standards in Comprehensive Health and Physical Education. Schools will also be asked to allow students experiencing menstrual disorders to attend school remotely.
New Jersey native Falzone said, "There's no better time for change than now. EndoFound has been instrumental in passing similar legislation into law in New York in 2018. The students of New Jersey deserve to be educated about their bodies. What is normal and what is not. Painful periods are not normal and pain should never be normalized. Assemblywoman Speight's bill has the potential to help students that are suffering quietly, perhaps thinking this is just what a period feels like. This bill can change someone's future for the better."
Assemblywoman Speight explained why she is so impassioned about this issue. "It is important to highlight the issues surrounding menstrual disorders and the impact these abnormalities have on quality of life. Society should understand that it is not normal for women and girls to experience disruptive symptoms, such as chronic pain, excessive bleeding, and fatigue, every month. These conditions take an emotional and physical toll on the mind and body," said Assemblywoman Speight. "We need to act and continue to raise awareness. Tangible solutions, like women's health screening programs, could be the answers to early detection and prevention that will aid the well-being of women and girls across the country."
Dr. Haas emphasized the importance of endometriosis and menstrual health education.
"Educating families, students and healthcare systems to recognize what is and is not normal for girls who experience the symptoms of endometriosis will have a huge social and economic impact." Dr. Haas continued, "Not only is endometriosis a leading cause of infertility for women, it leads to missed opportunities in school and careers. Living with chronic pain causes many to opt out of activities or to not pursue opportunities – impacting mental and physical health. So many young women are missing out on life due to severe pain, nausea, and the stigma of periods in general– when they have endometriosis. The earlier a girl is diagnosed with a menstrual health disorder, the sooner her symptoms can be alleviated and she can get back to playing sports, participating in life, and being competitive in academics with peers who are not experiencing the same issues."
To learn more about EndoFound's advocacy efforts for endometriosis and for a full list of the bills introduced visit https://www.endofound.org/advocacy. To sign the petition visit https://www.change.org/nj-support.