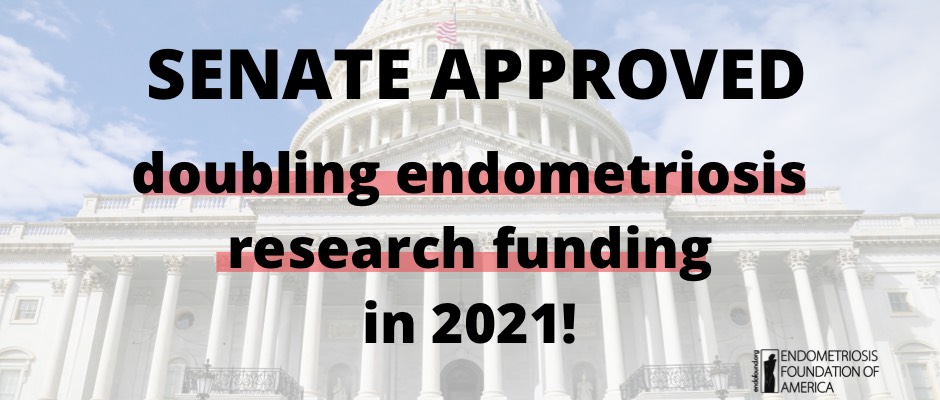 CONGRESS APPROVES DOUBLING FUNDING FOR ENDOMETRIOSIS RESEARCH
Wednesday, December 23, 2020, New York, NY – The Endometriosis Foundation of America (EndoFound) is excited to share that a historic amendment doubling federal research funding for endometriosis was approved this week by the U.S. Senate, allowing the National Institutes of Health to allocate $26 million to endometriosis research in 2021. The legislation passed in the U.S. House in July.
The amendment introduced by Congresswoman Abby Finkenauer (IA-01), chairwoman of the House Endometriosis Caucus, was supported by EndoFound who worked in partnership with her office and the endometriosis community to encourage elected officials to support the initiative.
"I think doubling the funding for endometriosis is one of the best low key, high-impact things Congress has achieved in this difficult year. Thank you, Congresswoman Finkenauer, for all your efforts," said Padma Lakshmi, co-founder of EndoFound.
"This completes a nearly year-long effort by Congresswoman Finkenauer and the House Endometriosis Caucus, EndoFound, and members of the endometriosis community who urged elected officials to support this much-needed and overdue increase to research funding," said EndoFound Executive Director Margaret Caspler Cianci.
"This is a game-changer," added Tamer Seckin, MD, co-founder of EndoFound. "Early detection and treatment of endometriosis will change the lives of millions of individuals suffering from this disease. Research is the key to understanding the disease and finding a cure!"
Endometriosis is a disease that affects one in ten women in the United States. Finkenauer, who has had endometriosis since she was a teenager, publicly shared her story for the first time in a speech on the House Floor in March. It was then when she founded the 33-member bipartisan caucus, the first such caucus ever dedicated to endometriosis.
"We are looking forward to continuing our work with the caucus in 2021," said Cianci. "Stewarding programs to increase disease awareness, address the socio-economic impact of the disease, and the racial disparity are priorities."
Endometriosis affects an estimated 200 million women worldwide. Many of them begin feeling symptoms with their first menstrual period, but because of the lack of education and awareness, even among medical professionals, it often takes more than a decade to be properly diagnosed.
Federal endometriosis research is overseen by the National Institute for Child Health and Human Development.
# # #
Endometriosis Foundation of America
Founded in 2009 by Padma Lakshmi and Tamer Seckin, MD, EndoFound is the country's largest non-profit 501(c)(3) organization dedicated to increasing disease recognition, providing advocacy, facilitating expert surgical training, and funding landmark research for endometriosis. Engaged in a robust campaign to inform both the medical community and the public, EndoFound places particular emphasis on the critical importance of early diagnosis and effective intervention while simultaneously providing education to medical professionals and their patients.
Find EndoFound on Twitter @endofound, on Facebook http://www.facebook.com/endofound, and on Instagram @endofound.
Media contacts: EndoFound
STATEMENTS ON ENDOMETRIOSIS AMENDMENT
"Thank you for hearing the voices of those with endometriosis! With this funding we have hope for a healthier, pain free future." —Diana Falzone, Journalist and EndoFound Director of Media Relations & Advocacy.
"This is great news for the millions of women suffering from this poorly understood disease. Research will lead to a better understanding of endometriosis and to new cures." —Hugh S. Taylor, M.D. Anita O'Keefe Professor of Women's Health and Chair Department of Obstetrics, Gynecology and Reproductive Sciences Yale School of Medicine, Chief of Obstetrics and Gynecology Yale New Haven Hospital
"The sustained increase in funding for endometriosis research is an amazing present given to endometriosis warriors! The promise of funding will lead to more research, more resources, and more knowledge that will someday allow for a non-invasive diagnosis and cure for endometriosis. I am so excited by this news and can't wait to see where this takes our field!" —Katie Burns, PhD University of Cincinnati College of Medicine
"This funding will promote clinical and basic research that can increase knowledge and awareness of endometriosis. It will support education and the adequate care of this puzzling disease that seriously affects millions of women." —Dan Martin, MD, Scientific and Medical Director, Endometriosis Foundation of America
"COVID-19's impact has demonstrated the tremendous progress we can make when governments and companies across the private sector unite to push towards research and innovation in health care. We hope today's news builds on this momentum of progress and change and highlights the need for national endometriosis funding and research as well as continued innovation by pharmaceutical companies to provide millions of women with the treatment and answers they deserve." —Piraye Yurttas Beim, PhD, Founder and CEO, Celmatix, and member of the Board of Directors of Endometriosis Foundation of America
"Innovation is only possible with support and collaboration, and this historic amendment allows all of us to be one step closer towards developing a cure for this debilitating disease. Thank you, Congresswoman Finkenauer, the House Endometriosis Caucus, National Institutes of Health, EndoFound, and the endometriosis community for your hard work and support for endometriosis research." —Tanya Petrossian, PhD, CEO, EndoCyclic Therapeutics
"Any increased focus on endometriosis is a step forward, but this federal funding attention and improvement is particularly critical to facilitate discoveries that will benefit girls and women with endometriosis. Budgets reflect priorities, and funding allocation directs attention and energy from bench to bedside and from cells to communities. This welcomed announcement is one more critical step forward for impactful endometriosis discovery." —Stacey Missmer, Sc.D., Scientific Director | Boston Center for Endometriosis, Professor of Obstetrics, Gynecology, and Reproductive Biology, Michigan State University, Adjunct Professor of Epidemiology and Lecturer in Pediatrics, Harvard University