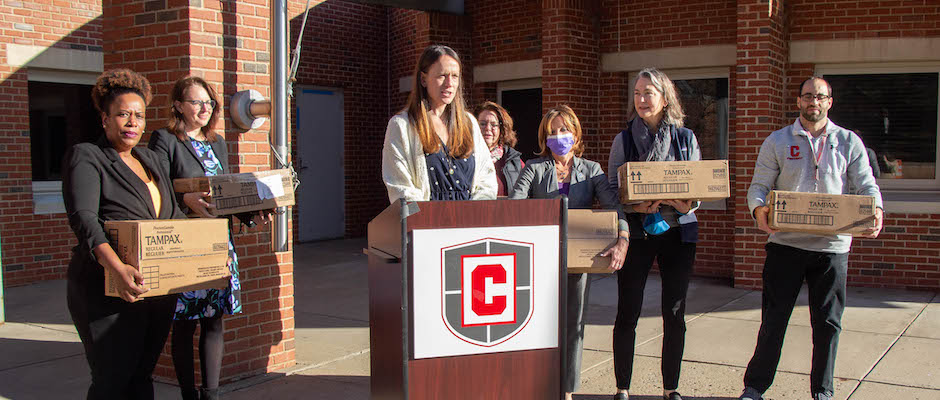 Our campaign to end period poverty (PeriodNow) is making strides outside of New York. Thanks to our partnership with PERIOD and State Representative Jillian Gilchrest (D-West Hartford), we were able to present a donation of 50,000 tampons to the town of West Hartford last month at Conard High School. "Many women struggle to afford period supplies which are a basic necessity," said Rep. Gilchrest. "I am so happy to see our community receive a donation of 50,000 tampons. Events like these bring much needed, greater awareness to period poverty and endometriosis."
Rep. Gilchrest joined Mayor Shari Cantor and other prominent leaders in West Hartford to distribute the donation to high schools in the area, including Conard High School, Hall High School, The Department of Leisure Services & Social Services, and The Bridge Family Center. This donation will go towards helping young women access a basic need; when a young woman is not able to afford period products, they are more likely to miss school or work, placing unnecessary barriers in their lives. In the United States alone, 20% of menstruators are currently affected by period poverty.
We launched PeriodNow in 2020 in order to change this. By partnering with companies, nonprofits and individuals, we seek to provide menstrual hygiene products to those in need while educating them about endometriosis. At the core of the EndoFound mission is our commitment to tackling stigmas concerning menstruation. It's by talking about menstrual health, particularly our periods, that we will shorten the 7 to 10-year-delay in diagnosing endometriosis. We will make sure that no girls or women ever go without feminine hygiene products. Period talk is not taboo. We need to embrace it and discuss our periods with honesty and transparency.
In September 2021, State Representative Jillian Gilchrest launched an Endometriosis Working Group to better understand the disease and bring greater awareness to the barriers women face when seeking care. Meeting every two weeks, the group is working to prioritize endometriosis in Connecticut, while also being committed to making critical recommendations to legislature that will address the urgent need to improve endometriosis care on a national level. You can watch the recording of the first meeting on EndoTV's platform today.
There are still too many peopl that don't even know what endometriosis is. Period equity lies at the core of women's public health. Join us today in our mission to combat period poverty and help normalize menstruation by donating today—the more people can talk about their periods with ease, the better endometriosis can be discussed openly, and the quicker patients can be diagnosed and treated.