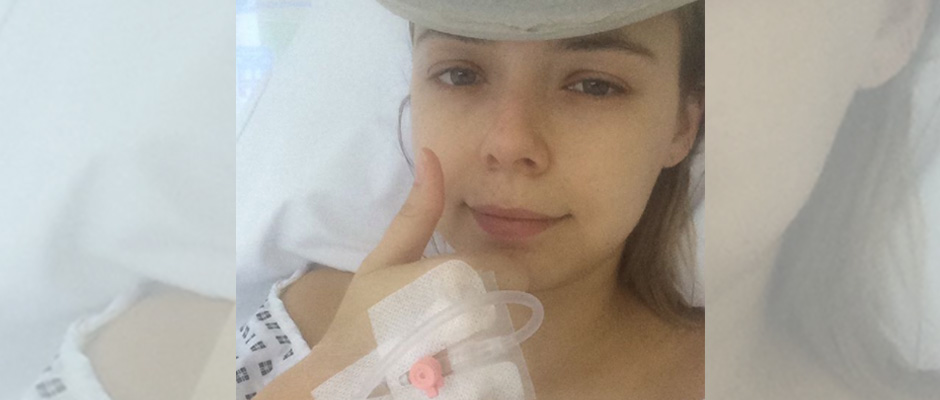 On Feb. 23 actress Sacha Parkinson took to Instagram to reveal to her 67,000 fans that she has endometriosis and recently underwent an excision surgery.
Parkinson, 25, was a star on the hit British soap opera, Coronation Street, the world's longest-running soap opera from 2009-2011.
"In April of last year I had surgery to remove endo cysts from inside both of my ovaries, that had taken up the entire space, along with endo spots from around my womb," she Instagrammed under a throwback shot of herself lying in a hospital bed, post-op, her stomach dotted with bandages. "My surgery, though small in comparison to others, changed my life massively."
Parkinson, who has also starred in primetime dramas such as The Mill, The Driver, Safe House and Mr. Selfridge, says her endometriosis struggle long preceded her TV career.
"I had excruciating period pains growing up, often resulting in me taking days off school. I had constant lower back pain and for the last three years, a constant dull ache that felt like I had period pains every single day. My anxiety was through the roof, I was always fatigued, I found I was irritable for no reason and it hurt to have intercourse."
She continued: "I wondered if it was all in my mind and I'm certain my partner at the time thought so too until I was diagnosed." Luckily, Parkinson writes, "After surgery and the recovery process, I felt like a completely new person! You don't realize at the time how much the constant aches and feeling drained can strip elements of your personality."
Parkinson believes her mother may also have endometriosis. "Sadly my beautiful, amazing momma had to have a hysterectomy at just 24 years of age. My mum had no choice but to have surgery as it had been undiagnosed for years and her condition became too severe. I'm saddened every day for her but this is why we need to spread the word. [Endometriosis] is an invisible condition but it is very much a real one."
The starlet joins a growing number of female celebrities who are helping to squash the stigma surrounding the disease. In recent years, former Sister, Sister star Tia Mowry, Julianne Hough, Real Housewives of New York star Bethenny Frankel and Star Wars star Daisy Ridley have all admitted that they have endometriosis.