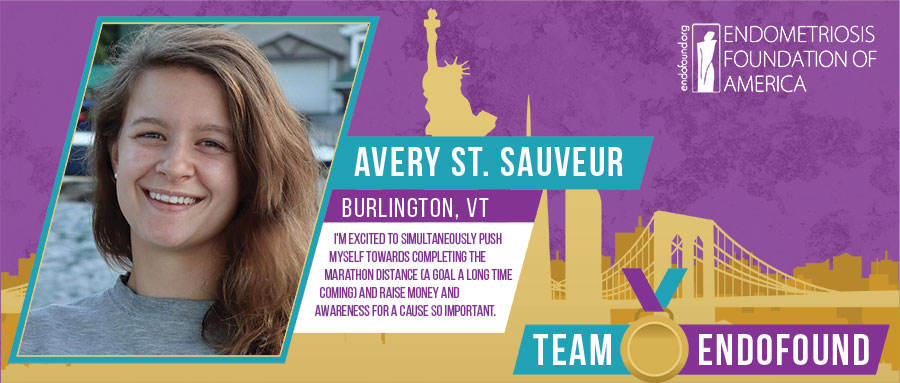 Avery St. Sauveur has been in pain from endometriosis for most of the last decade, but that's not stopping her from training for her first full marathon—the world's largest on Nov. 5.
"While the New York City Marathon is a big one to start with, I thought it would be a great opportunity to push myself toward that goal while fundraising for something I really care about," she said.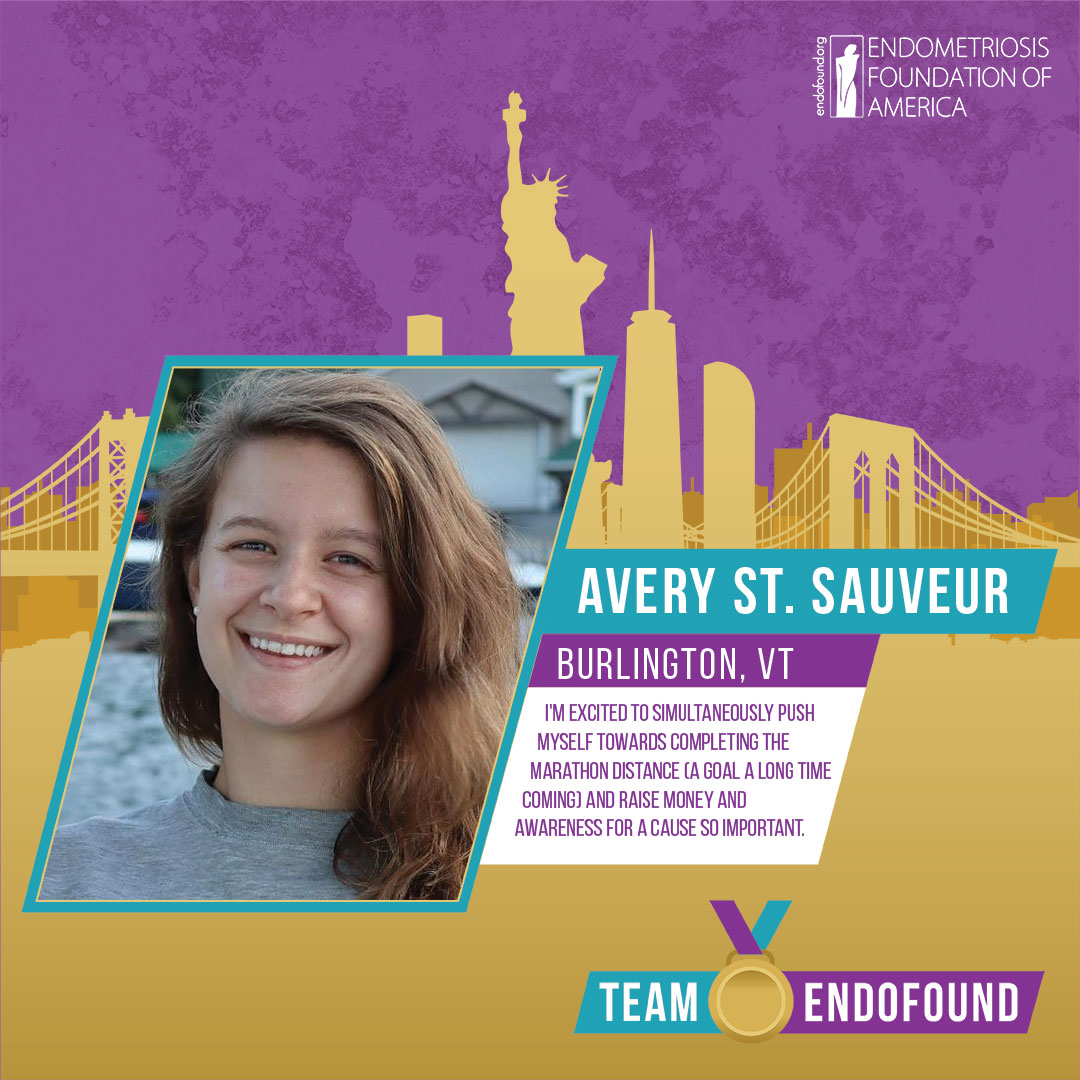 Click Here To Support Avery St. Sauveur
The marathon attracts more than 50,000 runners annually and covers 26.2 miles through all five of the city's boroughs. St. Sauveur, who has run several half-marathons, is running for Team EndoStrong, a group of 51 women and men from the US and Europe trying to raise more than $200,000 for EndoFound.
St. Sauveur lives in Vermont and works as a clinical researcher for the Memorial Sloan Kettering Cancer Center in New York. She heard about EndoFound and Team EndoStrong while researching the disease, which began affecting her when she was 15.
"It wasn't consistent at first. I'd have severe cramping with my period and then be okay for pretty much the rest of the month," she said. "But then it became truly horrific every few months with vomiting and fainting to the extent that I'd miss school, sports, and work."
St. Sauveur was 16 when her mother took her to a gynecologist. It was a nightmare experience.
"I'd heard of endometriosis at that age because my grandmother had similar symptoms, which led me to do my own research," St. Sauveur said. "So I asked the gynecologist if that explained what I was going through, and without hesitation, she said, 'No, absolutely not!' She said I'd be in horrible pain all the time if I had endo. She wouldn't even do an ultrasound and just told me to take ibuprofen. I walked away from that visit with nothing."
Afraid to go to another doctor, St. Sauveur lived with the pain for four more years until it became unbearable in college.
"I realized I was spending most of every month in some pain," she said. "And then one day early in the pandemic, when a bunch of pain was running into my back and legs, I casually said something about it to my roommate. She said, 'Avery, that's not normal. I've never experienced that.' I'm grateful for that conversation, because that prompted me to try to trust another doctor and figure this out."
In the spring of 2022, with the pain intensifying daily, St. Sauveur was finally diagnosed with endometriosis in two areas, particularly her bladder, and had surgery.
"The discomfort was at a minimum for about six months after the surgery, but it's slowly started to come back," she said. "It seems to be how my disease is, where it's hard to find. If it gets to a point again where I'm spending most of my time in pain, it will be worth it to look into a more aggressive form of surgery."
Currently, St. Sauveur is focused on the challenge of training for the marathon.
"It's hard, to say the least. There are so many variables that are impossible to control when training for a marathon, and having endometriosis is another one," she said. "When I'm out on runs, the same effort one day might feel a million times harder in a couple of weeks when I'm dealing with that discomfort. It's frustrating for sure."
But St. Sauveur said she became a runner when she was in the most pain.
"So, in a way, I'm used to factoring that in and understanding it's going to be something that impacts my performance at times," she said. "Is there doubt that I'll finish? Sure, it's on my mind every day and I'm nervous about it, but I'm also very excited and know I'll finish if I keep up my training. Running a major marathon as my first marathon is intimidating, but I'm also very appreciative that there will be a lot of energy there. That's probably what will get me through those last several miles."
To contribute to Avery St. Sauveur's New York City Marathon run for EndoFound, visit https://give.endofound.org/fundraiser/4749975.
*Patient stories submitted to EndoFound.org are the patient's views, not necessarily those of the foundation. All testimonials are from real patients, may not reflect the typical patient's experience, and are not intended to represent or guarantee that anyone will achieve the same or similar results.