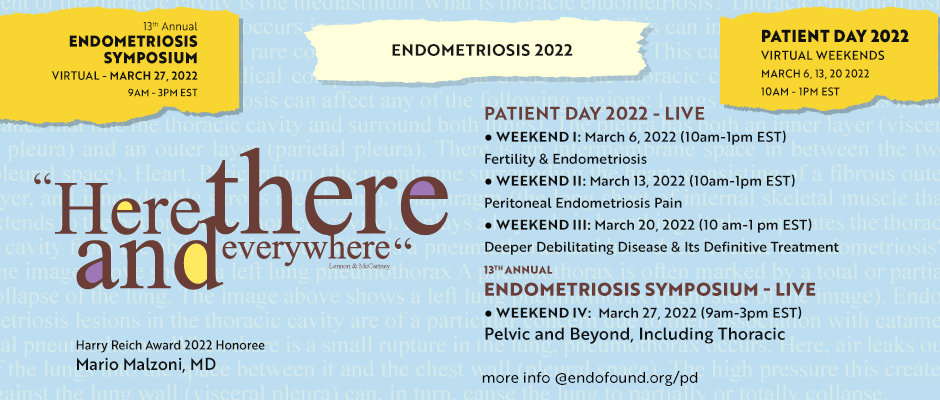 My dear friends, colleagues, and the endometriosis community around the world,
Tomorrow, March 1st, 2022, is the first day of Endometriosis Awareness Month. I wish every month were Endometriosis Awareness Month—especially because for so many people with endometriosis, every month is defined by battling the symptoms of this disease. But that's why we're here today: to continue spreading awareness, education, and accurate management and treatment of the disease, in the hopes that in the near future, we can cure endometriosis for good.
And I do wish we were connecting under better circumstances around the world. We thought COVID was nearly over, and now there's a war waging in Ukraine. It's devastating to see mothers separated from their loved ones and their children at the borders. So there are rough times ahead. But we have to stick to our agenda to advance our mission that the Endometriosis Foundation of America generated 13 years ago and continues to fight towards. This will be our 13th year hosting our patient and physician conference series during March. It's going to be an exciting time, as this is the first time we're providing programming throughout the entire month. We will be getting together with you on Sunday mornings from 10 AM to 1 PM (ET) to provide educational and supportive endometriosis panels for patients.
The first session will be on March 6th, hosted by Dr. Karli Goldstein, and will focus on infertility and endometriosis. The second session will be on March 13th, hosted by Dr. Dan Martin, and will focus on peritoneal endometriosis pain. In our 3rd session of the patient conference, which Dr. Harry Reich will host on March 20th, we will explore the bowel and the bladder and investigate extremely deep endometriosis as it presents from adolescence to menopause, the extreme deep disease. As with each session, we'll feature patient testimonials and review their cases for the benefit of your own.
The fourth and final session, held on March 27th, will consist of our Endometriosis Medical Symposium. Here, we will explore and focus on the etiology behind the disease. The theme for this year's medical conference is "here, there, and everywhere," my favorite Beatles song, which is appropriate when discussing the nature of endometriosis, particularly thoracic endometriosis.
I hope you can join us. The month of sessions will serve as a fantastic conference. Thank you.
In good health,
Dr. Tamer Seckin
---
The Endometriosis Foundation of America's Annual Patient Conference and Endometriosis Medical Symposium is back this March for Endometriosis Awareness Month! Now running in its 13th year, the Endometriosis Medical Symposium brings together the leading endometriosis experts to discuss cutting-edge research, treatments, and advances around the world. At the same time, our Patient Conference is designed to equip patients with all the tools and information they need to live their best lives with endometriosis. Therefore, to cover as much educational ground as possible, we've decided to provide virtual programming throughout the entire month of March: four sessions every Sunday of March.
Our annual patient-oriented conference was created for and inspired by women's unique journeys with endometriosis. This year, we're delighted to host three weekends of virtual programming which will focus on Fertility & Endometriosis (3/6); Peritoneal Pain & Endometriosis (3/13); and Deeper Debilitating Disease & Its Definitive Treatment (3/20). Each Sunday session will run from 10 AM to 1 PM (ET). Featuring physician- and patient-led panels, virtual coffee tables for networking, as well as meditation sessions, the conference will be sure to help you connect with other endometriosis warriors, learn about the disease, and share your experience with endometriosis.
The final Sunday (3/27, from 9 AM to 3 PM ET) is our surgeon-led Annual Endometriosis Medical Symposium, where excision specialists and surgeons will discuss endometriosis in the pelvis and beyond, including thoracic endo. Our guests will include renown physicians from around the world, patients, dedicated endometriosis advocates, nutritionists, and more.
Join us by registering today for a month of support, education, and so much more!