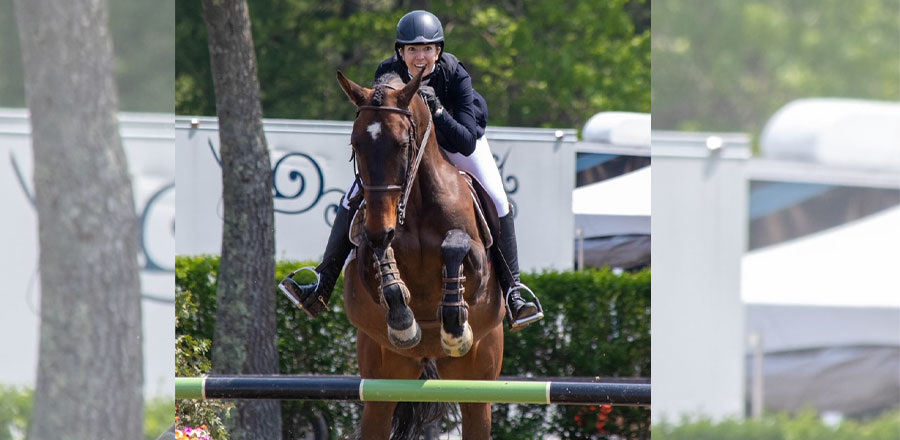 I was eight years old the first time I rode a horse. It was also the first time I fell off, as a nearby car backfired and scared the horse—but I got back on and never stopped riding. Even when the indoor riding arena collapsed under the weight of the snow, I still rode in the barn aisles. My parents always said I never smiled anywhere else like I did on a horse. Keeping horses in my life while building a career and raising two daughters hasn't been easy, but I've managed. The most daunting challenge, though, has been doing it all with adenomyosis.
I knew growing up that I had been considered a miracle baby. My parents tried to have children for many years unsuccessfully. They also tried adoption unsuccessfully. Due to a job change, they relocated to Columbus, Ohio, where The Ohio State University was doing early ground-breaking work on in vitro fertilization. My mom was one of the courageous women from the region to try the new treatment, and despite having to navigate hemorrhage during her pregnancy, it was successful. I was the first baby both conceived and delivered at Ohio State, a story that has had a lasting impact on my life. Pioneering efforts in fertility science are why I'm here and what sparked my interest in medical innovation. This translated into me earning a Ph.D. in Bioengineering so that I, too, could work on life-changing healthcare technologies.
Giving birth to your first baby should be one of the best life experiences, but mine was the opposite. After a 24-hour delivery, I experienced pain that was ten times worse than during labor. The doctor had gone home, so I explained to the nurse that I was experiencing pain and something felt wrong. I had everything going for me in the situation: I was educated in medical terminology, comfortable speaking with physicians and nurses due to my career in medical devices, and could logically explain that despite my high pain tolerance, this was far worse than anything I had ever experienced.
The nurse's response?
"You're a new mom and don't know what pain is like."
I was told to take ibuprofen and rest.
Two hours later, I was in such extreme pain that I cried out like an animal. I called my mom, and she immediately knew something was wrong. She rushed to the hospital and got the circulating nurse to call the physician back. When the physician returned, she realized I had experienced postpartum hemorrhage. She began using her arm, all the way past her elbow, to remove clotted blood from my uterus and pieces of placenta that had remained. I lost 2.2 liters of blood in the process, a significant portion of my total blood volume. I eventually lost consciousness and required blood transfusions.
While I survived the delivery, I had to return for surgery again eleven weeks postpartum to remove more placenta. Since I was trained in medical science, I researched articles to understand why I might have had placenta stuck throughout multiple procedures. I was told it just happened and could happen again.
This experience left me with post-traumatic stress disorder. I had nightly panic attacks from 2:07 A.M., the exact time of delivery, until 4:30 A.M., the exact time the doctor returned. It also left me with chronic pelvic pain. If people at work didn't listen to me, it felt like a life-and-death situation. I couldn't wear pants or give my daughter a bath. I eventually found a doctor and a therapist who helped me get started on the road to take my life back.
Determined to turn my experience into something positive, I learned that I was stronger than I had ever realized and should listen to my intuition. I funneled that strength into a boldness in life, whether in risk-taking at work or being a resource for other women. Another step in my self-care was getting back on a horse. It was hard because my seat area had so much recovery to do, but very supportive professionals made it possible. I decided to add a horse named Calypso to our family as a true life partner.
After experiencing ongoing complications for several years, I asked my physician for a hysterectomy. I wanted my uterus to stop controlling my life. I specifically asked if I might have endometriosis since my mother had been diagnosed with the disease and I knew it ran in families. The doctor looked me in the eye and said I wasn't in enough pain to have endometriosis.
Not enough pain.
I sought treatment from another physician, who listened and supported me throughout the hysterectomy journey. Pathology of my uterus revealed adenomyosis, which connected many of the challenges I had faced. It took me until age 38 to be diagnosed, and I felt simultaneously relieved to have a diagnosis and gaslighted to have not found it sooner.
When I first left the house again after the hysterectomy, I went to see Calypso. Calypso supported my weight as we slowly walked together, a little farther each day. One month later, Calypso and I competed in a horse show and placed second in our class, leaving me with the biggest smile. In less than four years, Calypso and I navigated four unexpected surgeries together.
Sometimes life is about winning, and sometimes winning is having the strength to keep going. So continue to persevere, no matter how difficult your journey may be, and appreciate that journey when you can. You, too, are stronger than you know.
*Patient stories submitted to EndoFound.org are the patient's views, not necessarily those of the foundation. All testimonials are from real patients, may not reflect the typical patient's experience, and are not intended to represent or guarantee that anyone will achieve the same or similar results.