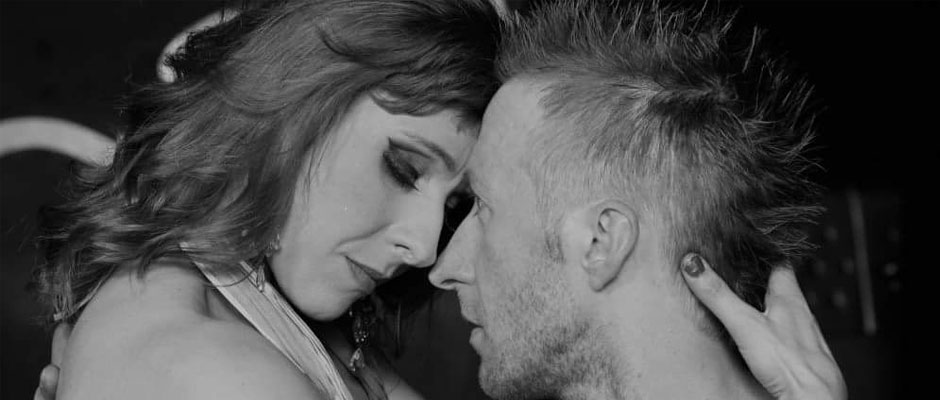 Trigger warning: The following piece contains discussions of content relating to suicide and self-harm. If you or someone you know is in need of crisis services, please call The Lifeline which provides 24/7, free and confidential support for people in distress: 1-800-273-8255.
A couple years after moving to London from a small town in Poland, I took up Latin Social Dancing. I met a woman there, who, at the time, was a dance teacher and performer. To cut the long story short, I became one of her students, then her dance partner, and ultimately, her husband.
My wife was extremely healthy when I first met her. She also had a part-time job as a medical secretary for the NHS. Unfortunately, after we got married, she started to experience heavy bleeding with her periods, severe lower back and pelvic pain, and digestive problems. She also was experiencing pain with sex, although she never told me at the time and, unfortunately, just suffered through the pain.
At first, my wife thought that these problems were all separate; the back pain, she figured, was probably due to dancing injuries; the heavy bleeding due to her age or stress; and the digestive symptoms due to a gastro or bowel issue. Over the next few years, her symptoms worsened. She began to take regular time off work and could no longer dance.
After multiple trips to her GP, tests to check her blood and GI tract, and ultrasounds to check her uterus and ovaries, everything came back normal, and her doctor put it all down to anxiety and stress. She was sent for physiotherapy for her back and pelvic pain, offered antidepressants, and referred for talking therapy regarding stress. She was offered an IUD but had it taken out due to further pain. Then she was on the progesterone-only pill as she could not take the combined pill due to migraines, but this seemed to cause her more anxiety and didn't help with the pain and bleeding.
My wife lost her dance business due to ill health but carried on working part-time as a medical secretary. She was happy to still have this opportunity, but it made things financially difficult for us both. Sex had become painful for her. She stopped making plans with friends because her pain flared at such arbitrary times, she had to cancel last minute, which left her feeling guilty. Most devastatingly, she lost her confidence; she said she felt useless, that she no longer felt attractive, and that she no longer felt like the woman I had married.
It broke my heart. This was around the time she struggled with mental health, suffering from panic attacks and self-harm, and she attempted to take her own life on a couple of occasions because she was feeling so desperate.
One day I remember she sobbed for hours and said she couldn't live with this anymore and that I deserved better. She said it would be better if she was gone because she was holding me back in life. Another time she said that she thought we should get a divorce because she thought that I would be able to have a 'normal' life and have children with someone else.
Both times my heart broke for her, as I knew that she didn't mean what she was saying; she felt guilty and ashamed for something that was not her fault and entirely out of her control. I told her how I felt: that I only wanted her and there would never be anyone else for me no matter what happened. I told her I would be there for her, and we would make the best life we could together and find a way forward.
So many aspects of life can be impacted by endometriosis, including marriage problems. We were both in the dark about what was really happening and had little idea that her pain could be endometriosis.
The Diagnosis
In 2018, my wife experienced heavy bleeding which took her to A&E, and they requested an urgent scan. This time the scan confirmed a possible endometrioma on her ovary. Her doctor mentioned endometriosis.
In August 2019, she finally had a laparoscopy and was treated with excision surgery and a bowel shave.
The diagnosis was both a relief and a shock to both of us, and how much endometriosis she had was a bit of a shock to the surgeon, as well.
Since my wife's diagnosis both of us did a lot of research about the illness. We read books, reached out to endometriosis charities and support groups, attended conferences, and also talked with other women who have endometriosis.
It was after doing this research with my wife that I decided to start raising awareness through my blog and also speak out about my perspective as a partner of someone battling endometriosis.
I have seen first-hand the effect that this illness has had on my wife's social life and work-life, and the huge amount of strain it has put on both our relationship and the relationship with her family and friends.
Furthermore, I have learned from women who suffer from this condition that sadly, quite often, they struggle in their relationships with their partners, or their relationships had completely fallen apart because their male partners simply didn't understand their illness and didn't know how to cope with it. I very rarely saw male partners at endometriosis support group meetings or conferences that I regularly attended with my wife. And, from my perspective, I noticed that these male partners never expressed what they felt about their partners' struggle with endometriosis.
I must admit before my wife was diagnosed and I did the research on endometriosis, I used to be the same. I never spoke about my feelings; I kept them inside.
As partners to those who are suffering we also experience a myriad of emotions like loss, grief, guilt, sadness, frustration, anger, loneliness, and sometimes even resentment. This is why endometriosis and marriage problems can go hand in hand.
Tips for Partners:
Being the partner of someone with endometriosis is nothing compared to suffering the illness firsthand, but understanding our point of view could not only help us support our chronically ill loved ones but also help us deal with some of the thoughts and emotions that we are experiencing as well.
Sometimes her symptoms may cause her to feel isolated or embarrassed. Please be understanding and do your best to help her break the vicious cycle of pain and emotions that she has to go through.
If you are healthy, never forget to be grateful for what you have. Appreciate your own health: you're blessed to have it.
Remember that endometriosis can bring you closer together if you're willing to talk things out; it can make your relationship stronger.
Chronic illness in a relationship will help you appreciate life more.
You will notice the little things that healthy couples don't. On the good days, you appreciate your time together even more.
Cherish and live these little moments of happiness. Show her how much you love her with your care, understanding, and with your patience. Sometimes you may find you're not as patient—there's no shame in that, you're human!
Give her as many good moments as you can.
I love my wife for the strong, determined, yet extremely sensitive woman that she is. Her illness doesn't define her.
I found that people who suffer from endometriosis are some of the strongest people I have met.
Their bodies and emotions can be put to the test, but their mental strength to keep going, keep fighting and keep striving for a better life is unbelievable.
Lucjan is a blogger and husband of a woman who suffers from endometriosis and fibromyalgia. He helps men understand both chronic conditions, their role of support, and guides them how to cope with their partner's illness. He wrote an endometriosis book for men available on his blog www.worryhead.com
---
Editor's note: Would you like to contribute to EndoStories? Click here to learn how to submit your work.
*Patient stories submitted to EndoFound.org are the views of the patient and not necessarily those of the foundation. All testimonials are from real patients, and may not reflect the typical patient's experience, and are not intended to represent or guarantee that anyone will achieve the same or similar results.