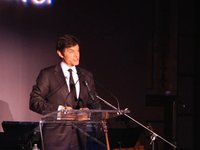 Dr Oz:

Welcome! Tamer Seckin and I are both Turkish and I met him actually with regard to my father who came to this country in 1953. It has been a great blessing, I feel, in my life to have been honored to work with Tamer and see the wonderful work that he has done bringing a lot of insight into the ailment of endometriosis. He asked me to come tonight to introduce one of the co-founders of this wonderful organization. You know her in many different lights. She has graced the cover of four major U.S. magazines that I know of anyway, already in this calendar year. She is hosting her own Emmy Award winning show, Top Chef. She is an award winning writer and author of two best selling cook books. I know she can cook; personally, I have enjoyed that process as well. She is running a jewelry business, making a fair amount of growth in that endeavor as well. She knows the spice business. It is remarkable how many things she has gotten involved in.

The joy of her life she would probably argue is Krishna, her daughter. It is a remarkable thing that she was able to conceive a child because she is also, for many people, the face of endometriosis. I take great pride in introducing her because she has been willing to step out as this well known and beautiful woman to admit that she has a problem that so many other women have as well. An ailment that is embarrassing for many because it presents with symptoms that are not ones that women want to talk about. Although it is a remarkably common problem many of you know it takes an average of 10 years to make the right diagnosis. People like Dr. Seckin have been very effective in making this diagnosis and offering therapies that can avoid many of the unnecessary procedures that many of these women suffer through.

Ultimately what Padma Lakshmi has been able to do is help create a foundation, this wonderful organization that you all are willing to participate in because she knows this is how we will change health in America. When I am asked how we get doctors to take better care of women who have endometriosis, I know the answer is in this room, and it is not the doctors. It is the women who have the problems, who have loved ones with these issues, and who know that this is something that only they can change because when they get local doctors who are taking care of them to understand what this ailment is all about, we change the face of American medicine. It spreads like a ripple throughout the culture of medicine as more and more of us appreciate how much of a problem endometriosis is, how it runs in families, and how we can treat it and ultimately change the lives of hundreds of millions of women around the country. Please welcome my good friend, the very beautiful, Padma Lakshmi.

Padma Lakshmi:

Thank you, thank you so much. Isn't he handsome? How handsome is he? Now, we know why he has his own TV show. Honestly, you know, I am glad he is not my doctor because I would not be able to tell him all my health problems. Right? Like, "No, nothing is wrong, don't I look great?" We thank Dr. Oz and his wife for being here and generously supporting us.