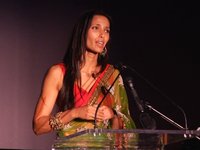 Padma Lakshmi:

Thank you for being here. Many of you are here, you know, year after year. This is our third year, so, thank you so much for supporting us and being here. I really appreciate it. I know that all of my board members, especially Tamer, appreciates it. So, thank you very, very much. It really means a lot to us. We know that it is a beautiful night outside and that you are all indoors. It is a pleasure to have you here, and before I say anything else, I just want to extend our thoughts and prayers, since we are so fortunate to be here together on this beautiful evening, to those of us who are less fortunate in Japan and in other parts of Asia because of the earthquake and tsunami there.

Thank you, and while you are clapping I would like to also take a moment just to acknowledge a couple of people who are in the audience who help us very, very, very much to do the wonderful work we do. The first person is our new Executive Director, Deborah Castillero, where are you? Thank you so much Deborah. I really, I applaud your enthusiasm, your tenacity. She has been with us a very short time and she has jumped right in and we hope that this is just the beginning of a very long and fruitful relationship for you and for us at Endofound. Another person I would really like to acknowledge is the wonderful and beautiful, Janet Rosel. Janet, please stand up. Janet Rosel and her partner, Peter Lewis, have made a very generous donation to Endofound. She is our newest board member and we welcome your love and your care and your passion too. The third person who I would like to acknowledge is someone who just came up to me a few minutes ago. I did not even know her to be honest. She is one of the people who are the many faces that you all do not know. You all know my face because of endometriosis, but she is one of the many unsung faces of endometriosis. What Endofound does is also donate care to people like Melanie Reyes, where are you Melanie? Thank you. So, you want to know what kind of help your tickets tonight are doing? They are helping Melanie Reyes. They are helping her lead a very active healthy life. Thank you to the doctors who have also donated their time.

I am just here to say a bunch of thank yous. Again, many of you have been here before, so I do not need to tell you my long drawn-out story with endometriosis, but I will tell you that me and my privates are doing well, thank you - just to give you an update!. We are fine, Krishna is fine, and everything is good. We are happy, we are healthy, and that is because I got the treatment I needed. So I will not bore you with tales of my genitalia. I am sorry, sorry, I am supposed to be elegant, whatever, but okay. It is okay! Right?

I am here to introduce my co-founder who many, many of you know already, and is the reason why all of you, including me, are here tonight. Tamer changed my life. He really changed my life. He, and Elif his wife is a good friend too so I can say this in an open public forum, he is the most important man I have ever met in my life because he made me healthy, and he made me able to love, and he made me able to have Krishna, my daughter. He has helped so many women here in this room. He is the reason that I am speaking before you today because I was so galvanized with how much my life changed just by getting treatment and being diagnosed properly that I wanted to speak out so that other young women will get treatment. This is an illness that affects 10 million young women a year in this country. It is an illness that affects 176 million women worldwide. I missed modeling jobs, family gatherings, and all kinds of professional and personal engagements until I got healthy and I did not have pain again. It is one of the leading causes of infertility and there are warriors, there are brilliant, passionate, caring warriors in life who fight for what is right and fight for making all of our lives better. One such person is my dear friend and co-founder, Dr. Tamer Seckin. Please put your hands ….