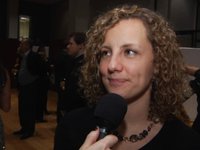 Good evening. My name Yocheved Lauwick and I am a Nurse Practitioner and I am currently employed at Rosh Maternal Fetal Medicine, here in Manhattan.

Q: And as a woman working in the medical field what do you feel is the most important information that doctors should be armed with and that female patients should be armed with as it pertains to endometriosis.

A: There is so much education that needs to be given to each patient, but if I had to choose one thing I would probably be thinking about the individual treatment that needs to be offered to each patient to treat them on their own and not as yet another cog in the proverbial wheel. If we can individualize their treatment, we can take into account the different ways or symptoms may affect them and then perhaps tailor what we offer them in terms of their management and I would like to put that out as much more holistic and comprehensive approach when we take into account perhaps other factors other than just their pain or what's been done with them in past.

Q: Do you feel that New York City needs a Center for Excellence for endometriosis treatment?

A: I am a big proponent of having specialist to we refer patient to. I feel that the experts may be once they see it day in and day out and if there is anything to be gained I would certainly refer my patients.

Thank you so much.