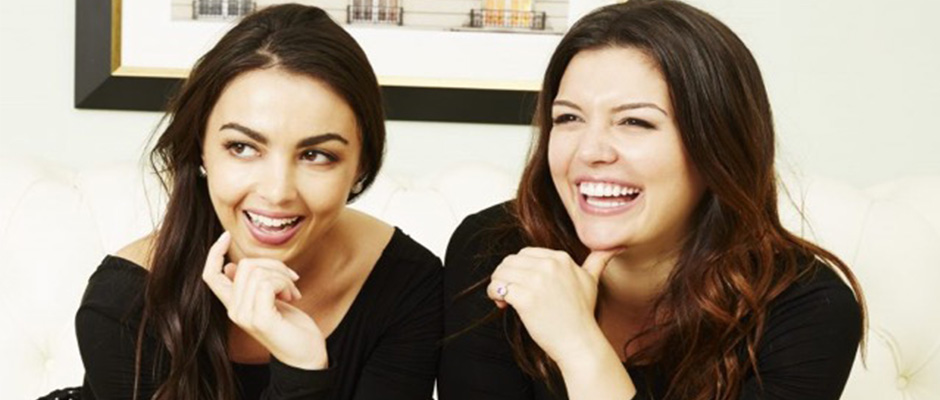 Above: Monthly Gift founders LisaMarie Lawrence and her sister, Kimmy Scotti ponder their next move
We all remember our recurring middle school nightmares: bleeding through white shorts, or, even worse: starring in a live recreation of the blood scene from Carrie. LisaMarie Lawrence, 31 and her sister, Kimmy Scotti, 32, can relate. They founded Monthly Gift because they know this insecurity doesn't go away with age. The sisters grew tried of stuffing their undies with toilet paper and beelining it to a drugstore every month after being caught off guard by their period. So Scotti approached her sis with a vision. "Women need to be empowered by technology to take control of their health," says Lawrence.
The sisters launched their start-up in March 2016. Monthly Gift began as a, well, monthly service, bringing tampons, pads, and liners in one box to subscribers' doors. Lawrence says the assorted period product box was the first of its kind at the time. "We always say when a man goes into a bathroom he has everything he needs because that's toilet paper, but a woman, if you don't have a quarter on you for that machine, you're probably not going to be able to get the tampon that you need," Lawrence shares. The company also has a period-tracking app to stop sneaky bleeds in their tracks.
So far the sisters say, business hasn't, um, been going south. They recently acquirered Dear Kate, a so-called leak-resistant underwear company in November 2017.
"We believe that rewashable underwear is a great sustainable option. And we're great believers in the free bleed." Lawrence claims the undies are strong enough to stand-up to endo women's heavy bleeding—with a backup plan in place.
"So our product is made in a way that absorbs your blood into the underwear. The blood, the liquid of the blood, gets caught between the first two layers. Then that spreads between the two layers and it can't come back through, and then the liquid in the blood actually evaporates. I know this happens to some women: they'll have a tampon in, and a pad, and bleed through both of them. If you have the Dear Kate underwear on, you have the tampon, you have the pad, you could take both of those off, and then you have a third layer underneath. And you don't have to worry. It at least buys you [time]."
Lawrence says her husband is a fan of the discreet undies but nothing puts a smile on her face like one customer's recent review. "You saved my daughter," it read. "She's not afraid to go to school anymore when she has her period."