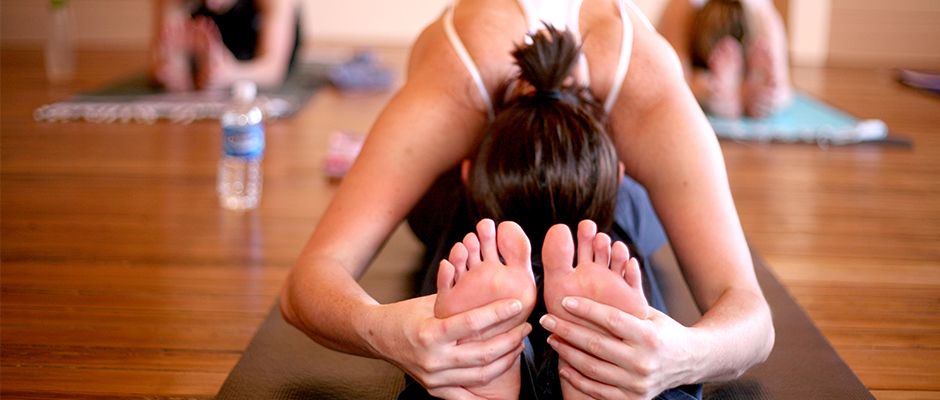 The lack of government funding for endometriosis research leaves many women with endometriosis to take matters into their own hands.
This year, the National Institutes of Health (NIH) budgeted an estimated $7 million for endometriosis research, compared to $755 million for breast cancer and $1.6 billion for acquired cognitive impairment. Considering there are an estimated seven million American women with endometriosis, that's only one research dollar per woman.
Nonprofits are often left to fill in the gaps. (Since its inception in 2009, The Endometriosis Foundation of America has given nearly $750,000 in donations and private funding to endometriosis research.) But there can also be just as vast of a disparity in donor-sourced dollars between different disease or condition-focused charities. Vox ran an interesting infographic several years ago showing the disparity between the disease charities that raise the most money from donors (Komen Race for the Cure, a breast cancer charity) and the diseases that cause the most deaths (heart disease, according to the Center for Disease Control).
Interestingly, although endometriosis impacts roughly one in ten women and causes an estimated $22 billion annually in lost productivity, the disease appeared on neither list.
The Blossom talked to several women about their approach to endo fundraising.
Endo Parties
Tanya Linda uses her connections as a bartender to throw an annual "End Endo" fundraising party. She's getting acupuncture to manage her early-stage endometriosis, so she's keen to get involved. The owner of a local dive bar lets Linda, 47, bring in a band and serve tongue-in-cheek endo-themed cocktails like "Heavy Flow" and "Yeast Induction." A portion of the proceeds from those drinks supports endo research, or attendees can donate cash or via a GoFundMe page.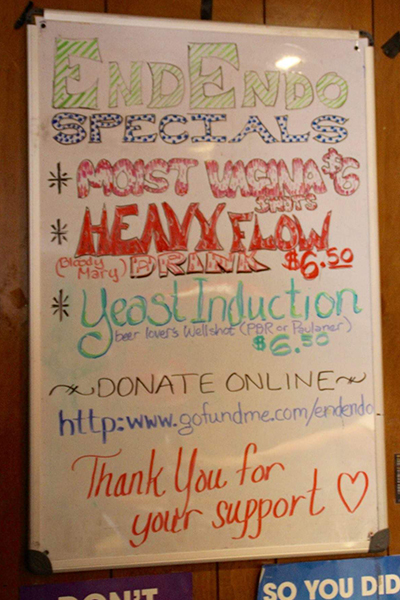 Linda plans the event in conjunction with her birthday and invites all her friends. One friend, who organizes "queer nun" fundraisers through the San Diego Sisters of Perpetual Indulgence under the name Sister Donatella, also helps organize and promote Linda's fundraisers. When Donatella, 52, underwent surgery for endometriosis eight years ago, "there was nobody to turn to ask questions," she tells The Blossom. Part of her goal is to not only raise funds but foster community with her endo sisters and HysterSisters, or women who have undergone a hysterectomy. "It's been a really effective and fun way to get women out who are suffering from endometriosis who haven't connected with the group and don't know where to turn for answers," she says.
Online Auctions
For her birthday in March, Tiffany Martinez decided to run a Facebook fundraiser for endometriosis research. "When March was over, I still wanted to help out," she says. Now, she continues running eBay auctions and donates 10 percent to nonprofits, including EndoFound. The rest of the money funds gas for her to get to her doctor's appointments and covers other costs such as supplements.
Martinez, 42, auctions off jewelry, vintage handbags, and other items, some of which she makes, buys at thrift stores or gets donated. She mainly promotes the auctions on Facebook and Twitter and says eBay encourages charity auctions with lower seller fees.
Yoga Fundraisers
EndoFound Junior Board member and certified Vinyasa Yoga instructor Brandilee Coon organized an Endo Warrior One fundraiser at the beginning of 2017 and again in October. Some friends rented space in their apartment's community room, and others baked anti-inflammatory treats for the event. "I was able to put together a yoga class [and] talk about the disease," she says.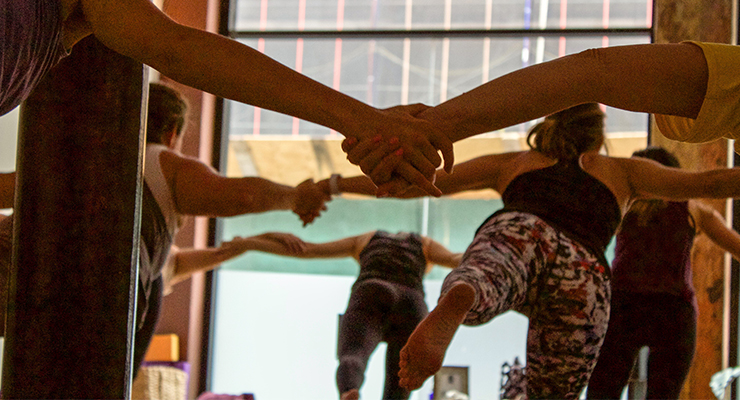 After connecting with someone from EndoFound at her original event, Coon, 30, has since grown her fundraiser to include several yoga studios across the country and is working on a yoga event for March in conjunction with Endometriosis Awareness Month. Coon finds speaking about her endo experience to be empowering. "If you have a voice and you're willing to use it, consider putting together some type of event," she says. "The more we can grow the community, it's beneficial for everyone."
Editor's note: Are you interested in throwing your own endometriosis-focused fundraiser? Our Everyday Hero platform makes it easy. Learn more by clicking here or e-mailing us at events@endofound.org Proceeds will benefit The Endometriosis Foundation of America's programs and efforts.