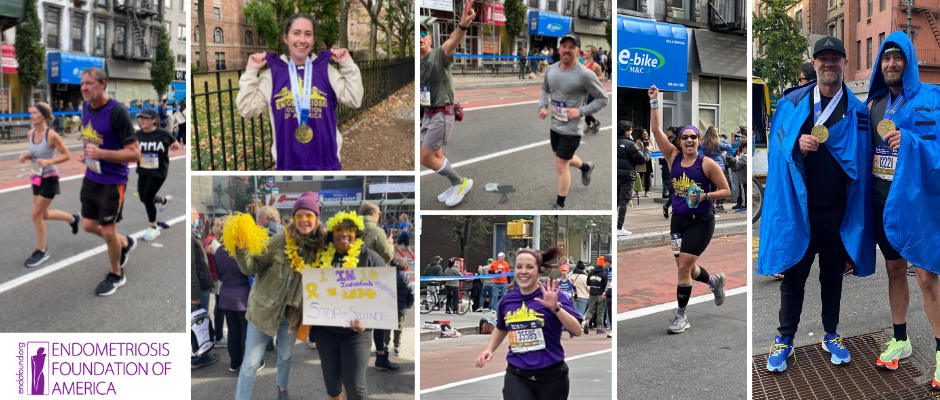 A round of applause is in order for Team EndoFound, who ran 26.2 miles last Sunday at the the 50th TCS New York City Marathon! The team raised over $50K—all to support EndoFound's programs and get us closer to our collective goal: a cure for endometriosis. How'd the marathon go, and why did these runner choose to run for EndoFound? Here's Team EndoFound Runner Gates Palissery's powerful and heartfelt recap of how it felt to run the marathon for her sister, who has endometriosis.
---
The first thing I sent to my friends when I finished running on Sunday was this GIF from Parks and Rec. "Everything hurts and I'm dying" is a pretty accurate way to sum up how it feels to cross the finish line of every marathon I've done so far. Even after months of training and long runs in excess of 20 miles, it still hurts.
And I'd do it all again in a heartbeat.
New York is my 6th marathon since 2018, when I started my long-term goal, "The Adventures of Lego Flash: 50 States, 50 Marathons" in the City of Brotherly Love (Philadelphia). Since then, I've run marathons in Detroit, Fort Lauderdale, Buffalo, and Pittsburgh, and while each of these races has had its moments (Detroit was international! Pittsburgh was my home for many years!), I don't know if I'd run the full marathon again in any of these cities. The half, definitely. But the time and energy devoted to training for and running a full marathon is a lot (not to mention the cost), and I'm a PhD student with limited everything.
New York is different. Running through all five boroughs, each borough trying to outcompete the others; the wall of bodies on either side of the road in Central Park, screaming at everyone to keep going because we're so close to the finish line; the spectators with mimosas in one hand and signs saying, "At least you're not in bloody Staten Island" beside Nadja's face (a character from What We Do In the Shadows) in the other—I have never had a race experience like this. The energy is absolutely incredible, carrying me forward with every step, and the miles melted away before I even knew what was happening.
Writing about it now, a few days later, I'm still awed by the well-oiled volunteer-driven machine that made everything possible. From the expo/packet pickup before the race to the aid stations every mile to the volunteers wrapping finishers up in ponchos for warmth, New Yorkers showed up and showed out, and they had a message: New York City is back. I would love to volunteer for this race one day—not just to give back to the city and runners who supported me this time around, but because it just seems like so much fun.
I am so thankful that I got to run this past weekend. I'm even more thankful that I got to run as a charity runner for EndoFound. My middle sister Mason, who also ran on Sunday, has endometriosis and I knew absolutely nothing about it until after she said something and I started doing more research. Finding out my sister has endo—that made my fundraising goal and everything it stood for personal. When people asked, I told them the truth: I'm fundraising and running because of my sister.
And I am proud of that. I'm proud that my "why" isn't just because I'm running 50 marathons in 50 states over the next however many years, and it's not just because running is one of my outlets when school gets stressful. I'm part of a larger team doing something to make a difference. Along with the rest of the team, we've raised over $50,000 for EndoFound—money that will go towards research, raising awareness, and advocacy.
Someday I'll run New York again, and hopefully I'll be able to do it as a charity runner for EndoFound. For now, though, the Adventures of Lego Flash will continue in Atlanta, GA.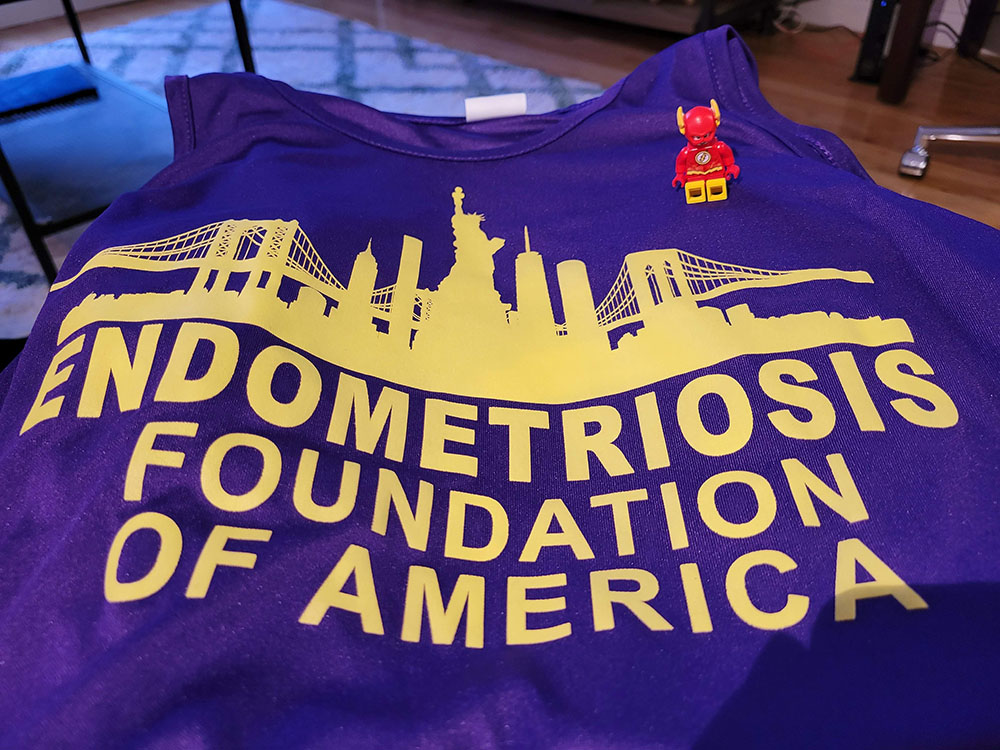 Alt text for photo: Lego Flash, a mini Lego figurine of The Flash, sitting on a purple tank top that says, in yellow text, Endometriosis Foundation of America. Above the words is the New York City skyline with the Statue of Liberty, Empire State Building, and One World Trade visible.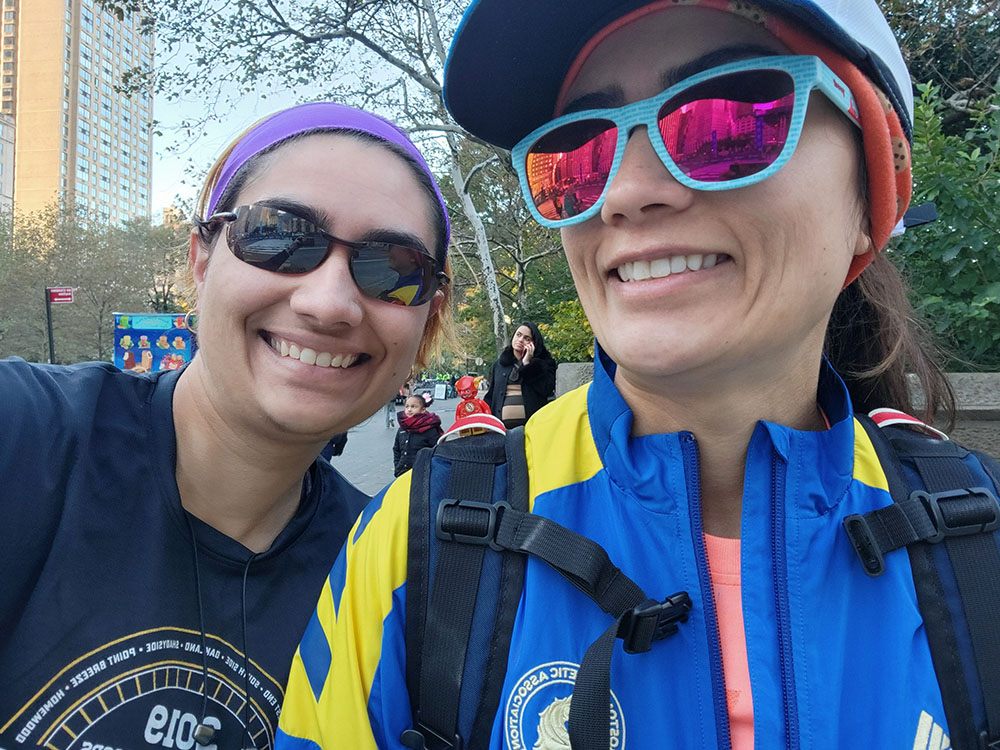 Alt text: A photo of me, on the left, and my sister Mason, on the right, standing outside of Central Park the day before the NYC Marathon. We were there to cheer on our mom, who was running the 5k on Saturday. Lego Flash sits on Mason's shoulder. Both of us have tan skin and sunglasses on. Mason is wearing a blue and yellow Boston Marathon jacket. I am wearing a black long-sleeve shirt that says 2019 Pittsburgh Marathon.