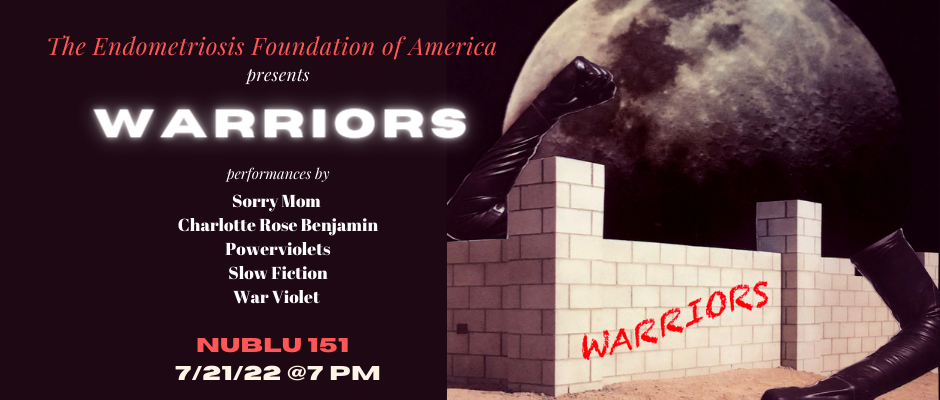 The experience of endometriosis, though different for everyone, is so deeply inlaid with pain of all kinds. Beyond the obvious physical pain, living with this disease so often engenders grief and loss, anger and anxiety, despair and hopelessness. From the routine gaslighting and misinformation from medical professionals to the lived reality of endo radically altering lives, the story of endo patients is often impossible to fully capture and communicate to those on the outside. Yet, as anyone who has ever cried from a sad love song, been moved by a work of art, or captivated by a good poem can likely attest, it is sometimes the darkest, most heartbreaking experiences that allow something beautiful to be created. It is the beauty of connection, of seeing your own pain reflected in a new way, of knowing that you are not alone.
Such is the power of the new album Warriors from Holy Fang Studios. A compilation of original songs from 15 different femme or femme-led artists, this album seeks to capture not just the difficulty of living with endometriosis, but also the resilience, power, and joy that comes with being a part of the endo community. For Bernadette Higgins, co-founder of Holy Fang studios and an endo patient herself, this project meant bringing together a community of musicians to celebrate the strength and spirit of the people fighting endometriosis every day.
"I thought well, how great would it be if we actually collected as many great artists that we know, young people that record with us or who we know about the city and make this female powerhouse story," Higgins reflected. While she had hoped for years to create a compilation project with femme-led bands with endometriosis and others looking to support, the album didn't begin to take shape until following excision surgery with Dr. Tamer Seckin, co-founder of EndoFound, when the idea was reinvigorated as a much-needed project. As Higgins and her partner and fellow co-founder of Holy Fang Studios, Oliver Ignatius, became more involved with EndoFound, they realized that music could be a powerful tool for uplifting the endo community.
"I've always been a great believer that music has incredible therapeutic uses," Ignatius shared. For him and Higgins, the idea flourished naturally. "Collecting community and bringing together musicians and artists and listeners together has sort of always been a massive part of what we do, so it was just an organic no-brainer in the end."
Many of the artists involved with Warriors have endo, while others shared stories of loved ones with the disease or suspicions that they may have it undiagnosed. "Some of them have been told they have it but can't get treatment or a real diagnosis from a doctor that actually knows what they're doing," Higgins relayed. With so many people touched one way or another by endo, the project crystallized quickly. "It's kind of amazing how the stories have all come together and how much people have been so generous with their music and their art."
Higgins' struggle with endo began before the age of 13, and has been an incredibly painful journey that has included disbelief from loved ones and medical professionals, shoddy medical advice, and botched surgeries. For her and Ignatius, the album is intended to capture the essence of their journey and is an important step towards greater endo and feminist advocacy broadly. In introducing the goals and spirit of the album to the contributing artists, much of their focus centered on the concept of endo warriors and the experience of living with an invisible disease. "Allowances are not made for the people who are suffering from [endo] generally and they have to keep getting up, they have to power through their lives and go above and beyond and not only deal with the pressures and unfair expectations that are inflicted on them by society just simply as women, but also carrying this invisible disease with no cure," Ignatius shared. When this pressing cause was presented to the artists, they were immediately on board.
Yet the album is not rooted solely in the grief and hardship of endo, it also allows space for the complicated range of emotions that such an intense experience can inspire. Ignatius explained, "The idea was for it not to be just an expression of sorrow, but for it also to be an expression of resilience. It's everything from pain to joy."
Indeed, folks listening to Warriors will find a wide range of genres, moods, and messages. From the punk music of Sorry Mom that leaves listeners no choice but to jump around and fist-pump, to the piercingly tender work of Charlotte Rose Benjamin and Noods, this special compilation highlights a diverse array of artists with their own unique stories to tell. As an endo patient myself, the feelings of heartbreak, loneliness and anger resonated deeply throughout the songs, as did the feelings of love, solidarity, and courage. As Ignatius aptly put it, "Music is kind of this interesting, intangible realm where all the emotions kind of blur. It's really a place where people can explore these more complicated feelings." With the lived experience of endo bringing with it an incredible—and sometimes seemingly insurmountable—tangle of complicated feelings, music might offer us a safe, cathartic, and profoundly comforting way of starting that exploration.
The creation of Warriors is not only powerful for listeners, but has been powerful for the artists involved. For the band Sorry Mom, this project was an exciting opportunity to spread awareness for endometriosis. "As a femme punk band, we advocate for bringing awareness and attention to the challenges that affect people with uteruses. When we were contacted about this album we jumped on the opportunity right away," they shared.
Savannah Rae Shiever, who performs as Fawn Response, has personal experience with endo as well; she said, "As someone who has lived misdiagnosed, mistreated, and without access to proper, affordable, best-practice endometriosis surgical care and treatment planning for more than half my lifetime, I know all too well the toll that living with this disease can take on multiple facets of an individual's life and vitality." Currently preparing for what will be her fourth surgery in her endo struggle, Rae Shiever relayed what being a part of Warriors has meant for her: "I am honored to raise my voice in solidarity with [EndoFound's] mission toward bridging this inequity, and toward ensuring that all of those living with endometriosis have timely and affordable access to the highest quality of surgical care and disease management available to them."
One of the many elements that makes Warriors special is this personal connection from its contributors. This even includes the artist who created the album cover, Erin Victoria Axtell. An endo patient herself, Axtell explained that the cover art is a reflection of her own current feelings, a product of intense endo pain and a bad breakup. "I am a creative who has depended on art as an outlet for pain," Axtell thoughtfully shared. The piece depicts a moon wearing plastic gloves being imprisoned by a brick wall, a strikingly powerful image rooted in the firsthand experience of an endo warrior.
This collaborative nature of the album from female and femme artists made the experience of making it particularly special. According to Higgins, the centrality of these artists in the recording space and the amplification of their voices changed the dynamic in a really empowering way. "It was just a completely different kind of work environment," she explained. "We used to be sort of called the 'boys' club' in New York City because it was just so many men at the front with their loud guitars. The women were underrepresented in the music industry as well, so it's interesting to see all of these people more empowered and actually being able to tell the boys in their band, 'you don't like it? Too bad.'"
As Warriors is released on July 21 ahead of its kickoff concert fundraiser in New York City, it will be the first of hopefully many more to come. Ignatius revealed that a second album is already in the works, and they hope to make the concert an annual event to continue uniting, uplifting, and advocating for the endo community. For Ignatius and Higgins, this work is a central part of their fight for more just and impactful endometriosis care for future generations as well, including their 8 year-old daughter. "Maybe there's a hope that if she does end up having endo, she'll be able to get some real relief," Ignatius shared.
For endometriosis patients and their loved ones, this music will hopefully come as a comforting, fortifying experience. To hear something beautiful emerge from and reflect the depth of emotion that comes with experiencing endo, a story that is so often not given a voice, can be a uniquely powerful force in reminding us that we are not alone.
Rae Shiever imparted the message of Warriors quite eloquently: "May this record serve as alchemy to transmute and transform the pain and inequity that preceded it, and may it serve as a beacon for anyone and everyone currently impacted by the disease. From one warrior to another, if you are reading this: you are not alone, there is a whole community of us who love you and believe you, and there is help and healing on your horizon. Hold on."