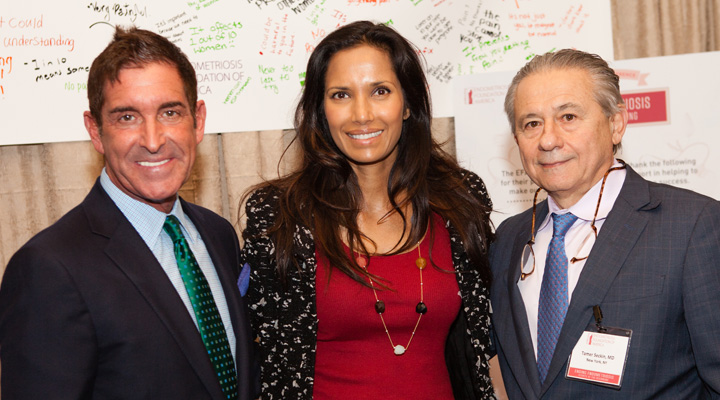 Endofound's Sixth Annual Medical Conference: Ending Endometriosis Starts at the Beginning
Endofound Medical Conference 2015
The ENPOWR Award
Padma Lakshmi
Our next recipient is just an angel to the Endometriosis Foundation of America. Several years ago we got a phone call from someone in Senator Jeffrey Klein's office, he is a New York State Senator up in the Bronx area, just out of the blue. This person said that Senator Klein was interested in doing something for the adolescents in his area and beyond because he saw that there was a great need. He was wondering if I would like to find out more about his district and he could find out more about our organization.
Long story short, Senator Klein and I met and then we wound up going all the way to Albany and talking to a lot of his colleagues, and really, just even going on the senate floor, which by the way was a coup for me, I had never been up to the state capital building, it is a beautiful building. He managed to lobby a lot of his co-senators, women and men from many districts to get behind an initiate for teenage health. Not only in endometriosis but also in obesity and substance abuse. He had identified, along with his team, that these were three areas that were very important, and really in placing an adolescent in harm's way. And that we needed to address it early and young in a young person's life.
Through Senator Klein we literally got the money to do this. We would not be here today. We would not have been able to make presentations to 6,500 students if it was not for Senator Klein. We owe him so much. This whole program would never exist in the form that it does and it is because of one man's mission to do something about the neighborhood he grew up in. He has dedicated his life to bettering not only his district but the State of New York, and the country in general. So please join me in thanking, and congratulating and giving a warm welcome to Jeffrey Klein.
Thank you very much Padma, I really appreciate it. That is something that is certainly very, very special because throughout my career I have always prided myself on figuring out ways we can help our young people. I think the most important thing that I learned is first speaking to young people, sort of getting their feedback on what they need to know about, what they do not know about and how we can make sure that they have healthier lives.
I was one of the first to do some work in the Bronx on childhood asthma, which had the highest childhood asthma rate of any county in the United States. We did a lot of work over the years on underage drinking. When I met Padma three years ago I saw here was a woman who really wanted to give something back. Through her prestige, even though she is so, so busy she wanted to make sure that we raised a generation of healthier teens, healthier young people. So we kicked off a teen awareness campaign. One of the things that I learned was do not let adults dictate what is important to teens. I think all parents here will know that instantly.
One of the things we did, believe it or not, is the first ever teen health awareness survey. We talked about various things, under aged drinking, which is still unfortunately a problem, especially binge drinking, among our young people. We looked at obesity. When you are standing here in New York City 38 percent of our young people are still obese or overweight. That is still a problem. Of course we talked about endometriosis. And hearing these young people, now they know, but 70 percent of the young people that we surveyed had no idea what endometriosis was. We got to work.
One of the things that I was able to successfully put forth with Padma, and everyone I know does not want to think about it, but tax season is on the way, right? One of the things we were able to do besides helping the endometriosis foundation, was start the first ever, myself and Padma, the first ever check off on your state taxes for an education fund for young people. This is how we are going to be able to get more money into our schools, for sex education, making sure we talk about things like under age drinking, endometriosis. We need to first figure out what young people need and want, and you would be surprised. Once you get feedback from them and they are explaining to you what they feel is important and what they do not know about, that is how you adequately educate a new generation of young people. I think the work that we were able to do together I think is going to come back and help so many young women and so many young men. When Padma asked about the Endometriosis Foundation, which I think fit in so well with our teen health awareness campaign, because of I think people like you and I think others around our great state, we were able to get $200,000 – this is the third year we were able to get $200,000 in the state budget for this very, very important program.
You know something? I take that part of my job very, very seriously. These are your dollars, your taxpayer dollars. When we can steer it in the direction of a worthy organization like this where young people are now spreading the word about endometriosis, and the work that Padma is doing as really the chief spokesperson making sure young people understand. Because again, this is something that can destroy a young woman's life. This is something that can hurt her chances in an education, hurt her chances of motherhood. Those are some very, very serious things.
I am glad you are here today because I think all in all when I look out in the faces of young people and especially the parents and our teen educators I know this was money well spent. Thank you all very, very much.