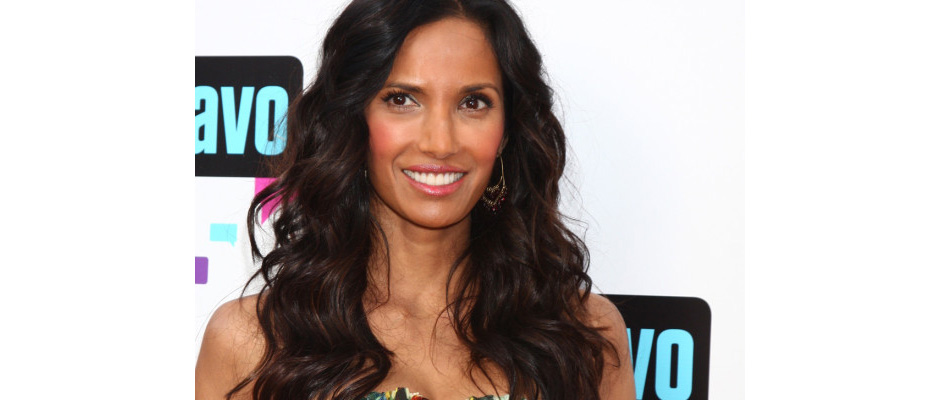 Endometriosis effectively exiled Padma Lakshmi from her life, one week a month, every year, for over 20 years. She's a college-educated, professional woman living in a major city with access to the best doctors and health insurance. Despite all this, she had never heard of the disease.
"I wanted to change that for other young women," the Emmy nominated actress, food expert, model, award-winning author, and host on Top Chef, says.
This led her to found the Endometriosis Foundation of America in 2009 with her doctor and savior, Dr.Seckin. Endofound is a nonprofit organization dedicated to combating endometriosis through advocacy, targeted research, education, and increasing awareness.
Road to Recovery
From early adolescence, Lakshmi knew there was something wrong with her period. She had intense pain, cramping, nausea, headache, fatigue, and excessive blood flow. "I was told by my mother that this was just our lot in life because I'm sure that's what she was told by her mother," she says. "So I expected the pain, saw my mother go through it in fact, month in and month out."
In her 20s, Lakshmi went on birth control, which didn't alleviate symptoms. She had a couple of ovarian cysts removed when she was 30, yet her doctor didn't inform her that she had a chronic condition that needed to be monitored. In 2005, she was rushed to the hospital because of severe abdominal cramps. "It turned out that some endometrial tissue had wrapped itself around my small intestine like a tourniquet," she recalls. "The gastroenterological surgeon who called this tissue 'scar tissuesaid that he snipped it off and that I should be fine. Again, I was far from fine, and all of the symptoms I had came raging back with my next period."
When she started bleeding in the middle of her cycle while at a photo shoot, she called her doctor. She says that he was not only concerned about what was happening but that for decades, she had been prescribed narcotic pain medication by various gynecologists who didn't see anything abnormal in her "very abnormal systems."
In her words, Lakshmi fell through the cracks. But then at 36, she was referred to Dr.Seckin, who Lakshmi says was the first and only person to worry about her health as she did. "He was the first doctor to make me feel like I wasn't crazy or overdramatic," she says. "He was actually astonished that I had been walking around with the severity of pain and symptoms I had. The diagnosis and treatment that I received from Dr.Seckin significantly changed my life and ability to be a mother. And yet, in spite of my luck, I am still walking around with one fallopian tube, not two."
Not only does endometriosis affect a woman's fertility and physical health, but it's devastating emotionally, says Lakshmi. "Nobody wants to talk about this stuff," she says. "It's an incredibly private subject for most women, and even more so for a teenage girl. If I had been diagnosed at 16, or 26 or even 32, I would have gained valuable time. I would have been able to be more present for my family and friends… [had] a greater capacity to advance professionally, and I would have also had a greater capacity for intimacy."
As Lakshmi says, endometriosis causes all kinds of scars, including many that can't be seen with a surgeon's scope. And this is why she started Endofound. "I didn't want the next generation of women to go through what I went through, to feel betrayed by their own bodies or to feel alone," she says.
Endofound
The organization – which believes that early detection and diagnosis is the best prevention for endometriosis – has a wealth of information on its web site. It provides disease information and support, along with fact sheets, tool kits, brochures, and posters. The web site also features resources, FAQs, activities and programs.
Endofound has achieved quite a bit since its inception. It helped launch the country's first research center on gynepathology at MIT. Endofound hosts an annual international medical conference and runs a variety of outreach campaigns, like a killer cramps poster campaign. It holds various events for different stakeholders and supports ROSE (Research Outsmarts Endometriosis), the first project in the U.S. to solely investigate endometrial tissue to the deepest genetic signature.
Goals
As Lakshmi says, Endofound doesn't view endometriosis as just a women's health issue, but as a family issue. She lists three major goals:
Raise public awareness among all sectors of the general population
Foster and encourage research because a cure is possible
Change public policy on how the disease is addressed in medical schools and other educational institutions
When asked what is still needed, Dr. Seckin – who has been treating only endometriosis patients for decades — says, "The sad reality today is that the care for women with endometriosis continues to be noticeably deficient. The number of undiagnosed or misdiagnosed cases is staggering." He calls it a public health crisis, since it affects 1 in 10 women of childbearing age in the U.S., with as many as 176 million women and adolescent girls worldwide, and is one of the three leading causes of infertility.
"Both the pharmaceutical industry and medical technology companies have turned a blind eye to the most helpful technique of the endometriosis removal, called excision surgery (when growths and scar tissue are removed or destroyed with intense heat), which is the gold-standard of treatment," Dr. Seckin says. "What we need is a cure!"
Dr. Seckin's vision has always been to start a dialogue. "Everyone needs to know about endometriosis. People need to be talking about this disease in the community, in our schools, on college campuses around the world, in the workplace and at the gym, and in the doctor's office," he says. He's petitioning to add it to the recommended curriculum for health education classes and says in medical school specialty training, it should be mandatory to teach residents the correct way to treat endometriosis patients. Ultimately, a subspecialty should be created, he says.
The co-founders are deeply committed to their cause. "Personally and spiritually, Endofound has been incredibly rewarding because it gave purpose and meaning for what would have otherwise been completely unnecessary suffering," says Lakshmi.
Source: http://womenshealth.com/padma-lakshmis-personal-cause-the-endometriosis-foundation-of-america/