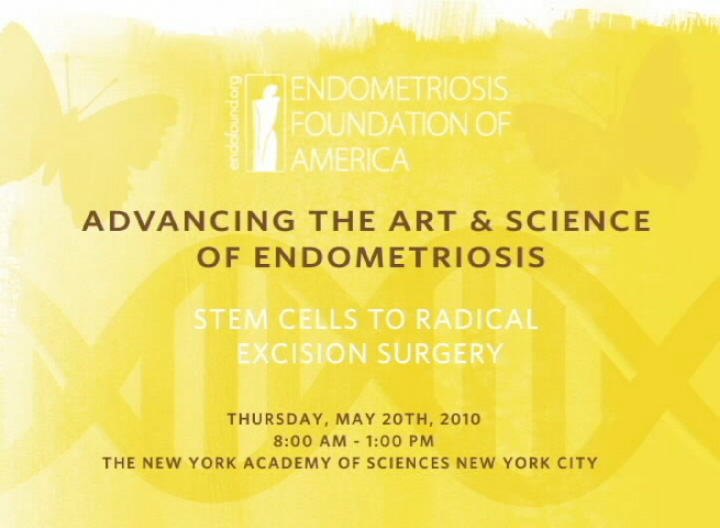 Endometriosis Foundation of America: Medical Conference 2010 Intro – 1

Tamer Seckin

Good morning. My name is Dr. Tamer Seckin. On behalf of the Endometriosis Foundation of America, I welcome you to our first Endofound Medical Conference: "Advancing the Art & Science of Endometriosis - from Stem Cells to Radical Excision Surgery".

Without discrediting the old theories, stem cell science brings a deeper explanation to this mysterious disease. We included wide radical excision because good quality surgery happens to work best for these patients, combined with early diagnosis.

We are honored today to have in attendance global health professionals who have come together with one purpose, to advance the dialogue in the discovery and treatment of women suffering from endometriosis.

Yes! - with all the field of experts, we cannot do it alone. We need more physicians, scientists, academia and advocates like you to continue to work together. With further education and awareness we can give care and hope to so many millions of women in need.

We thank you for joining us today and appreciate your continued support.

Padma Lakshmi

Hi, I am Padma Lakshmi and March is Endometriosis Awareness Month. Endometriosis is a disease that affects 10 million women and adolescent girls in the U.S. alone, and the symptoms of it can be extreme pain on a monthly basis during your cycle, gastric condition, headache, backache and it can also lead to infertility. It's a disease that isn't curable, but it is treatable, and there is lots of help out there for you. I suffered undiagnosed for years and that's why we founded the Endometriosis Foundation of America to help millions of girls, so that they wouldn't have to go through what I went through.

If you or someone you love, thinks you may have endometriosis, please go to http://www.endofound.org to find out about treatment, help and other support. You don't have to suffer alone. Thank you.

Endometriosis Foundation of America (Endofound): Advancing the Art & Science of Endometriosis, Stem Cells to Radical Excision Surgery, a scientific symposium presented to you by the Endometriosis Foundation of America, science, research, surgery and advocates.

Endometriosis is a poorly understood disease affecting an estimated 176 million women around the world during the prime years of their lives. Advancing the Art & Science of Endometriosis: Stem Cells to Radical Excision Surgery, serves as the genesis for advancing our understanding on issues related to the disease, from stem cell theories, through the personal and societal impact of endometriosis and positive surgical intervention.

The Endometriosis Foundation of America is dedicated to fighting against the devastating effects of a disease that affects millions of women and adolescent girls. Through increased awareness, education, scientific research and legislative advocacy, Endofound is committed to improving lives with early diagnosis and treatment.

Today's Program Agenda
Session I: Science & Research Biologies
Session II: Pain & Infertility: The Challenges of Managing Endometriosis Today
Session III: Endometriosis & Cancer
Session IV: Public Health & Endometriosis: A Panel Discussion.

Thank you to our medical conference sponsors:
Abbott, Endometriosis Research Center; Lumenis; Lenox Hill Radiology & Medical Imaging Associates; Juneau Biosciences; and Endometriosis.org.