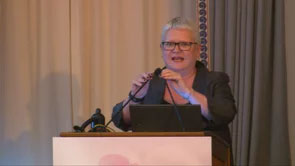 Global research perspectives
Advancing the Science and Surgery of Endometriosis
Monday and Tuesday, April 18-19, 2016
The Union Club, New York
It is always hard to be the last speaker of the day but I think that it has been an incredibly informative day. We have looked at so many different aspects of endometriosis and we have also, I think, been able to see where we are missing pieces of the puzzle to move forward for more effective treatment. This is why I am going to be talking about some of the future research directions.
About three years ago we published this paper which involved more than 50 people, I cannot even remember how many anymore. We succeeded in getting consensus from this group of people on 67 out of 69 statements on the treatment of endometriosis, specialist care and disease impact. However, that consensus was based on really rather weak evidence because when you start reviewing the literature you find that there are indeed many gaps in our knowledge base. Some of those gaps include the fact that we know too little about how endometriosis affects adolescents because we do not tend to get to them and how we should be treating them accordingly. We also have very little research on endometriosis post-menopause sub-types of the disease. Professor Abrao mentioned that in his talk as well that we are talking about more than one entity when we talk about endometriosis, standardized treatment strategies but again, how can we do that until we understand the sub-types of endometriosis and prevention and definition of what specialty and expertise is. I rather liked the comment that concluded the last session that not everybody is born to the a surgeon so do not encourage those to do hit and miss treatments on women with endometriosis but focus on training those that really have aptitude for it. But again, how can we define that specialty until we understand the sub-types and how can we do treatment strategies until we agree on what expertise is needed.
A lot of the unanswered questions include are we talking about one progressive disease? Do we understand the relationship between pain and infertility and the different disease types? What are the causal mechanisms of endometriosis? When are the critical risk windows across the life course? Is there a time that is good to treat that might prevent the disease from progressing any further? How do we find better treatments, how do we find non-invasive diagnosis tools? How do we identify targeted treatments, and is the women's long term health improved by earlier intervention? Many of us do promote early intervention but we actually do not know if it makes a difference or not. And how can we positively impact patient quality of life and to do that we need an integration of patient, clinical and biological information. We need big data because "without data you are just another person with an opinion" (W. Edwards Deming, Data Scientist). And that is why we got stuck into the Endometriosis Phenome and Biobanking Harmonisation Project, which is coordinated by the World Endometriosis Research Foundation.
It actually sprung out from a workshop on setting future directions for endometriosis research, a paper that was published in Reproductive Sciences in 2013. One of those recommendations were to collect data and to evaluate across populations the phenotypic appearance of disease, the symptomatology of disease, and attempt to more finely characterize, beyond our current staging system, differences between women.
Another recommendation was at the World Endometriosis Society and the World Endometriosis Research Foundation investigators should establish a task force to consider clinical staging based on combinatorial algorithms incorporating historical findings including prior therapies, presenting symptoms and intraoperative biochemical findings.
Another recommendation was the establishments of networks and biobanks and databases. I am not going to read the rest. It is also very gnarled language. I am pleased to say I did not write this. And finally that worth should define guiding principles for establishing a global registry for endometriosis biobanks and databanks, and take the lead in identifying standard operating procedures and consensus on clinically relevant questions so that we can promote standardized definitions, prospective documentation and pragmatic orientated research designs.
We convened a large group of people to look at what was out there already in terms of clinical and surgical questionnaires and standard operating procedures for the collection, processing and storage of bio-specimens with the goal to identify subtypes of endometriosis, and hopefully one day to develop a non-invasive diagnostic treatment, targeted treatments and prevention of endometriosis and co-morbidities.
We worked with 54 collaborators in 33 institutions in 16 countries with the goals of this harmonization of information. We published our findings in Fertility and Sterility. There are four papers and four sets of tools that are freely available from the World Endometriosis Research Foundation's website. That is the collection of surgical data, clinical data and standard operating procedures for bio-specimen collection.
If we look at surgical data first it looks very busy but the surgeons that are using this tool tell me it takes about two to three minutes to fill in after surgery. We need information about prior imaging, procedures done during this particular surgery, residual disease at close, any complications, pathology observed and deep endometriosis locations. You see we do not like DIE either and have therefore shortened it to deep endometriosis. Also, if there is endometrioma, endometriotic nodules, locations and sizes, as well as adhesions their locations, number and appearances. To be matched with that we need the clinical information from the woman. That is a self-administered questionnaire, which is now available in six languages and we are working on a web-based self-entry platform to collect that data.
Amongst others that would include for example questions about current pelvic pain, menstrual history and hormones, pregnancy and fertility history, what type of pain that women is having, how long she has had it for and catastrophization. So to what extent she needs to deal with the pain issues very, very quickly, medical and medication history, demographic characteristics and various lifestyle information. That is much longer and a lot of people are saying why do you need all these questions? Well, among 54 people we sat around that table and there was not a single person in that room that did not think that one of these questions was not of utmost importance for us to understand better the phenotype of endometriosis.
And finally, as I said, we also have standard operating procedures for the biobanking of fluid specimens and tissue specimens in endometriosis. What we have done is we have recognized that there are limitations, both in certain countries and in certain hospitals or in hospital system so all of these tools have the full whack. Then we have a minimal version as well that these are the minimum questions that need to be asked and the minimum information that needs to be collected.
As I said the tools are available on our website and you will also on our website be able to see exactly which centers are using these tools and what they are collecting. You can register your center there if you are using the tools and then you can go in and see that Center A, for example, is collecting blood and endometrium and Center B saliva, blood and endometrial fluid, etc. etc. you get the picture.
Let us say that you are working on a specific project, for example collecting saliva. You can go in and see Center B and Center D are also collecting this, perhaps I should contact them and see if we can collaborate in the knowledge that all of that information is being collected in exactly the same way and that these specimens are being collected, processed and stored in exactly the same way. So, for the first time ever we are now actually able to pool data and information among centers and we can compare apples with apples, which we have never really been able to do before.
Just to summarize what that particularly would look like in terms of the endometriosis phenome is first of all matching the symptoms of the woman; the age of onset, the intensity, impact, parity, co-morbidities and family history with the specimens that have been collected and the surgical findings when that specific specimen was collected in the hope that we might be able to identify that certain symptoms, certain information associated with specific specimens, will potentially have different origins or triggers and therefore might be diagnosed differently and treated differently. Ultimately with a goal to then look at responsiveness and outcomes in these women to see whether there are certain treatments that work better than others and then we might ultimately be able to provide a prognosis for the woman.
To summarize, we are looking to improve diagnosis, to make targeted treatments and to prevent endometriosis. To do so there is a huge puzzle that needs to be filled in for us to understand disease mechanisms. We need to understand why and how these lesions develop. Why and how they cause symptoms, if they even cause symptoms because we do know about 14 percent of women who present for tubal sterilization have asymptomatic endometriosis so that may be another type that we need to look at as well. And then, how lesions respond to treatments. So, for different centers to work together and contribute to that puzzle it is so important that we have standardized data and specimen collection, validated laboratory models and robust study and trial designs.
Four of these 65 recommendations that came out of that workshop we have now dealt with and we are moving on to other research priorities that hopefully will come out of using the Effect tools as well.
To conclude, in order to classify, identify and diagnose endometriosis we need to find out the subgroups, the different types of disease and how they are associated with symptoms, age, impact and perhaps even ethnicity, the physical location and manifestation of that disease and how the woman responds to treatment. Then we can move towards targeted treatments, prognosis and, this is my dream, prevention in future generations of women. We need big data to do that and WERF has now developed the tools that enable that so there is no excuse not to get stuck in.
We may believe in God but all others must bring data. I encourage you if you are working on good data to bring that to the World Congress on Endometriosis next year in Vancouver, abstract submission opens in June.
Thank you for your attention.