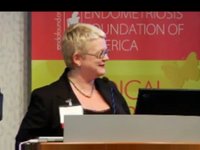 Heather Guidone:
It is my absolute pleasure to introduce my friend and colleague, Lone Hummelshøj. Some of you may know her as the Editor in Chief of Endometriosis.org, others may know her as the Secretary-General of the World Endo Society and Chief Executive of the World Endometriosis Research Foundation. And with that, I would like to introduce and turn the floor to Lone.
Lone Hummelshøj:
Thank you very much for this kind introduction. Good morning ladies and gentlemen. I would like to start off by thanking Tamer Seckin for inviting me to participate and contribute to this session. This is the second time that the foundation has this one-day symposium and it is going really well and I think it is going to be even better than last year. So, well done and thank you very much for everything you do Tamer.
So, sex in the morning, huh? In a paper that we had published last month in Reproductive Sciences we described endometriosis as a 3D syndrome; talking about dysmenorrhea, which is effectively measured by the loss of productivity and the amount of bed rest that a woman may have to take when she has painful periods, dysparunia, which is measured by the limitation of sexual activity and dyschesia, which is measured by the frequency of that particular complaint. What we are going to be talking about for the next five or ten minutes is sexual activity.
Did you know that the World Health Organization actually has classified having a satisfying sex life as a human right? In their Geneva Convention in 2002 they state that "Reproductive health implies that people are able to have a satisfying and safe sex life and that they have the capacity to reproduce and the freedom to decide if, when and how often to do so". In fact if we move on with reproductive health since human reproduction generally requires sexual activity, sexual rights are closely linked to reproductive rights. When they are defining sexual rights then that is the right to embrace human rights that are already recognized in national laws. They include the rights of all persons to pursue a satisfying, safe and pleasurable sex life. However, that is not necessarily so for all women with endometriosis.
The impact of dysparunia can affect a woman's psychological well-being, her body image, her self-esteem and her relationships. I want to dwell for a moment just on the body image and self-esteem. Can you imagine women with endometriosis every month they have their period, they are bombarded with advertising telling them to have a happy period! In fact if you go onto this website you can wish your friends a happy period too! There are happiness tips of the day. Can you imagine how women with endometriosis feel when they see advertising like this on a day-to-day basis? When it comes to sex I just picked up four glossy magazines that are published this month and it is all about sex and love. There are even bedroom blogs, sex advice, and 77 sex positions in 77 days. I do not think a lot of women with endometriosis who have dysparunia are up for a sex romp for 77 days in a row. Sex in Relationships. 101Ways to Have the Best Sex of Your Life. And it goes on, except I must admit of course that I am one of the many women who actually do have the odd daydream of Colin Firth as Mr. Darcy but that is a separate topic.
So, all of this of course is affecting this woman's relationships as Professor Gomel also alluded to right before me. I found this cartoon in an English newspaper last year where the man says to the woman, "You have the worst periods of any woman I've ever met. All the pain, the crying, the sleeplessness. It's awful. I've been really unlucky." So apart from that being a tad insensitive it is unlucky if a couple do actually have problems with their sex lives.
I'm very briefly going to talk about three different studies that illustrate this. The first one is a piece of market research that was done by Bayer Healthcare Pharmaceuticals as they are now known, just over a year ago. It involved over 21,000 women in eight countries and those who were diagnosed with endometriosis indicated when asked what the biggest impact on their quality of life had been in the last 12 months that it was their sexual lives. In fact, a couple of years ago we did a retrospective study of woman who had been diagnosed and treated for endometriosis 15 years earlier to try and understand what their quality of life was today and how they were living with endometriosis, and lo and behold, 50 percent of those indicated that they had problems with their sex lives still. And finally, the World Endometriosis Research foundation has been conducting a number of studies looking at impact of the disease both from a cost and a quality of life point of view. In terms of quality of life we found recently that 56 percent of women complained of dysparunia. Twelve percent of those had it all the time and 39 percent would actually interrupt intercourse because of it, and 42 percent would avoid intercourse altogether. We are talking about women during the prime years of their lives. They should be having a lot of sex. They should not be avoiding it. But that apparently is what is happening.
I have done a little crude calculation. Of course I am middle-aged now so I do not know but I am guessing that in the prime years of your lives if you have sex for half an hour twice a week, 52 weeks a year for 30 years, then you have sex for about an hour a week, that is four hours a month, that is 48 hours a year. That is about two days of solid sex. Two days a year for 30 years is 60 days of continuous pain. Could you imagine if someone was banging you with a hammer for 60 continuous days, that is potentially what some of these women are facing.
To conclude, dysparunia affects mainly the young women in the most sexually active years and not having sex is actually going to compromise their fertility as well. Yet this particular aspect of endometriosis is not studied and not very well addressed at all in research reports. As Linda Griffiths also mentioned this morning endometriosis may be a difficult topic to talk about, never mind dysparunia. It is very difficult for these women to voluntarily disclose what is very personal and intimate information, and therefore, as Professor Gomel also mentioned, the physicians have to have an enormous amount of empathy and to try and help tease out these issues from the women when they are sitting in front of you because it can be very, very difficult for them to actually admit that this is a big problem. Of course that will have consequences on the overall efficacy of treatments.
What we are calling for in our paper is that we want people to stop studying symptomatic endometriosis patients as an undifferentiated population because we think that this might actually mask very important distinctions between subgroups with specific symptoms and again that might interfere with our clinical understanding and therapeutic decision making. We think that research efforts should focus on the treatment of the main painful complaint and that may very well differ across a number of women. And finally, dysparunia should be viewed in a broader clinical perspectives, what we consider both psychological and interpersonal consequences. In other words, let us talk about sex and endometriosis, seriously.
Thank you.