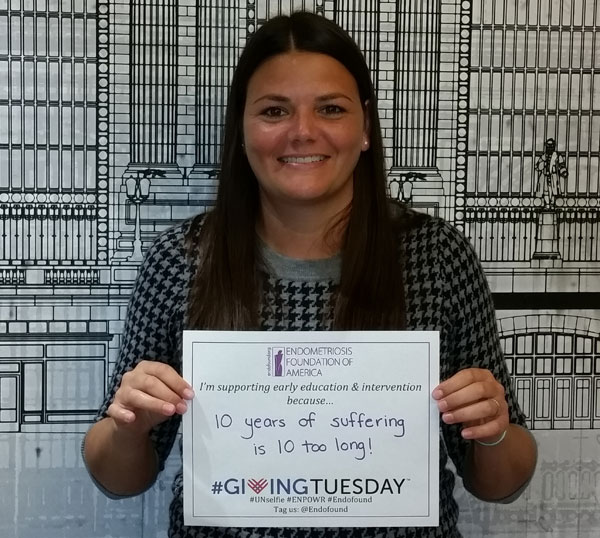 December 1, 2015 is #GivingTuesday, a global day that celebrates generosity and philanthropic giving. We are proud to announce that Endofound will be participating for the second year in a row, with a special campaign primarily focused on The ENPOWR Project!
Did you know that it takes an average of 10 years for a woman to receive a proper endometriosis diagnosis? Did you know that during this time women often receive multiple misdiagnoses and incorrect treatments, all while continuing to endure the painful symptoms of endometriosis? Endofound's ENPOWR Project aims to reduce this delay to diagnosis by promoting timely intervention through education. We need your help to bring ENPOWR across the country and to reach young people when it is most critical!
From now until December 1st, show your support by uploading YOUR #UNSelfie, and share why you advocate for early education and intervention. We can reduce the 10-year delay to diagnosis together!
To participate in the #UNSelfie for endometriosis campaign:
Take a "selfie" with a caption (or have it on a card in the picture) expalining why you are supporting the Endofound and The ENPOWR Project. All you have to do is print the template and write in why you support early education and intervention.
Please use the hashtags #UNSelfie, #Endofound, #ENPOWR, and #GivingTuesday. Don't forget to mention our website – www.endofound.org!
Post it to Instagram, Twitter and/or Facebook to share and encourage your friends to do the same! Be sure to tag us on Instagram/Twitter @Endofound and on Facebook: Endometriosis Foundation of America.
Together, we can help save young women from having to go through years of unneccessary pain and frustration!