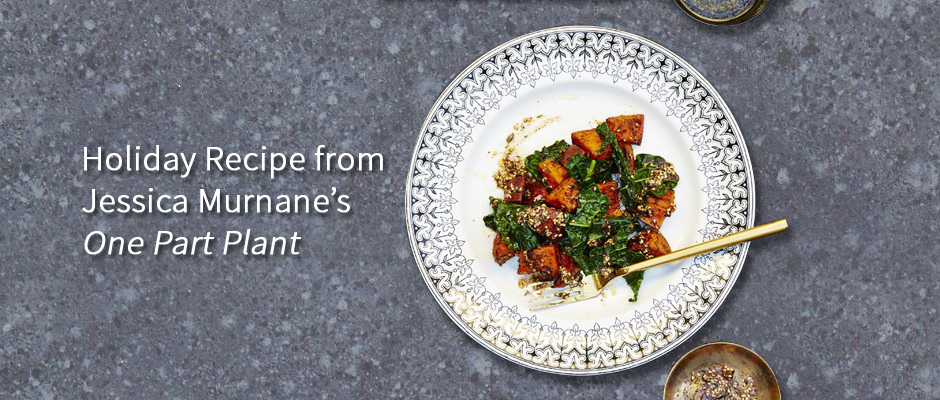 When you have endo, inflammatory foods are oftentimes not our friends. And during the holidays, there can be a lot of inflammatory foods. But it's all about finding balance during the holidays. So, I like to make sure I have a few dishes on hand that I know will be endo-friendly. This dish is one of my favorites! Flavorful, colorful, and easy to make...the winning combination for a great recipe.

Za'atar Sweet Potatoes and Garlicky Kale
Ingredients:
1 tablespoon sesame seeds
1 tablespoon sumac
2 teaspoons dried thyme
¼ teaspoon sea salt
2 medium-size sweet potatoes, cut into cubes (about 4 cups)
Olive oil
3 garlic cloves, chopped
1 bunch kale, destemmed and roughly chopped (about 6 cups)
Sea salt
Recipe:
Preheat the oven to 400 degrees and line a baking sheet with parchment paper.
To make the za'atar, first, toast the sesame seeds. In a small dry pan, heat the seeds over medium for 3 to 5 minutes, until they're lightly browned. Stir occasionally, so they don't burn. Let them cool. In a small bowl, combine the sumac, thyme, sesame seeds, and salt.
Fill a medium pot halfway with water and bring it to a boil. Add the sweet potatoes and parboil them (cook them just until they start to soften). This will take 5 to 7 minutes. Drain the potatoes and transfer them to a medium bowl. Toss them with a glug of olive oil and 1 tablespoon of the za'atar seasoning until coated.
Spread the potatoes on the prepared baking sheet and roast them for 10 minutes. Using a spatula, move them around on the baking sheet and continue roasting for another 5 minutes or until they begin to slightly brown.
Mix 1 tablespoon of olive oil into the remaining za'atar and set it aside.
In a large skillet, heat a glug of olive oil over medium. When the pan is hot, add the garlic. Sauté until the garlic becomes fragrant, about a minute. Add the greens and stir until they turn bright green and begin to soften. Add the sweet potatoes and heat everything for a few more minutes.
Top the vegetables with some of the za'atar and oil mixture and serve.
Recipe is excerpted from One Part Plant by Jessica Murnane, with the permission of Harper Wave, a division of Harper Collins. Copyright © 2017.
Jessica is not only an author and podcast host, she is also an Endofound Volunteer! Read about her experience with teaching the ENPOWR Project's Endo EduKit in her home of South Carolina here.