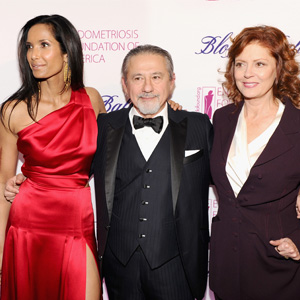 Endometriosis Foundation of America 2014
Sixth Annual Blossom Ball - Opening

Maura Tierney: Oh hi, I am just very happy to be here to support Padma. It seems like it is going to be a very fun event for an excellent cause. I looked at the ballroom, which is very beautiful. I am very happy to be here.

Padma Lakshmi: I feel great about tonight. It is our sixth annual Blossom Ball. It is wonderful to see a lot of familiar faces here but also share the evening and all our accomplishments with new faces and new supporters of Endofound. I am incredibly proud of what the Endometriosis Foundation of America has achieved this year and my co-founder, Dr. Tamer Seckin, and I have worked very hard, along with our board members and many other volunteers so tonight is a big night for us.

Tamer Seckin, MD: I think this is one of the greatest events we have had so far with the Endometriosis Foundation of America. We established and launched the Rose project today, which will go down in history as the fact finding, true research for resolving endometriosis associated controversies and problems. I think today will mark history. We had a great meeting today with the hundred best researchers in the world. I think there is a reason to be very hopeful for the future. Thank you.

Ujjwala Raut: It is not my first time it is my third time here. I heard about this cause through Padma Lakshmi as we have known each other for a very long time. We are both from India. It is a disease which affects more women with color than women who are white. I have heard about this and it is bad pain because I have heard girls complaining about having pain during their period and not able to work, not able to go and do their jobs – miss modeling jobs… It is something that needs to be taken care of. You cannot just forget about it. You have to go and get diagnosed and get it treated. Now that it is possible to get treated because women are more aware about it. It is a wonderful, wonderful cause to know – it is about women and women taking charge about not being in pain anymore. I have been supporting this for the last three years.

Dani Seitz: My name is Dani Seitz. This is my first year attending the Blossom Ball. I heard about it through my agency, MIG Models. I am actually very passionate about helping out with this charity just because I have a friend who was recently diagnosed with it so it really hits me deep in the heart.

Kelly Bensimon: Hi, I am Kelly Killoren Bensimon. This is my first time at the Blossom Ball. I am here to support my friend Padma. I actually heard about endometriosis through her. She is unbelievably fortunate that she was able to have a child and I know that that was something that she was wondering and concerned about for a long time. I am so proud to be here to support her tonight. Thanks.

Fatima Ptacek: Hi, my name is Fatima Ptacek, I am the voice of Dora the Explorer. I am here at the Blossom Ball because I love supporting difficult problems in the world. At a young age I think it is important to raise awareness for no matter what type of problem it is disease, infection. Whether it be through social media or making appearances I think it is really very important to raise awareness and educate people on it. My mum is actually affected by endometriosis so it really a personal thing for me as well. I am really lucky and honored and super happy to be here.

Thanks for all your support.