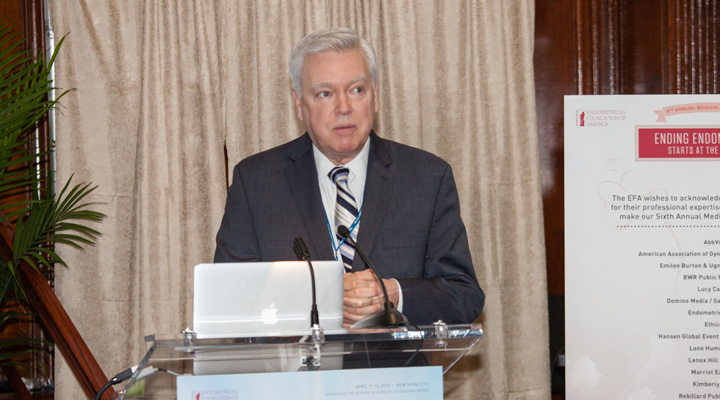 Endofound's Sixth Annual Medical Conference: Ending Endometriosis Starts at the Beginning
Lone Hummelsjhoj: It is my pleasure to introduce the Executive Director of Lenox Hill Hospital who is going to do the welcome address.
Good morning everyone and welcome to Lenox Hill Hospital. On behalf of Lenox Hill administration and North Shore LIJ we welcome you and we are so happy once again to host this annual meeting.
What I would like to do is begin by telling you a little story about how I was first introduced to endometriosis. It was around 30 years ago when I was working at a hospital on Long Island, which then was called the Community Hospital of Glen Cove. This woman showed up in my office one day and she said, "You know what, I have a support group I'd like to start. And it's for people with endometriosis, and we need a room". And I am thinking to myself, "I have no idea who you are, I have no idea what endometriosis is so I don't think this is something that we're probably going to work out". She was very persistent and around a month and a half later she was back in administration and she said, "Mr. Connors you know this is very important". She left me some information.
So, I read about endometriosis. I said, "This is something we need to do" and so we started one of the first support groups on Long Island. It started around 30 years ago and what is now Glen Cove Hospital.
A few years ago I came here to Lenox Hill. I had been working at North Shore LIJ for many years, obviously, you can tell by my grey hair and I met with Dr. Seckin. He came into administration and we were having our first kick off meeting and he said that he works with women who have endometriosis, and do I know anything about endometriosis? And I told him I had one of the best instructors on Long Island and I salute this woman today. Many of you may know her, Rhoda Kregsman. She is a champion on Long Island for women with endometriosis.
So, with that little story I just want to welcome you. I know this is a very, very important topic and that is why we are so proud every year to host this meeting. Enjoy the day, enjoy the conference and hopefully I will see some of you tomorrow night at the ball.
Thank you.