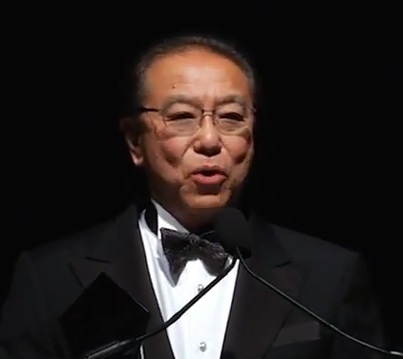 Endometriosis Foundation of America
Blossom Ball – 2012
Fourth Annual Blossom Ball
Dr. Charles Koh

The second honoree, as you all know that we are cutting it short because these men really do not need any more recognition, they are already recognized, but this particular person is someone who we look up to, many doctors will look up to, he is the first person who ever did microsurgery under laparoscopy. It is a very tedious job, it is why we treat – it is the expression of why we treat women better, and his name is Charlie Koh, Charles Koh from Milwaukee. He will get his award as the Surgeon of the Year from Endometriosis Foundation of America. Charles Koh…

Thank you. Tamer, Padma I want to thank you all very much and the Endometriosis Foundation of America for this great honor. I am delighted to be here and even more so because I have my family with me, my wife Susan, my sons Gerry and Ed and my daughter-in-law Kerry, who is also the custodian of my first grandson who will appear in about three months' time. There is no doubt that in the future the study of genetics and the manipulation of genetics will help us kill endometriosis. We have the best brains in the world at work on it. But today there are women who are suffering, right now, right here, 12 million or more. We know from the day's proceedings and from all the literature the only thing that works is surgery.

Tamer provided a very provocative title which was: "Surgery that Gives rather than Takes Away". We want to propagate the information through all channels through the endometriosis associations, doctors telling doctors and so on that removal of the uterus and removal of the ovary is not the treatment for endometriosis. The treatment of endometriosis is the precise and accurate removal of the disease. Precise means you remove the disease without harming everything that is around it. That is the role of the radical endometriosis surgeon today. It is not an easy role it will take at least the 10,000 hours of Malcolm Gladwell to become proficient and more. But, at the end of the day many of you who are here and you know many others, who have had such a frustrating route to find the right endometriosis surgeon, you have found that it gives you freedom from pain, and fertility. I applaud the efforts of Tamer and Padma of the Endometriosis Foundation for their role in encouraging dissemination of knowledge and research so that the women today will be better, while in the future we might find the cause and eradicate the disease entirely.

Thank you very much for this great honor.