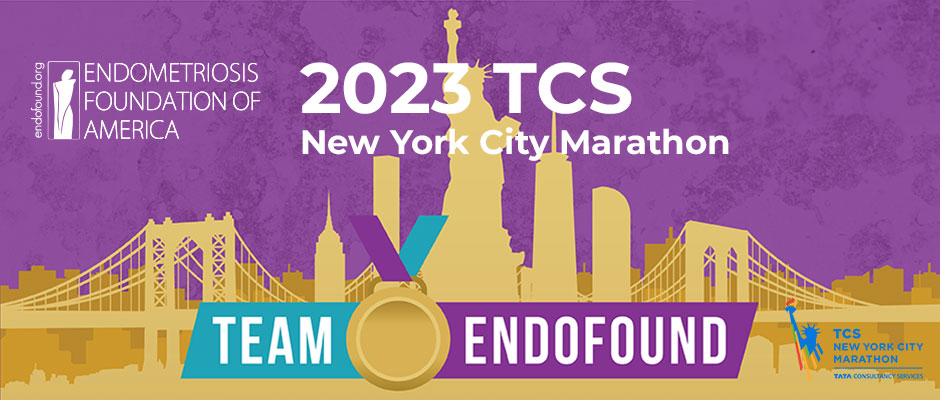 Sarah Gates ran the Indianapolis Monumental Marathon in 2014, her first full marathon. But because of the severe pain she experienced in the years afterward, she thought she might never run again.
"When the endometriosis was at its worst, I told myself that if this is what it would be like, there's no way I could it anymore," Gates said. "That's why it was such a joy when I found out this year that I'd made the team. It's very personal and important to me. I can't think or talk about running without thinking and talking about what it's taken to get here because of endometriosis."
The team is Team EndoStrong, and the race is the New York City Marathon. Over 50,000 runners from around the world will wind through the city's five boroughs on Nov. 5 in what is billed as the world's largest marathon. Gates is one of 51 on Team EndoStrong from the US and Europe, running to raise more than $200,000 for EndoFound.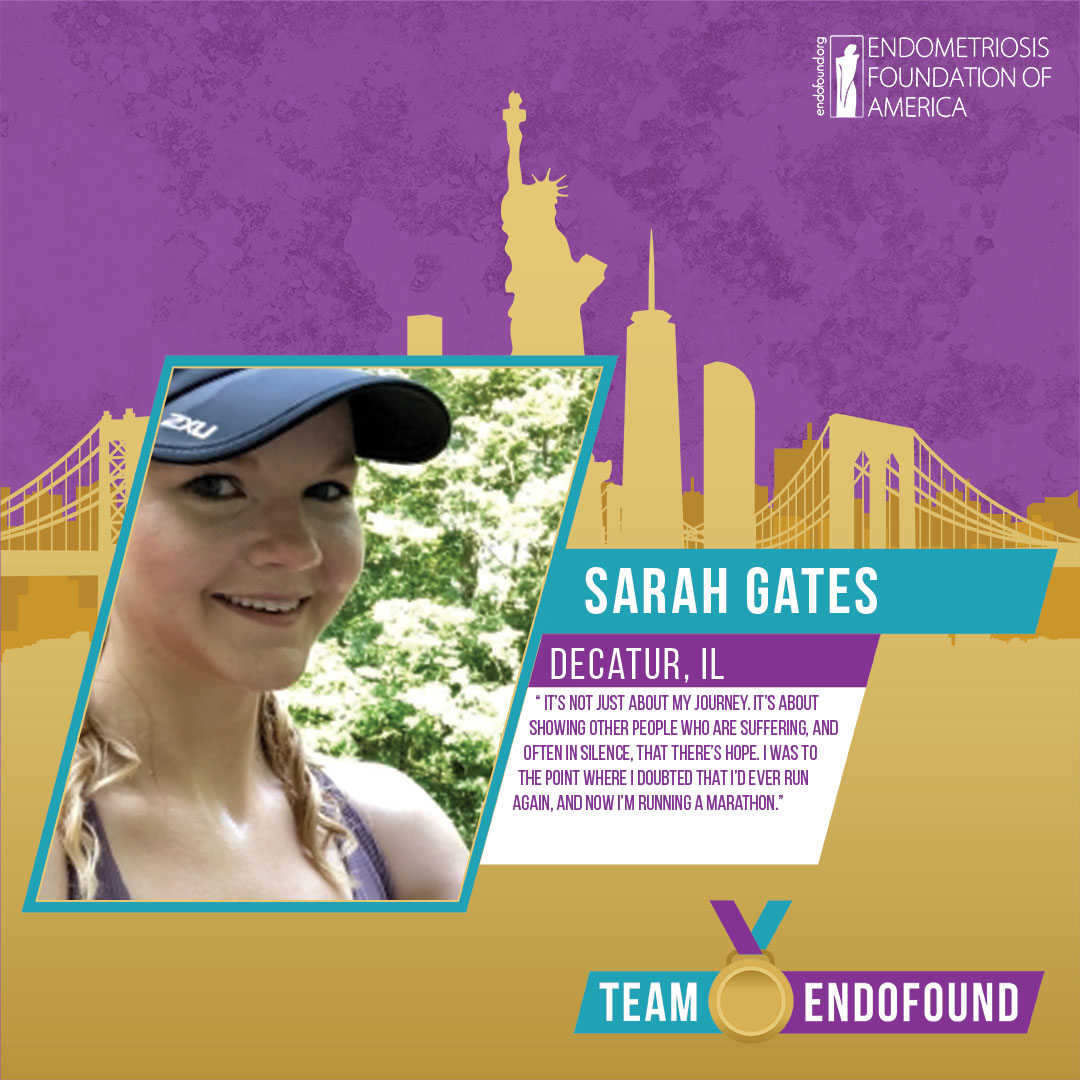 Click Here To Support Team EndoFound Runners
Gates is a mechanical engineer in Decatur, Illinois. Originally from St. Louis, she began feeling pain roughly 20 years ago in high school.
"It was mostly manageable then, but after I turned 18 and was in college, the pain got progressively worse," she said.
Gates aggressively sought help for her symptoms in college by going to several doctors, but she couldn't get a correct diagnosis.
"I was told it was many things, like IBS or that some people just have bad periods. Kidney stones was another one that came up. One doctor refused to do a laparoscopy because she said she wouldn't find anything wrong with me. A lot of doctors were very dismissive like that," she said. "I can recall quite a few appointments where I was in my car in the parking lot afterward crying and upset. I felt like nobody was listening to me—or really cared."
Gates assumed it was something she had to live with, so she did. She took up distance running in her early 20s and ran several races, including the marathon in Indianapolis.
"But then everything took a nosedive quickly," she said. "It reached a point in my 20s when it was having a major impact on me day-to-day—socially, at work, and on my overall livelihood and quality of life. By 2015, the pain was there nearly every day and getting worse, so I made yet another attempt to figure out what was going on."
Gates returned to the practice that rejected her for a laparoscopy years earlier.
"When I went back this time, I told the nurse, 'I'm taking handfuls of ibuprofen every day and it's doing nothing. I need help. I need to know how to manage this.' She told me what I was feeling wasn't normal and put me in touch with the right doctor this time," Gates said. "It sounds bad to say, but I think I was old enough now that they said, 'Well, if this has been going on for this long, then there must be something wrong.' They finally paid attention."
Around this time, Gates had heard of endometriosis from celebrities like EndoFound co-founder Padma Lakshmi, and EndoFound supporters Lena Dunham and Halsey.
"It's such an isolating disease, and having people speak up about going through the same thing is comforting," Gates said. "If we want to bring more awareness to this and help women who are struggling with what questions to ask and to push for a diagnosis, we need people to talk about it. That helped me a lot."
The new gynecologist Gates saw did a laparoscopy and found endometriosis in the cul-de-sac, near her uterosacral ligaments, and on her bladder, ovaries, and fallopian tubes.
"There was quite a lot," Gates said. "The first question I asked when I came out of surgery was if they found anything. When they told me they did, I was very emotional and relieved to know I wasn't crazy. But that was just the start. I didn't feel pain in my abdomen after surgery, but it was short-lived."
The pain returned with a vengeance, and Gates had a second surgery six months later with the same gynecologist.
"He found a lot of endo again and said there were a couple of areas where it was worse than before," she said.
Her doctor encouraged her to go on the synthetic hormone Lupron, which Gates said was a "terrible experience" that made her symptoms worse and gave her anxiety attacks. After an anxiety attack at work, she called the doctor and asked what she could do.
>"They said endometriosis is a difficult disease, and this was as good as it would get," Gates said. "But I refused to believe that. I did my own research, found a specialist in St. Louis, and told my doctor I'd be going to this specialist from now on."
Gates had surgery in 2017 with her new doctor, who found more endometriosis.
"I continued to have pain a few months after that surgery as well," Gates said. "It just seemed like I'd started all over again."
She struggled for four more years before asking for another surgery, her fourth overall.
"This was in the fall of 2021, and sure enough, they found more endometriosis, including on one of my ovaries that had dense adhesions and was stuck to my pelvis. There was definitely improvement after that surgery, but I still need to make a lot of effort with pain management to keep going. And that brings me to today."
After that surgery, Gates was determined to reclaim her life. She focused heavily on her diet and physical therapy. Her ultimate goal was to run long distances again.
"Running is the one thing I have a lot of joy in. Just about every appointment I had, whether it was with the endometriosis specialist or a physical therapist, I asked, 'How can I run again?' And so, the past couple of years, I've been able to get back into it. And for the first time since the initial diagnosis, I thought I could do another marathon."
And she will—on the largest stage, in New York City.
"My biggest goal is just to cross the finish line, and I'm sure there will be a lot of emotion when I do," Gates said. "It all comes back to the years of trying to get back to this point. That's a big motivation for me. It's not just about my journey. It's about showing other people who are suffering, and often in silence, that there's hope. I was to the point where I doubted that I'd ever run again, and now I'm running a marathon."
To contribute to Sarah Gates' New York City Marathon run for EndoFound, visit https://give.endofound.org/fundraiser/4719735.