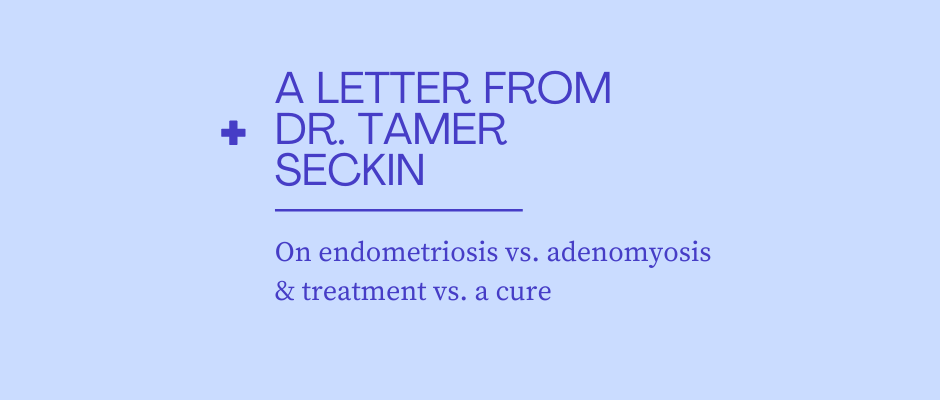 Last week, comedian Amy Schumer thanked her surgeons Dr. Tamer Seckin, EndoFound's co-founder, and Dr. Hayama Brill for her endometriosis surgery, involving hysterectomy and appendectomy. Thank you, Amy, for creating awareness by emphasizing the most significant symptom of endometriosis: painful periods. With endometriosis being discussed on the digital landscape, many questions arose with respect to endometriosis and adenomyosis, hysterectomies, and the difference between a "cure" for endometriosis and "treatment" for endometriosis. It's critical to know the differences here, and Dr. Seckin's letter to patients can help clarify these urgent and necessary topics.
---
Dear patients and those who are interested in learning more about endometriosis,
With endometriosis in the news this past week, I wanted to address the questions we've been receiving about hysterectomy as it relates to endometriosis and adenomyosis. Also, questions concerning the difference between a "cure" for endometriosis and "treatment" for endometriosis. As the general public still does not know much about endometriosis, it is critical to clarify some common misconceptions that I've seen floating around.
In general, when endometriosis is found in the uterus, it is called adenomyosis, and hysterectomy is a possible treatment option to be explored on a case by case basis by the doctor and patient. This procedure is always the patient's choice.
Furthermore, this is a great opportunity for education about the difference between endometriosis and adenomyosis. Hysterectomy is a cure when adenomyosis is the only cause for painful periods (because adenomyosis is endometriosis within the uterus). Hysterectomy is not a cure for endometriosis, as endometriosis exists outside the uterus. Hysterectomy is a treatment option for endometriosis, and will only be successful if the endometriosis is completely removed from every area.
In order to provide appropriate treatment, all lesions of detectable endometriosis need to be removed—including the organs that they are found in. Finally, all tissues that are removed must be confirmed as endometriosis by pathologists independent of the surgeon.
To wrap up, endometriosis is a highly treatable disease, particularly through laproscopic excision surgery. Hysterectomy is a patient-choice procedure, and always their autonomous decision. To learn more about endometriosis, please visit this page.
In good health,
Dr. Tamer Seckin, MD, FACOG