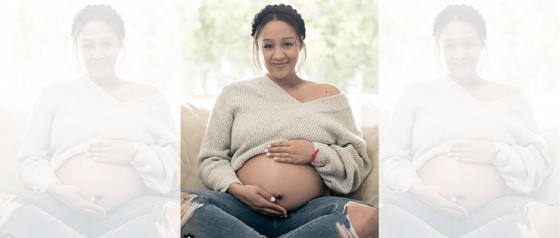 Just ICYMI: May was Pelvic Pain Awareness Month, and we highlighted a massage therapist who is helping to comfort his endometriosis clients from the outside in. After a long battle with infertility, former Sister Sister star Tia Mowry welcomed her second child, a daughter, and promises she'll educate her about endometriosis. And one EndoFound-funded researcher shares her findings on endometriosis stigma after studying teens. Happy reading!
An estimated $881.5 million is spent on healthcare costs associated with the condition each year in the U.S. and Great Britain alone
The teens mentioned that it would be just as hard to get help for painful bowel movements as it was for drug and alcohol abuse, says Dr. Jhumka Gupta
Ryan says there's a growing demand for massage, especially among women with chronic pelvic pain. There's a lot of folks that are suffering, he says.
There's something nurturing about a curved, warm wall, says creator Lauren Lee
I had no idea what it was, recalls Zara Altbach of her first lung collapse in May 2015. I was sitting on the couch with my husband, and I remember feeling a distinct shift.
Fertility experts interviewed by The Blossom say they suspect a strong link.
The ENPOWR (ENdometriosis: Promoting Outreach and Wide Recognition) Project, EndoFound's school- and community-based education program, is about to enter its sixth year! Educating over 35,500 students worldwide, ENPOWR's Endo EduKit relies on volunteers to bring our endometriosis lesson into local classrooms. Check out our ENPOWR Map to see where we've been! Don't see your hometown? Apply to be a volunteer endo educator and bring this critical endometriosis education to the students in your neighborhood.
The Endometriosis Foundation of America has two urgent goals -- to spread awareness about endometriosis and to find better options for diagnosing and treating the disease. Honor someone in your life who has been touched by endometriosis by donating today! Your donation funds an aggressive agenda including educating youth through our ENPOWR™ (ENdometriosis: Promoting Outreach and Wide Recognition) program, funding landmark endometriosis research, and educating medical professionals.
You can make a general donation, a matching grant, a tribute, support a Team Endo Marathon runner or EveryDayHero fundraiser.
The Endometriosis Foundation of America is a 501(c)3 nonprofit, tax-exempt organization designated by the Internal Revenue Code.

Follow the EndoFound on social media and be the first to hear about new research, program updates, or different ways to get involved. Our platforms provide a safe and supportive environment to connect people from around the world. Please visit our Facebook, Twitter, or Instagram and give us any feedback you may have by commenting on our posts or direct messaging us!
Endometriosis Foundation of America
205 East 42nd Street, 20th floor New York, NY 10017
Phone: +1 646.854.3309 - endofound.org
[Unsubscribe] to no longer receive emails from Endometriosis Foundation of America.
Change your email settings at [Manage Subscriptions].
Disclaimer: The information contained on the Endometriosis Foundation of America ("EndoFound") web site and social media is provided for your general information only. EndoFound does not give medical advice or engage in the practice of medicine. The EndoFound under no circumstances recommends particular treatment for specific individuals and in all cases recommends that you consult your physician or local treatment center before pursuing any course of treatment.
References to any entity, product, service, or source of information not related to the EndoFound in this site should not be considered an endorsement, either direct or implied, by the Endometriosis Foundation of America.  The EndoFound does not recommend or endorse any specific tests, products, procedures, opinions or other information that may be provided on any linked web sites. The linked web sites may contain text, graphics, images or information that you find offensive. EndoFound has no control over and accepts no responsibility for such materials.

We hope that you find endofound.org useful in providing information and in helping you make your own health care decisions.