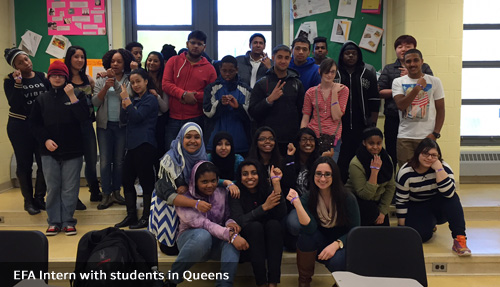 The ENPOWR™ (ENdometriosis: Promoting Outreach and Wide Recognition) Project is a school and community based endometriosis education program, the only one of its kind in the United States. ENPOWR™ raises awareness and promotes treatment-seeking behavior through an interactive presentation. Each presentation is tailored to the individual audience and encourages participation. Sessions end with a call to action, where the audience is encouraged to "take the pledge," and share the information they learned with their friends and families to help spread awareness.
ENPOWR™ is primarily funded by the NYS Department of Health and Bloomberg Philanthropies, and has reached over 15,200 teens throughout NYC, Long Island, Westchester, Ithaca, Rochester, Syracuse and Albany. While teachers can see the importance of this education, students also understand the benefits of this co-ed presentation.
Fast Facts about Endometriosis:
Endo affects 1 in 10 girls and women
Endo can have large effects on teen mental health and well-being which can seriously compromise education, quality of life and future job performance
Endo costs the US $110 billion each year in lost productivity and medical bills
Early intervention is crucial to managing this disease and reducing adverse effects
On average it takes 10 years to reach a diagnosis of endometriosis
What are teens saying about ENPOWR?
"I learned that I may have the disease and that my long periods and heavy cramps may not be normal. I shouldn't have to miss school for this." (female, age 16)
"A symptom of endometriosis is a heavy and painful flow, which is something one girl I remember from middle school talking about" (male, age 17)
"I learned that if I feel something is seriously wrong with my body that I should follow my instincts and seek help and not listen to people telling me I'm being dramatic." (female, age 17)
"That just because endo affects women, it is very important and not something I should ignore" (male, age not provided)
"I have learned the symptoms of endometriosis and to keep track of symptoms and to go check with a doctor. I also learned that I need to spread information about endometriosis" (female, age 14)
"The affects and the definition of Endometriosis. Moreover I learned what I can do to help as a male." (male, age not provided)
What are school and community center staff saying about ENPOWR™?
"One of our students was not going to be able to graduate because she had too many absences. After she heard your presentation, she was diagnosed with endometriosis. Her absences were excused as a result, and she will be graduating on time in June!" – Health teacher, Albany High School
"As I was leaving the school this evening, one of the student's approached me and told me she felt her doctor thought her painful discomfort was normal and she would grow out of it. But now she feels she should see a specialist. She was going to listen to her body and take control!" – Living Environment teacher, The Beacon School
"My students enjoyed the presentation (and bracelets) so much when you visited, that they were still talking about it the following week!" – Living Environment teacher, Cultural Academy for the Arts
"The ENPOWR Project is bringing light to an important concern for teens. Many of these teenagers can now spread the word about endometriosis to their family members and friends." SPARK Counselor, Leon M. Goldstein High School for the Sciences