More Details to Follow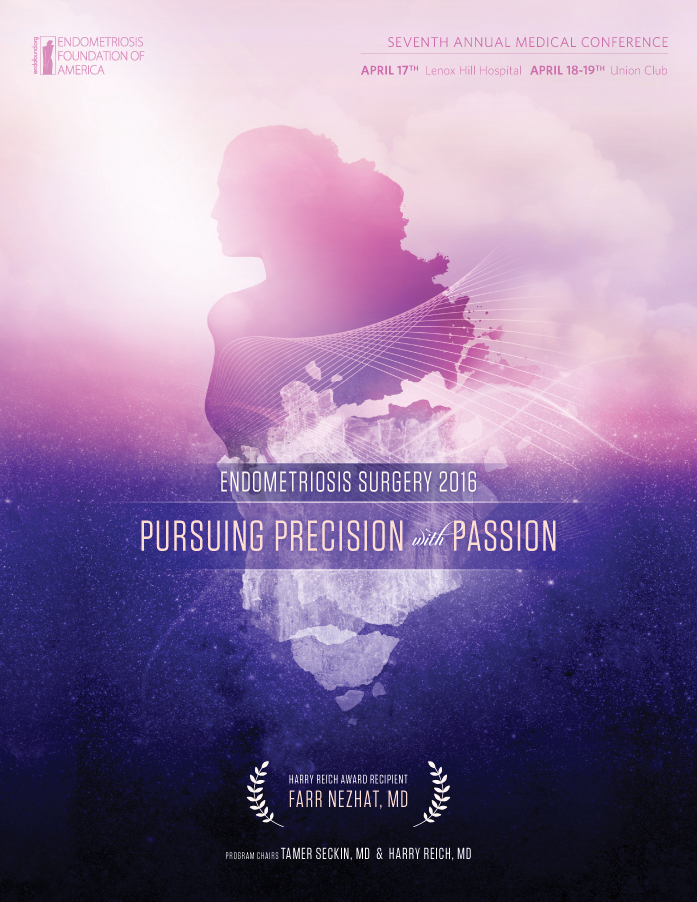 Sunday April 17, 2016
Lenox Hill Hospital, Einhorn Auditorium
This year's Patient Awareness Day will gather top specialists to give patients and their loved ones the opportunity to discuss whole patient care, and allow attendees to network among other like-minded individuals. Panel discussions and speakers will go through the lifecycle of endometriosis with topics focused on potential disease causes, early diagnosis, sex and fertility, treatment options, complementary pain therapies, comorbidities, and complications. The day will wrap up with a discussion on the future of research funding and optimizing communication with health care providers. This event is free and open to the public, so we hope all patients will bring along their family and friends for this fun, informative, and interactive event!
---
Monday and Tuesday, April 18-19, 2016
The Union Club, New York
The 7th Annual Medical Conference will engage surgeons, general practitioners, future physicians, patients and their loved ones, with a focus on the latest information in diagnosis, treatment, and investigative findings related to endometriosis. Experts will lead panel discussions, Q&As, present video lectures, and offer an insider's perspective on a broad range of topics related to occult/stromal endometriosis diagnosis, fertility treatments, retroperitoneum and cul-de-sac surgery, robotic surgery, vaginal excision, and endometriosis and cancer.
---
Established by EFA founder, Dr. Tamer Seckin, the Harry Reich Award recognizes an extraordinary healthcare professional who is making a difference in women's lives (as well as their families) by their practice, research, and advocacy. Their achievements inspire, encourage, and embolden women to take charge of their health.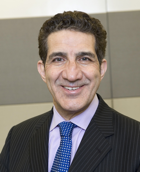 Farr Nezhat, MD is the recipient of the third annual Harry Reich Award as he has dedicated his life to gynecological care, developed a multitude of techniques, and pioneered research and clinical treatment of cancer as it relates to endometriosis.
Dr. Farr Nezhat is a board certified gynecologic oncologist. He is a world-renowned authority in advanced laparoscopic and robotic surgery for the treatment of gynecological cancers and complex benign conditions such as uterine fibroids, pelvic masses and severe and multi-organ endometriosis.
He is Adjunct Professor of Obstetrics, Gynecology, and Reproductive Medicine at the School of Medicine at Stony Brook University. He is the Director of the Division and Fellowship in Minimally Invasive Gynecologic Surgery and Robotics, Department of Obstetrics and Gynecology, at Winthrop University Hospital.
Dr. Nezhat devoted his early career to pioneering advanced laparoscopic surgical techniques for treating extensive pelvic endometriosis and other pelvic pathologies and contributed numerous surgical "firsts" to the literature, establishing evidence-based protocols for improved patient care. One of his main interests is the laparoscopic management of ovarian cysts and masses. He demonstrated the ability to manage adnexal masses by laparoscope instead of by laparotomy, and this has had a profound medical and societal impact.
Recognizing the potential impact of minimally invasive surgery in the treatment of gynecologic cancer, Dr. Nezhat completed a fellowship in gynecologic oncology at Mount Sinai Medical Center. Subsequently, he was able to refine and develop laparoscopic operative techniques for efficient, safe and effective application in gynecological oncology. His work resulted in several groundbreaking publications on laparoscopic and robotic management of cervical, endometrial and ovarian cancer. He developed an interest in cancer arising from endometriosis, resulting in widely recognized, influential studies.
He contributes prolifically to the scientific and medical literature, having authored over 200 manuscripts, four textbooks and dozens of book chapters. He organizes numerous post-graduate courses and is a regularly invited faculty member at national and international professional societies and congresses.
Dr. Nezhat established a minimally invasive surgery division and fellowships at three hospitals, benefitting countless numbers of fellows, residents, medical students and national and international visiting physicians. He was one of the first to perform, publish and teach robotic surgery in gynecology.
He was a founding member of The Society of Laparoendoscopic Surgeons, established in 1992, and has continuously served the SLS in various board positions since 1994, including President, Vice President and Treasurer. Dr. Nezhat's surgical fellowship program is certified by SLS.
---
101 East 69th Street
New York, NY 10021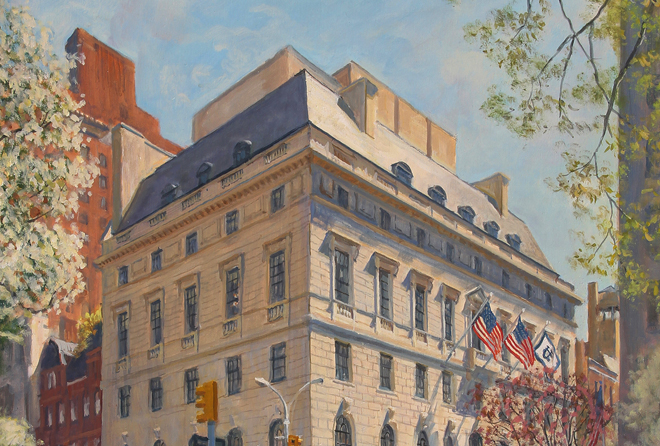 Founded in 1836, the Union Club is the second oldest urban social club in the country. It has often been referred to as the Mother of Clubs because it was from the Union Club and its membership that many other private clubs in New York and elsewhere have sprung.
Over the last 179 years, the purposes of the Union Club have not changed. As one author writing about New York clubs explained in 1873, the Union Club's sole operating rule is "ease and comfort within the limits of courtesy."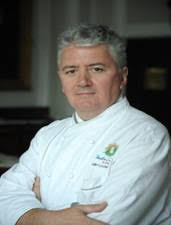 Born in Poitiers, Chef Jean-Louis Dumonet grew up in Paris where his family owned two Parisian bistros, Josephine and La Rotisserie. From 1983-1987, he was the Chef for Louis Outhier's restaurant operations in Bangkok, London and Lisbon. He and his wife Karen then operated their own restaurant, "Restaurant Jean-Louis Dumonet," in Chateauroux, France until 1991. In July 1992, they opened Trois Jean Bistro in New York City. In 1994, he was awarded the prestigious title "Maître Cuisinier de France," Master Chef of France, the youngest of only 48 in the U.S. when he joined. Since 1995, he has served as Secretary of the American Canadian Chapter of the "Association des Maître Cuisiniers de France," and became the President in 2002. Jean-Louis was the Executive Chef at The Carlyle from 2001-2005. In May 2005, he became the Corporate Executive Chef for Saks Fifth Avenue, overseeing all Saks Fifth Avenue restaurants in the United States of America. In January 2008, he became the Executive Chef of the Union Club of New York.