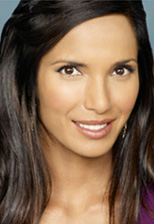 Emmy nominated Padma Lakshmi is known internationally as an actress, food expert, model and award-winning author. Lakshmi is also well known for her role as the host on Bravo's Emmy award winning Top Chef, which she has been a part of since Season 2 in 2006.
Padma Lakshmi established herself as a food expert early on in her career. She hosted Padma's Passport for the Food Network as well as Planet Food which was also broadcasted world wide on the Discovery Channel. Lakshmi also wrote a bestselling cookbook Easy Exotic, for which she won the International Versailles Event for best cookbook by a first time writer. Lakshmi followed this with the publication of her second cookbook, Tangy, Tart, Hot & Sweet, which has over 150 recipes from around the world alongside personal memoirs.
On screen, Lakshmi has been seen with Aishwarya Rai and Dylan McDermott in the film Mistress of Spices. She has appeared in films in the US, Italy, and India. Other television credits include hosting Rai Television's "Domenica In," Italy's highest rated program.
Lakshmi is a businesswoman with two companies of her own. The first is her fine jewelry collection, PL by Padma Lakshmi. Secondly, Easy Exotic, a collection of culinary products including fine teas and teapots; high-quality natural spice blends, roasting rubs and sea salts; as well as hard goods. Additionally, Lakshmi is known as the first internationally successful Indian supermodel and often noted as a global style icon. She has been featured as People Magazine's 100 Most Beautiful People in 2007 and 25 Most Intriguing People of 2009.
In 2009, Lakshmi co-founded the Endometriosis Foundation of America alongside world renowned advanced gynecological surgeon Tamer Seckin, MD. After suffering from the disease for decades herself, she has been able to make amazing strides with the EFA such as launching the first interdisciplinary research facility in the country for Gynopathology as a joint project between Harvard Medical School and MIT, where she gave the keynote address at the Center's opening in December 2009.