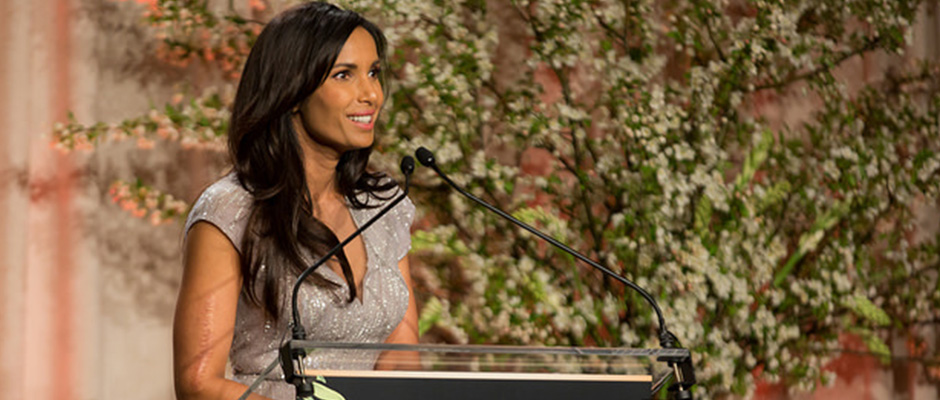 This story originally appeared on Variety.com
When Padma Lakshmi was finally diagnosed and treated for endometriosis she was relieved, "but then I got angry" she said from the Variety Power of Women stage.
And the "Top Chef" host and founder of the Endometriosis Foundation of America channeled that anger at Vice President Mike Pence and anyone else who would dismiss the painful condition she suffered from for years.
Upon receiving the Karma award, Lakshmi joked, "For once I don't mind being racially profiled, in a good way." The conversation quickly headed towards the serious as the honoree shared her personal experience with endometriosis.
"I was diagnosed at 36 after suffering every month since the age of 13 with so much heavy bleeding, cramps, nausea, backaches and digestive issues that I was stuck in bed one week out of every month when my period came. One week a month, three months a year for 23 years. That's five years and nine months of my life that I was bedridden. Missing school dances, math quizzes, auditions, family milestones and wedding anniversaries.
RELATED: Read more about Padma's painful endometriosis journey
I was told by my doctors that I had a 'low threshold for pain' and that I should just get used to it because there was nothing that could be done. Well, it turns our I have a really high threshold for pain. Most women do, we have to. And not just for childbirth. I should have been diagnosed treated and relieved for my symptoms 20 years ago. Most women with endo don't get properly diagnosed for a full decade. The only real treatment we have for endo is surgery or the pill. And now they're trying to take that away from us too. Yes, I'm talking to you Mike Pence.
I began to realize that I was being penalized because I have a uterus. I have a vagina. That's right a vagina, a love box, a pleasure cave, my privates, my punani, my down there, the Bermuda triangle, a coochie, a yoni and the c-word. Oh, and to put it in the words of our articulate commander in chief, a pussy.
Because you see, if I didn't have a pussy, if I was a man and couldn't get it up there would be many drugs, many treatments, pumps even… And it would be covered by insurance. But for the 200 million women with endometriosis, still nothing. Nothing! Except a pill, when we can get it. Surgery, most insurance doesn't pay for it unless you end up in the ER. And oh yeah, a drug that induces false menopause."