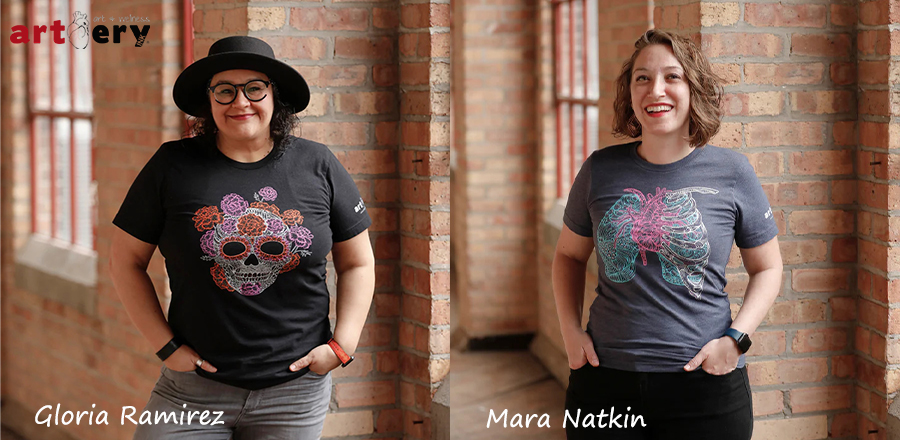 Mara Natkin and Gloria Ramirez don't have endometriosis, but when the owners of Artery Ink in Milwaukee learned about it, they felt compelled to do something to bring awareness to the disease that affects millions.
"It's frustrating that a lot of people don't know about it or how painful it is," Natkin said. "Those who have it are expected to go to work and live daily with this chronic illness that doesn't have a cure. We know our art starts conversations, and the more people who know about endometriosis, the better."
From now through Aug. 9, Artery Ink is selling long- and short-sleeve t-shirts, sweatshirts, and hoodies with their original floral uterus design. The company will donate $5 to EndoFound for every piece sold.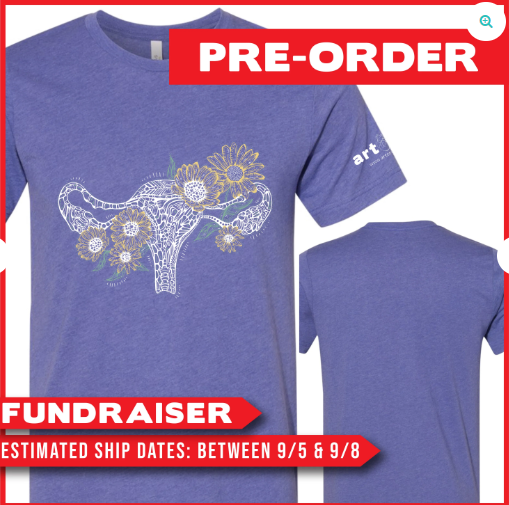 Click Here To Pre-Order Floral Uterus
"Artery Ink's dedication to using art to build community and raise awareness about women's health is commendable, and their generosity is inspiring," said Jeanne Rebillard, communications director for EndoFound. "We sincerely appreciate them donating to our cause, as it will make a significant difference in our efforts to improve the lives of those affected by endometriosis."
Natkin, an illustrator, and Ramirez, a graphic designer, joined forces in 2014 to open Artery Ink, which began in a 10-foot by 10-foot spare bedroom. They've built their business into a global brand with seven team members in a 4,800-square-foot studio.
The two women's personal health journeys in the early 2010s inspired their brand.
"We were bartending, working in restaurants, not living the healthiest lifestyles, and also had some deaths in our families," Natkin said. "That opened our minds and had us asking ourselves, 'What if we get sick? Will we be able to power through and survive?' And we knew the answer was no because we weren't taking good care of ourselves."
That led them to learn more about how the human body works inside, and it transformed their lives.
"First, we were fascinated by everything we didn't know," Natkin said. "And second, when we started making changes, we felt so much better and thought, 'Wow, everyone deserves to feel this good and know what's going on under their skin.'"
That led them to create anatomical designs for their apparel.
"We started doing some little craft fairs and farmers markets, and it grew organically from there," Natkin said. "The people most interested in our work were healthcare professionals, so we did custom apparel for them and different designs for different departments."
Their business exploded in 2020 when COVID-19 hit.
"Our hearts broke for the healthcare professionals because they were on the front lines of this virus, and we wondered what we could do to help," Natkin said. "So we made two shirts to raise money for a local Feed the Front Line, and we thought if we sell a hundred, that would be great.
They sold 900 in the first week.
"This is what we always wished we could do—create designs for a cause to start conversations and build community, because art is such a universal language," Natkin said. "And now we're doing it."
Natkin said creating a floral uterus design has always been in the back of their minds.
"We put it on the schedule this year and didn't know what we would use it for. But then we realized endometriosis would be perfect and a great way to spread awareness."
One of their employees, Emily Fleissner, told them about EndoFound.
"Emily used to be a social worker and is so good at knowing what organizations are out there," Natkin said. "We want the money we donate to go to organizations that are really doing the work and making a difference. A lot are local to Milwaukee, but if we find a good one elsewhere, we'll do that, too."
Artery Ink's goal for the floral uterus design is to sell 100 items. Orders will be taken through Aug. 9. To view available items and place an order, visit www.arteryink.com/collections/custom-pre-orders/products/floral-uterus-pre-order.