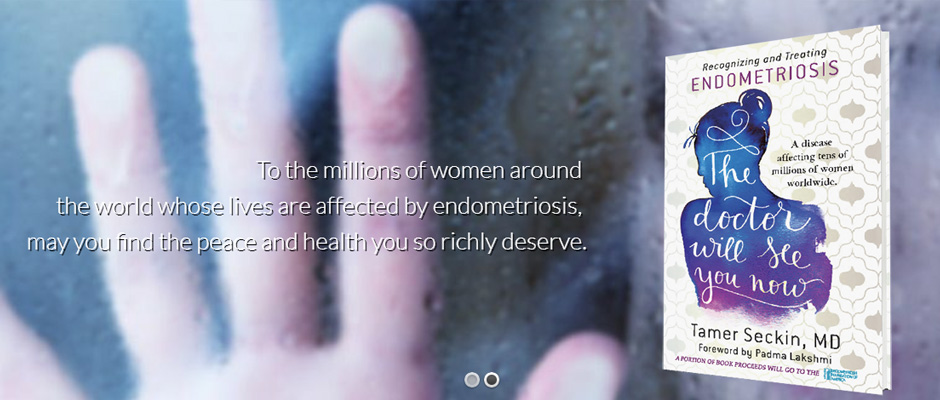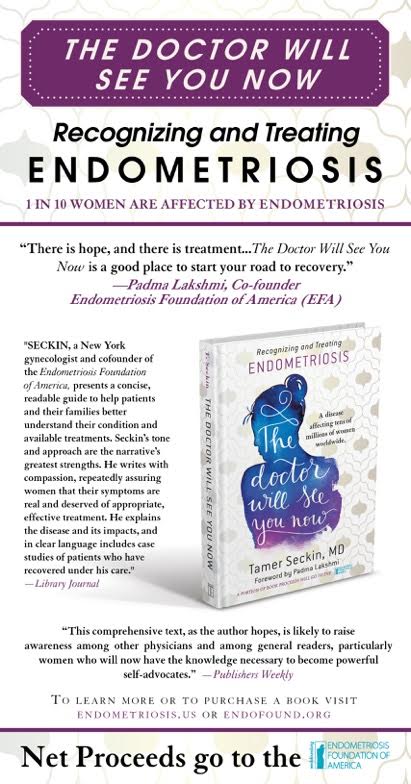 Author: Dr. Tamer Seckin
CLICK BELOW TO PURCHASE
Printed
ebook
Endometriosis materializes when the endometrium—the tissue that lines the inside of the uterus—sheds but does not exit a woman's body during her period. Instead, it grows outside of the uterus, spreading to organs and nerves in and around the pelvic region. The resulting pain is so physically and emotionally insufferable that it can mercilessly dominate a woman's life. The average woman with endometriosis is twenty-seven years old before she is diagnosed. It is one of the top three causes of female infertility. The pain it emits can affect a woman's career, social life, relationships, sexual activity, sleep, and diet. It is incurable but highly treatable. Unfortunately, though, it is rarely treated in a timely manner, if at all, because of misdiagnoses and/or a lack of education among those in the medical community.
This book gives hope to everyone connected to endometriosis. That includes every woman and every young girl who has it, and the women and men in their lives—the mothers, fathers, husbands, children, and friends—who know something is wrong, but do not know what it is or what to do about it.
The Doctor Will See You Now is written at a level that everyone with ties to this disease can relate to and understand, but it is also written for doctors with good intentions who lack the knowledge of how to diagnose or treat it. This book is for the "Endo Warriors," women determined to let the world know their stories so that every woman with this disease—from the thirteen-year-old girl who is being told that her pain is "part of becoming a woman" to the woman who has been misdiagnosed for decades—knows she is not alone. Yes, her pain is real. No, she is not crazy. Yes, there is hope.

Endometriosis - A Disease Affecting Tens of Millions of Women Worldwide! There are answers and there is hope!
Welcome
Welcome to the Endometriosis Foundation of America's (Endofound) website. A place where you can learn about endometriosis, ask questions and interact with others who also have questions about endo.
Founded by Dr. Tamer Seckin and "Top Chef" host Padma Lakshmi, Endofound strives to increase disease recognition, provide advocacy, facilitate expert surgical training, and fund landmark endometriosis research.
Please take a moment to learn about all Endofound does and our plans.
Donate Today & Get a Free Book and Endofound T-shirt
Endofound's single, most important goal is to increase disease awareness because early diagnosis and intervention is the best treatment for endo.
Honor someone in your life who has been touched by endo, donate to Endofound. Your donation funds an aggressive agenda aimed at helping us to "kick endo!"
All donations over $50 will receive a book and an Endofound t-shirt. Thank you!
Run for Endometriosis
Sign-up for the Rock-n-Roll Marathon - This year Endofound has 25 charity team spots that can be used in any North America-based Rock 'n' Roll Marathon now through April 2018. We are saving a minimum of 10 of these 25 spots for the Washington, D.C. series, which will take place during Endometriosis Awareness Month on March 17th, 2018!
Sign-up for the NYC Marathon --
Attend an Upcoming Conference
Breasts, Ovaries & Endometriosis - October 28, 2017, New York City
9th Annual Medical Conference: Re-operative Endometriosis – March 9 – 11, 2018 New York City.
Educate
The ENPOWR™ (ENdometriosis: Promoting Outreach and Wide Recognition) Project is a school and community-based endometriosis education program, the only one of its kind in the United States. ENPOWR™ raises awareness and promotes treatment-seeking behavior through an interactive lesson. Sign-up today to have an ENPOWR presentation at your school.
Follow-Us
Make sure to follow us on social media and join the conversation. (Social media icons here – follow, like us, twitter, etc.)
Buy a Book
If you have this endo or think you might have it, The Doctor Will See You Now is a good place to start your recovery! A portion of all proceeds from the sale of the book will go the Endometriosis Foundation of America. Thank you!