Asbury Park is where Bruce Springsteen started, and Alexandra Jardvall has aspired to play. The 48-year-old Swedish-born singer and songwriter has been performing since she was 12, and now her wish is about to come true.
"My dad introduced me to Bruce's music when I was young, and it's been a lifelong dream of mine to go to New Jersey to play. Now, I finally get to do it," Jardvall said. "But not only that, I get to do it in the name of endometriosis."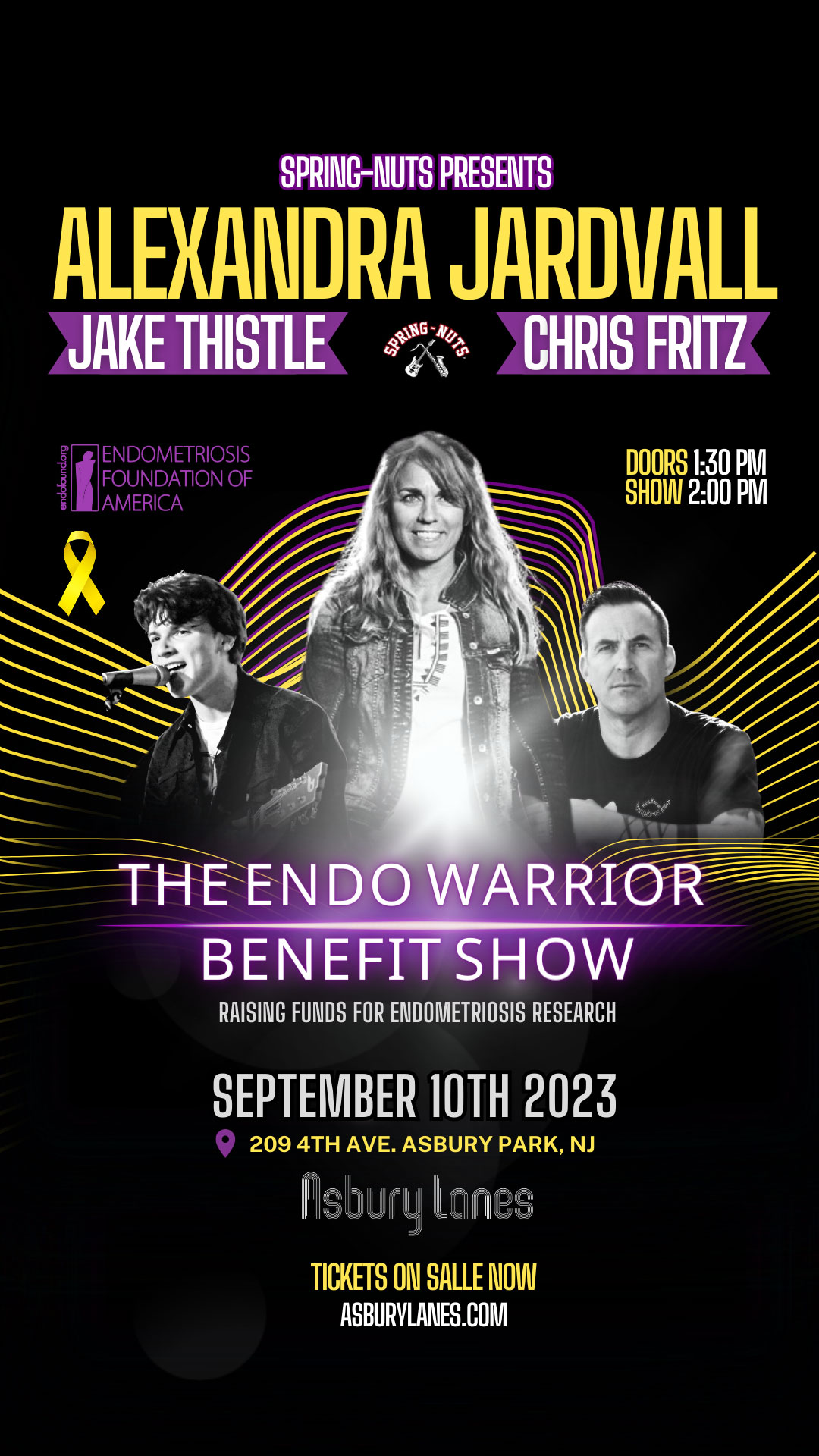 Jardvall, who is among the one in ten women worldwide inflicted with the disease, will be the headliner at the Endo Warrior Benefit Show at 2 P.M. on Sept. 10 at Asbury Lanes. Tickets are $25, and all proceeds will go to EndoFound.
Spring-Nuts is organizing the event. The Springsteen fan club of more than 60,000 worldwide, founded in 2015 by Howie and Julie Chaz, has a passion for Bruce and philanthropy.
"Everyone loves Alexandra, and she's opened a lot of people's eyes, people like me, who didn't even know endometriosis existed," Howie Chaz said. "It's heartbreaking to know that so many are going through this, but it's also encouraging that there are foundations like EndoFound. Whenever Spring-Nuts holds these events, we do it for charity, and with Alexandra coming to the States, Spring-Nuts wanted to help make her dream come true."
The concert lineup includes solo artists and New Jersey natives Chris Fritz and Jake Thistle, both lifelong Springsteen fans.
"Howie asked me to do this—it's as simple as that, and I'm excited to be part of it," said Fritz, who's been performing everything from heavy metal to rock to country for over three decades. "I don't know much about endometriosis, but I know the importance of awareness with something like this. I'm married and have two daughters and couldn't imagine any of them going through it."
"I put some Springsteen covers on Facebook when I was maybe 11, and I've known Howie ever since then," added Jake Thistle, who, at 19, has been playing and singing for more than half his life. "I'd heard of endometriosis and have looked it up since signing on for this show to learn more about it, and I'm excited to support the event."
Jardvall, who still lives in Sweden, has battled endometriosis since she was 11, when she had her first period.
"And it got worse and worse and worse," Jardvall said. "I tried everything there was to try. Everything. All of the bad things that could happen because of endo—I've had them."
She wasn't diagnosed with endometriosis until she was 32. During those two-plus decades, the pain from head to toe was a daily battle. Numerous doctors refused to listen to her. She suffered through three miscarriages and three failed IVF treatments.
"For 21 years, nobody knew what was wrong with me. And when a doctor finally told me he thought I had something called endometriosis, I said, 'What is that?' I had no idea. Was I going to die?" Jardvall said. "I asked him if he could give me a brochure or something to read about it, but he had nothing. This was around 2008, so there wasn't even much about it on the internet."
Jardvall continued to search for information and push to be heard, going from one doctor to the next. She was prescribed countless medications, from birth control to a pill designated for those with Parkinson's disease. Any treatment she received eased her pain for no more than two weeks, and then it would worsen. She said one doctor who was the head of one of Sweden's largest hospitals concluded that Jardvall needed to relax more.
"Can you believe that?" Jardvall said. "She thought it would all go away if I relaxed. The head of the freaking hospital said that!"
"At one point, I had two other doctors wanting to send me to the biggest endometriosis center we had in Sweden," Jardvall continued. "But when the center read my file and everything I'd been through, they decided there was nothing they could do for me."
Jardvall even participated in an endometriosis study in Finland in 2015 at her expense, knowing she might not get anything out of it, which she didn't.
"But I knew at least the information they gathered from it might do something good for someone else one day," she said.
Oddly enough, the only time Jardvall wasn't in pain was when she was performing on stage. Even in 2017, when it hit her the worst, she was touring in Sweden, Finland, and Norway, playing in pubs, at festivals, and on cruise ships.
"I have no idea why that was the case. I'd take a 15-minute break, lay on the floor backstage screaming, and then go back out and sing without any issues," Jardvall said. "There was only one time a doctor took me off stage, and that was when I was performing on a cruise ship and was in really bad shape."
At the end of that tour, nearly a decade after being diagnosed and 30 years after her first symptoms, Jardvall went to a team of doctors in Sweden out of complete desperation and asked them to do a radical hysterectomy. She said they didn't want to do it.
"They told me they didn't have any statistics that this would work, and things could actually get worse for me," Jardvall said. "I told them, 'It can't be worse than this. I'm taking morphine every day. I'd rather die than be in this pain.' It was terrible. I couldn't live like that anymore."
The doctors performed the surgery in December 2017. While any type of hysterectomy does not necessarily relieve one's symptoms, as endometriosis can spread to other organs, it worked for Jardvall.
"From the moment I woke up from the operation, everything was gone. The pain in my legs, the headaches, the tingling in my whole body—it all had disappeared. For more than five years now, I've been in no pain whatsoever. I'm aware it can come back at any point, but it hasn't so far, and every day it doesn't is like a miracle."
Jardvall has nearly 100 bookings in 2023 in Europe and the US. Her trip to New Jersey next month will be just her third ever to this country. Though she's never met Bruce Springsteen, he may know who she is. Jardvall was named in a 2021 New Jersey Arts article, "Springsteen Covered by Women: The Best of the Best." She has several videos on YouTube, including an 11-minute medley of Springsteen songs.
"No words can explain how excited I am to play there next month," Jardvall said. "I'm even more excited to share my experience as an endometriosis patient and create something good from it. Everyone who knows me knows that I've been screaming for people to learn about endometriosis, and now I get to do this there in Asbury Park. It's amazing."
To purchase tickets to the Sept. 10 show, visit www.axs.com/events/493948/alexandra-jardvall-tickets?skin=asburylanes.