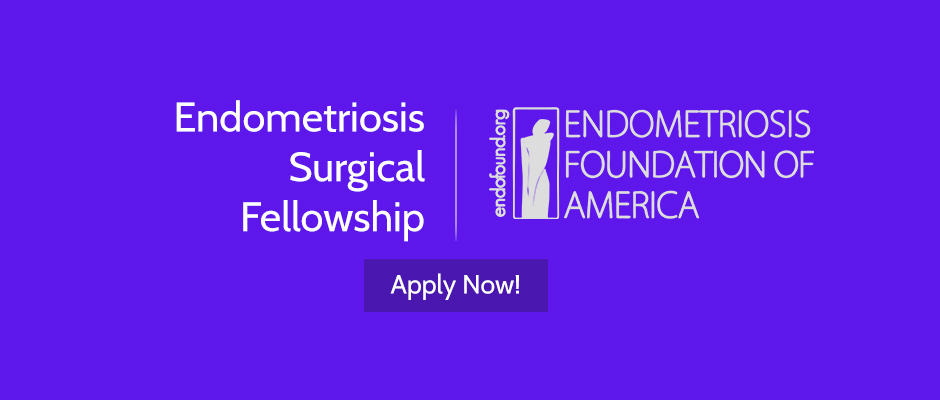 The Endometriosis Foundation of America (EndoFound) is excited to announce our endometriosis surgical fellowship. There is a desperate need for specialized surgeons to treat endometriosis, a complex disease that is poorly understood by masses including the medical and scientific communities as well as patients. Endometriosis is a multi-organ disease, affecting deep pelvic organs to extra genital organs as well as the diaphragm and remote metastasis. Due to the disguised nature of lesions, many specialized surgeons fail to perform effective surgery and do not understand how severely symptomatic a patient may be. We believe a trained endometriosis surgeon can treat and perform surgery on all endometriosis locations with expertise by recognizing the disease even in its most hidden format.
The overall goal of this fellowship is to nurture an individual who will be proficient in the skills to diagnose and treat endometriosis patients through advanced laparoscopic surgery. We intend to have component surgeons progress to the level of repairing every defect in the peritoneal and thoracic compartment, restoring anatomy, and performing bowel anastomosis. In our past experience, informal trainees that have worked with our team have attained a high level of expertise. We believe this fellowship will significantly contribute to the future generation of competent surgeons.
Under the direction of Tamer Seckin, MD, FACOG, the fellowship will operate between the Endometriosis Foundation of America and Lenox Hill Hospital/Donald and Barbara Zucker School of Medicine at Hofstra/Northwell. Dr. Seckin is a pioneer and advocate in the field of endometriosis and his high-volume practice is exclusively dedicated to the diagnosis and treatment of endometriosis. He has been in private practice for over thirty years and specializes in advanced laparoscopic procedures and is recognized for his expertise in complex cases of deep infiltrating endometriosis (DIE) of the pelvis. He is particularly dedicated to performing fertility preserving surgeries on cases involving the ovaries.
This unique opportunity will include training with a multidisciplinary team, with colleagues from urology, colorectal surgery, general surgery, neurosurgery, and thoracic surgery. The fellow will have the opportunity to gain proficiency in resection and repair of bowel nodules and lesions, nodulectomies of DIE, laparoscopic suturing (with or without robotics), modified hysterectomies at different difficulty levels, removal of parametria, vaginectomies, retroperitoneal dissection, installation of retroperitoneal blue dye technique (SABE™), complete ureterolysis, removal of ureteral implants, ureteral stent application, ICG green installation ureteral anastomosis, laparoscopic diaphragm resection and repair with dual compartment approach, and thoracic surgery in conjunction with the thoracic surgery team. The majority of procedures are performed in a conventional minimally invasive approach, originally developed by Harry Reich, MD, FACOG, FACS, and CY Liu, MD, FACOG.
The fellow will also be involved in research activities and will have access to a database of over 20,000 specimens collected from patients in the last 10 years. The fellow will have the advantage of being exposed to a wide variety of resources available at Zucker School of Medicine at Hofstra/Northwell to pursue research endeavors in the areas of complex gynecologic pathology and minimally invasive surgery. The fellow will also contribute to EndoFound's medical activities, such as supporting and presenting at the organization's annual medical conference which includes renowned national and international faculty.
Applicants who are finishing their obstetrics and gynecology (OBGYN) residency program, or who are completing a minimally invasive surgery (MIS) or reproductive endocrinology (REI) fellowship program in the United States will be considered. The fellowship will be two years for individuals who have completed an OBGYN residency program and one year for those who have completed an MIS or REI fellowship program. Fellows can expect to be in the office an average of 3 days per week and hospital/operating room 2 days a week. Fellows will be offered a competitive salary with healthcare benefits. The start date is July 1st, 2021.
Interested candidates should submit their application to EndoFound's fellowship program at careers@endofound.org. The deadline is Monday, May 3rd, 2021. Please send the following documents:
Completed application form which can be found here.
Curriculum Vitae which includes your education, presentations, publications, honors, awards and achievements.
Three letters of recommendation. One letter should be from your residency or fellowship director. References should send their letters of recommendation directly to the email above, indicating your name in the subject line.
Cover letter, including why you would like to pursue an endometriosis fellowship (1-page max).
If you are currently not a resident or fellow in training, please indicate this in your cover letter. Your CV should include a description of your current practice and a list of all hospital staff and teaching appointments. Please also send a copy of your malpractice policy.
Your residency ACGME case list brief summary (1 page)
ECFMG certificate (if applicable)
TOEFL IBT certificate (if applicable)
Official copy of USMLE or LMCC transcript
CREOG score transcripts