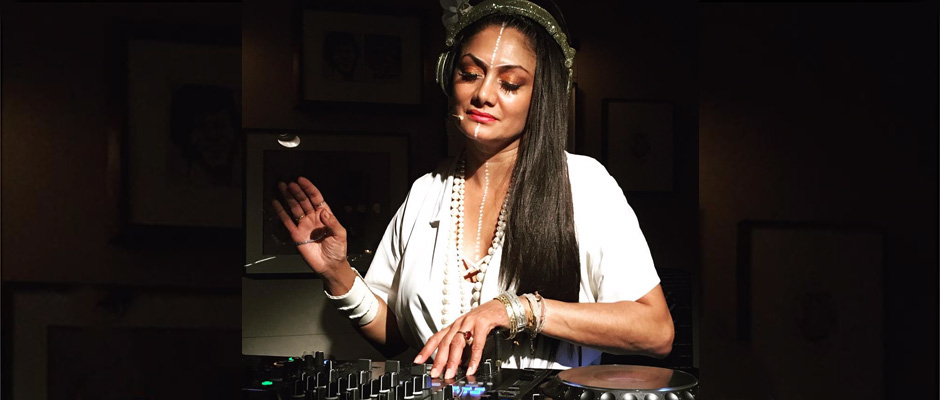 photo credit: Instagram/DonnaDCruz1
It's every DJ's M.O. to get you on the dance floor—but this one wants to lull you into a deep, restorative sleep.
Longtime celebrity DJ Donna D'Cruz has spun tunes for royalty like Prince Albert II of Monaco and shared stages with Stevie Wonder and Janet Jackson, but recently, D'Cruz has turned her focus to helping people who have insomnia, something that many in the endometriosis community know about all too well.
The longtime yogi says the career shift took shape while leading weekly group meditation sessions at Phoenix House, a nonprofit drug, and alcohol rehabilitation program, in New York City.
"I started asking questions like, 'How are you guys sleeping?'" D'Cruz tells The Blossom. "The response I started getting was really troubling because they were saying, 'We're not sleeping. We're up half the night. We don't sleep well at all.' I had this realization. I think we're spending a lot of time looking at the quantity of sleep, and that's important. But, what are we doing to actually help and support the quality of sleep?"
Hence, "Sleep Beditations" was born through her record label, Rasa Music. The free playlist combines "music, meditation, and consciousness" and is available on Spotify and Apple Music.
D'Cruz says while she doesn't have endometriosis, she has seen family members and close friends like longtime pal Padma Lakshmi, deal with the crippling pain, and she believes her playlist could be a holistic way to help heal women with endo.
"My intention with this project is, everything about it that has been born out of great compassion, great love, and great conviction. Indeed, we can explore and heal ourselves first. Yes, we do need Western medicine and science to support our journey, but we also need to engage with ourselves. There's no other way to do it than with the natural body's systems, and through the natural ability to breathe, and train our breath, and to listen differently, and to tune into our own inner frequencies."
She firmly believes insomnia and sleep problems can be a woman's "stress responses" to coping with endometriosis.
"Part of that is when you don't understand what the heck is going on with my body, why isn't it functioning the way that it should? Why am I having this pain? How do I deal with that? I think there's obviously a stress response, right? When we have that stress response, then there's a cascade of events that happen, that I think are emotional, that are physiological, and that are spiritual," she adds. "I think as a woman, as endo women, you're more in tune than most women about your human potential. There's a divine feminine that gets awakened because of the challenges you face as an endo woman."
D'Cruz hopes her playlist can become part of a movement to help people sleep better and improve their health. Her music mix has been released in a beta version, and as she continues to perfect it, she says that she plans to collaborate with doctors and sleep specialists to see how listening to her playlist can impact people as they drift off into their deep Rapid Eye Movement (REM) sleep phase.
D'Cruz's "Sleep Beditations" is currently available in 6-hr, 6.5-hr, 7.5-hr and 8-hourlong playlists, with a modified 2.0 version to debut soon.