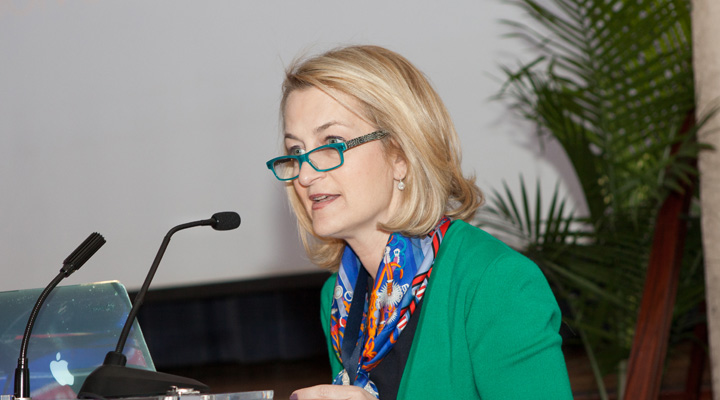 EFA's Sixth Annual Medical Conference: Ending Endometriosis Starts at the Beginning
Welcome
Stacey Rosen, MD
Good morning everyone and welcome to the third day of EFA's Sixth Annual Medical Conference. I will let everyone get their coffee and join us for what will be a great morning and then a great afternoon.
I am Dr. Stacey Rosen. I am the vice-president of women's health at North Shore LIJ's Katz Institute for Women's Health. I know I am in a room that for me is a bit unusual. I am a practicing cardiologist and have been for over 25 years but have always been well aware of the fact that women's health is unique and has been understudied, under diagnosed and under treated for decades.
In 1991 the late Dr. Bernadine Healy, the first female who oversaw the National Institutes of Health along with Dr. Susan Blumenthal, who was then a practicing psychiatrist, started the division of women's health at the NIH. They determined that in order for any investigator to get NIH funds it was required that women were included in the cohort studied at the percentage in which the disease was prevalent for women. And that all data had to have gender specific reporting. A decade later the Institute of Medicine published an important monograph that was entitled "Exploring the Biologic Contributions to Human Health: Does Sex Matter?"
It was always obvious that women get ovarian cancer and men get prostate cancer but why for instance do women non-smokers who get lung cancer die at a rate three times that of non-smoking men? Why do women who have a stroke that initially impacts on language gain back their language abilities at a rate double that of a man who has a similar stroke? It is clear that sex matters and that the medical and investigative community really were not focusing on the importance of sex and gender issues. The monograph suggested that every cell has a sex and that the specific nature of that finding had to be included in all scientific investigations. This IOM monograph begged the community to go do better.
Ten years later a second IOM monograph was published entitled "Women's Health Research: Progress, Pitfalls and Promise". This report defined women's health in a very broad sense. There is an ongoing social media campaign called "Not Just My Bikini" and the IOM is really the first to suggest that women's health needs to be a broad, broad definition. It included conditions that were unique to women, like endometriosis, conditions that are different in women, for me it is heart disease or depression and those diseases or conditions that are more prevalent or dangerous in women, particularly like all of our autoimmune conditions – good morning.
Endometriosis and its study exemplifies one of these important understudied, under diagnosed and under treated conditions. The EFA has worked tirelessly to impact on the science of this condition while at the same time improving awareness and access of patients as well as improving the dissemination of new science to the vast medical community. Two weeks ago many of you may have seen a piece in the "Science Times" on endometriosis and this past week a terrific letter to the editor was published from Padma Lakshmi.
Clearly the EFA understands the importance of a multi-pronged approach to women's health; one that advances the science but also focuses on empowering women to take better care of themselves by raising awareness out in the community. Dr. Paula Johnson, who is a Division Chief for Women's Health at the Brigham and Women's up at Harvard Med put it beautifully in a recent Ted Talk. "We need to be sure that we don't leave women's health to chance both as study, the Public Health Initiatives as well as being sure that our women are empowered to take better care of themselves".
Again, I welcome you to today's outstanding program and hope you enjoy the day.
(Intro to Dr. As-Sanie moved to Dr. As-Sanie's talk.)