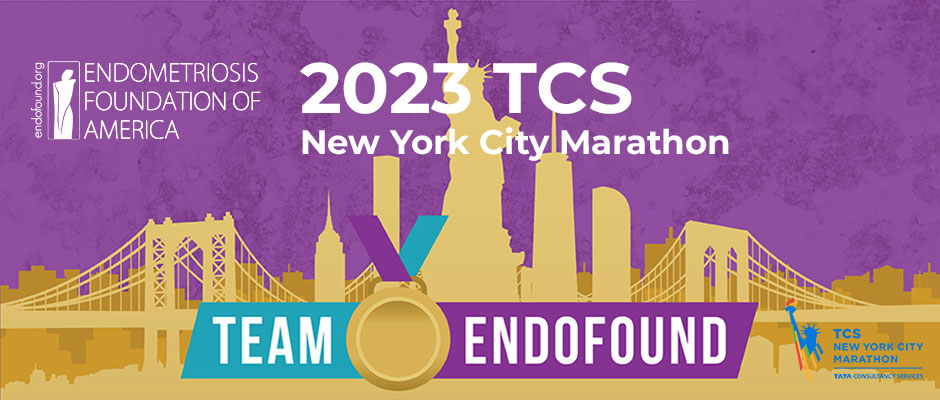 Grace Kunkel is shooting for a time of 3:45 in her first New York City Marathon on Nov. 5. That would eclipse her personal record by eight minutes. But for Kunkel, the race is more about the journey than the destination.
"I love running and training," she said. "It gives me a way to channel my thoughts, deal with the pain when it shows up, and work through how I feel about everything and what it all means for my life."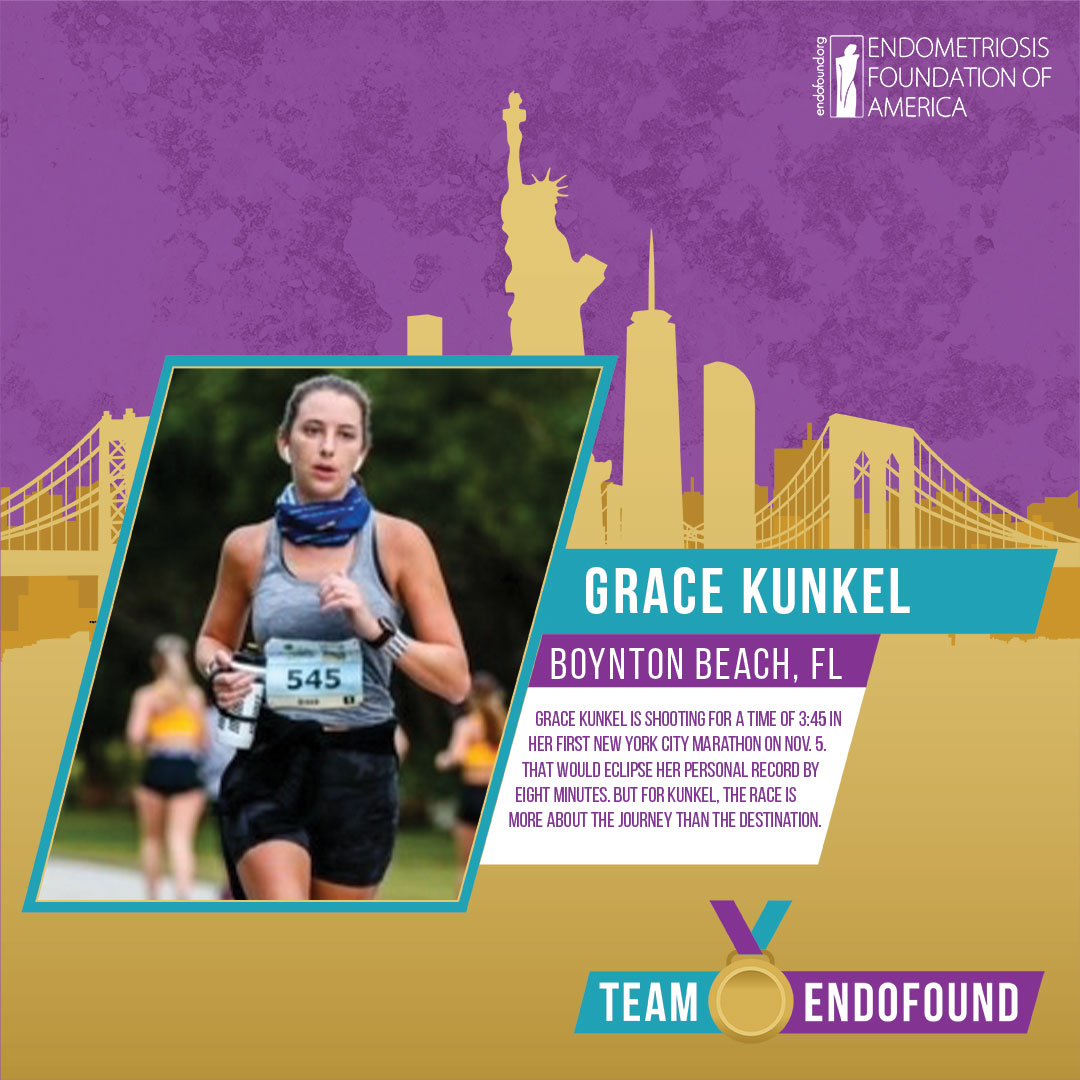 Click Here To Support Team EndoFound Runners
Kunkel, from Boynton Beach, Florida, is one of 51 marathoners from the US and Europe running for Team EndoStrong to raise over $200,000 for EndoFound. The race features more than 50,000 runners and covers 26.2 miles through the city's five boroughs. Each runner's goal is to secure $4,000 in donations. Kunkel leads the team thus far with nearly $6,000.
This will be Kunkel's fourth marathon overall. She joined Team EndoStrong to bring awareness to the disease that has affected her since she was a teenager.
"My symptoms were originally solely focused on my period. So when I felt pain, it was for the first day or two of my period, and that was it," said Kunkel, now 34. "It was excruciating, but because it was attached to my period, I just thought I had a rough time of it and that it was normal to take a day off work or skip school. I have high pain tolerance, so I just shouldered through and accepted that this was my lot in life."
While many women with endometriosis symptoms have to convince their doctors that they might have the disease, Kunkel's fertility doctor—who was also an endometriosis specialist—had to do the convincing. Kunkel began treatments with him in 2021 after she couldn't get pregnant on her own.
"The first time I showed up to the clinic, he asked if I had pain with my periods, and I said no because I really thought my pain was normal," Kunkel said. "It wasn't until my treatments failed that he asked me again if I had pain with my periods. This time I said, 'Yes, but everyone does.' He convinced me that wasn't true. That's when I learned that another symptom of endo is infertility, and he suggested I have surgery."
Kunkel said she knew what endometriosis was before her doctor mentioned it. She'd heard stories from her friends who had it and celebrities like actress Lena Dunham.
"But their symptoms always seemed to be in terms of constant pain. I didn't connect it to myself because my pain was so tied to my periods," Kunkel said. "It wasn't until my doctor brought it up that I realized it comes in so many different forms."
Kunkel had surgery in March 2021.
"They found stage IV endo everywhere," she said. "It was all over my reproductive organs, in my pelvis, on my bladder. It was covering everything."
Six months after surgery, she got pregnant through IVF treatments.
"And my little baby girl turned one in May," she said.
Kunkel said she feels "okay" physically today. She felt much better after surgery and through her pregnancy, but after she had her baby, her periods returned and were extremely heavy and painful.
"I had surgery again in March of this year, and it's been a little bit better," she said. "The endo wasn't as widespread this time, but it was back on my ovaries and bladder."
She recently began IVF treatments again to try to have another baby, but she's taking a break from them for the next few months to train for the marathon.
"I've had a dream of running the New York City Marathon for many years, probably a decade at this point, but I've been rejected six times from the lottery they hold each year," she said. "I decided to look through the charity partners and saw that EndoFound was one. I thought this would be a wonderful way to run my first marathon since being diagnosed."
She's training hard but also being careful with her body.
"Having run three marathons, I typically take those first couple days of my period off and don't run at all," she said. "I'm super kind to myself and super gentle with myself."
Though Kunkel lived in New York City for just one summer many years ago, the marathon will be somewhat of a homecoming for her.
"I've spent so much time visiting there and have so many friends and family who live there," she said. "My parents are there. Both of my sisters are there. I can't imagine what it will be like running through the streets of New York with all those people there cheering for me. It's going to be exciting."
To contribute to Grace Kunkel's New York City Marathon run for EndoFound, visit https://give.endofound.org/fundraiser/4741184.
Want to run for Team EndoFound? EndoFound is looking for one more runner. Please apply here and/or contact Clare Murphy at Clare@endofound.org.