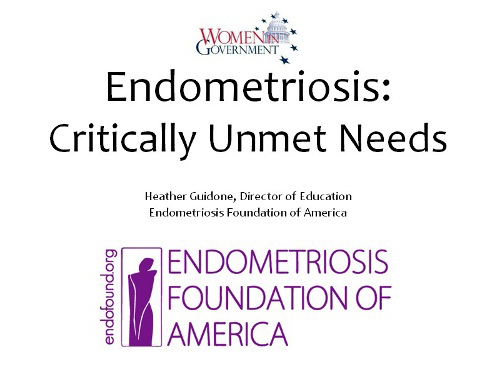 2nd Annual Women in Government's Healthcare Summit Features Endometriosis Foundation of America's Director of Education, Heather Guidone
"Endometriosis: Impact on Women's Health" featured as Keynote Panel Heather Guidone, the Director of Education for the Endometriosis Foundation of America (EFA), and Lone Hummelshoj, Chief Executive, World Endometriosis Research Foundation. Ms. Guidone and Ms. Hummelshoj were invited speakers this week at the Women In Government's Second Annual Healthcare Summit in Washington, DC.
Among attendees present were over 100 legislators from every state in the country and dozens of invited healthcare leaders. Guidone represented EFA, founded in 2009 by the Emmy-nominated Host of Bravo's Emmy-winning show, Top Chef, Padma Lakshmi, and world renowned advanced laparoendoscopic surgeon and endometriosis expert Tamer Seckin, MD to raise awareness and address critical shortcomings in the disease landscape on behalf of the 8.5 million North American women and girls who suffer, often unnecessarily, from the disease. Guidone and Hummelshoj co-presented in a session on Thursday entitled, "Raising Awareness of Endometriosis & Its Impact on Women's Health".
Ms. Guidone presented on critical shortcomings in research, education, awareness and treatment of the disease, addressing reimbursement issues, healthcare coverage disparities and much more in an attempt to elevate the disease at the policymaker level. "Our legislative focus must be to improve timely diagnosis and effective intervention for all women and adolescents who may be affected by endometriosis," said Guidone. The comprehensive three-day event covered a wide range of issues including women's health, diabetes, cardiovascular health, vaccine safety, hospital safety and security, the role of community pharmacies, healthcare reform, and more. Panelists featuring nationally known expert speakers discussed important issues relative to women's health, with an emphasis on what state policymakers can do to improve the lives of their constituents. It is the first year endometriosis has been addressed by the legislature.
EFA focuses on early intervention through public education, novel research and legislative advocacy, and promotes minimally invasive excision surgery as gold standard treatment for the disease.
For more information, please visit www.endofound.org.
please contact:
Mary Kaye Daniels
B|W|R Public Relations
292 Madison Ave., 9th Floor
New York, NY 10017
P: 212.901.3937