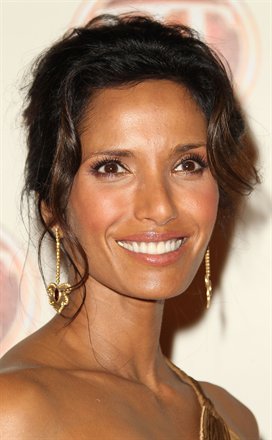 --By Tyra
She speaks multiple languages, wrote two cookbooks, is an actress, a model, an Emmy-Award winning reality show host of one of my favorite shows,
Top Chef
, and she's a mom. Oh, and did I forget to mention that she's stunningly beautiful?
All of those qualities are certainly impressive, but they're not what is
most
inspiring about Padma Lakshmi to me. Of all her accomplishments, I admire the fact that Padma is so serious about one focus - her work to help women with
endometriosis
, a disease that she experienced first hand.
Endometriosis
occurs when the uterus can't get rid of its lining each month as it normally would when you get your period, and that excess tissue then develops in other parts of your body, causing all kinds of severe pain. We're talking beyond "killer cramps"-endometriosis can cause serious symptoms like pain during sexual activity and problems going to the bathroom, just to name a few. It affects 10% of all women and is said to be the leading cause of infertility.
But instead of complaining when she was diagnosed with
endometriosis
, she did something about it! This isn't a woman who is meek and mild, fam! She's a survivor. A car accident at 14 left her with a fractured hip, shattered upper arm, and the scar that she now so boldly boasts with her beautiful figure. Four years later, Padma was discovered by a modeling agent at age 18 while she was studying in Spain, and she went on to become one of the first Indian models to have a career in the fashion capitals of New York, Milan and Paris, where we first modeled together and became fast friends.
That same drive that made Padma so impressive even back then gave her the determination to make other women's lives easier when it came to dealing with
endometriosis
. After finding out that she had endometriosis, and learning about the importance of early detection, Padma co-founded the
Endometriosis
Foundation of America in 2009 to raise awareness and help fund research to find a solution. She's doing her part to make sure other women have the information they need to do what's best for their health. And whether she's speaking about endometriosis on television or she's talking about it while we're all kicking it together at her home, she speaks with the same passion and conviction.
A lot of celebrities support causes, and let's admit it, some latch onto whatever's the most popular at the moment just to be a part of the conversation. That's why I love to see and support women like Padma who are so passionate about their projects because they relate so closely to their own experiences. And talking about infertility, or diseases that could potentially lead to infertility like endometriosis, isn't easy for women. A lot of times we feel embarrassed or like we're some sort of disappointment, although it completely is
not
our fault. Or worse we just quietly suffer through it. Having someone like Padma out front to spread the word and share her own experience allows women and girls to know not only that they are not to blame, but that they should feel empowered to demand the help they need.
Empowering and inspiring women and girls-nothing is more beautiful than that.
What woman is most inspirational in your life? In what ways do you hope to inspire others?
Fierce & love,