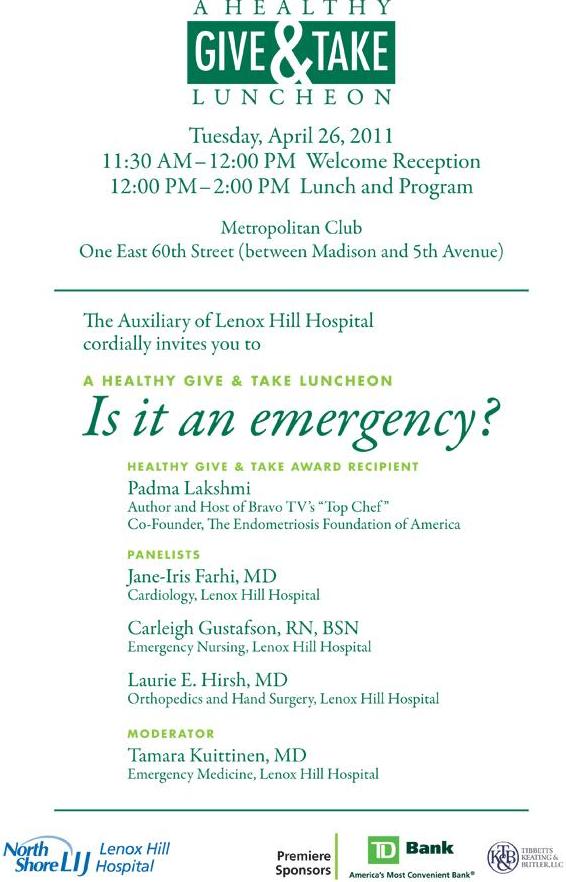 EFA Co-Founder Padma Lakshmi received the 2011 "Healthy Give & Take" Award at the annual North Shore LIJ/Lenox Hill Hospital "Healthy Give & Take" Luncheon held April 26, 2011 at the Metropolitan Club in New York City. Ms. Lakshmi was recognized for her pivotal role in the Foundation's endeavors and her tireless passion in raising critical awareness about
endometriosis
and women's health issues. She accepted the award on behalf of her mother, a Nurse, and her Co-Founder, Dr. Tamer Seckin.
Known internationally as an actress, food expert, supermodel, savvy businesswoman, style icon, designer of her namesake jewelry line, the face of Pantene's Nature Fusion line, creator of the Easy Exotic culinary line, award-winning author, and host of Bravo's Emmy award-winning Top Chef, Ms. Lakshmi herself suffered for decades from
endometriosis
. She courageously took her own struggles public in order to help others and serves as an inspiring advocate for increased disease research, education and awareness.
Now in its thirteenth year, the theme of this year's annual event was "Is it an Emergency?" Highlighting important situations to consider before visiting the emergency department, Jane-Iris Farhi, MD, a Cardiologist, Carleigh Gustafson, RN, Director of Nursing for the Emergency Department and Laurie Hirsh, MD, an Orthopedic Surgeon, brought insider's perspectives to the processing and care inside the emergency room. The event was moderated by Tamara Kuittinen, MD, Attending Physician of the Department of Emergency Medicine. Discussions and educational presentations by the panel of experts ranged from abdominal pain to heart health, and focused on the importance of partnering with one's physician to ensure proper communication. A lively Q & A session between the panel members and audience of more than two hundred attendees followed. Proceeds from the event, sponsored by TD Bank and Tibbetts Keating & Butler LLC, will support an array of outstanding services at Lenox Hill Hospital that promote the health of women and their families.
Congratulations to Lenox Hill Hospital and the esteemed panelists for a highly successful event, and to Ms. Lakshmi on her richly-deserved recognition.