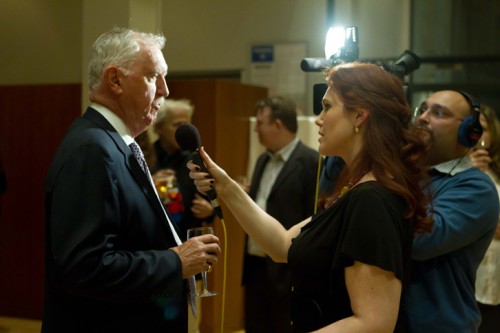 The Endometriosis Foundation of America is a nonprofit organization focused on fighting against the devastating effects of a disease that affects millions of women and adolescent girls. Through increased awareness, education, research and legislative advocacy, the EFA is committed to improving affected individuals' lives by early detection and treatment.

One of the research goals of the foundation is to create a tissue bank to address the many unanswered questions about why endometriosis occurs. Similarly, Lenox Hill Hospital Department of Pathology is planning for a tissue procurement facility to be launched over the next two years in coordination with the Feinstein Institute of Medical Research in the North Shore/LIJ Health System to procure and process human tissue and other biospecimens for research purposes.
EFA's holiday event at the Morgan Library was a celebration to support this important research initiative. The foundation announced it will provide the initial seed money to create a tissue bank repository to better understand the causes and effects of endometriosis, a disease that affects over 176 million women world-wide.

The co-founders hosting the event, Tamer Seckin, MD and international celebrity host, Padma Lakshmi, also included angelic like performances from Harolyn Blackwell, renown opera singer, and the Brooklyn Youth Chorus. More than 150 important guests gathered from the medical community and those interested in learning more about the disease to celebrate this very important announcement. To view more pictures from our event visit
www.facebook.com/endofound and to see our interviews
visit //vimeo.com/groups/endofound.