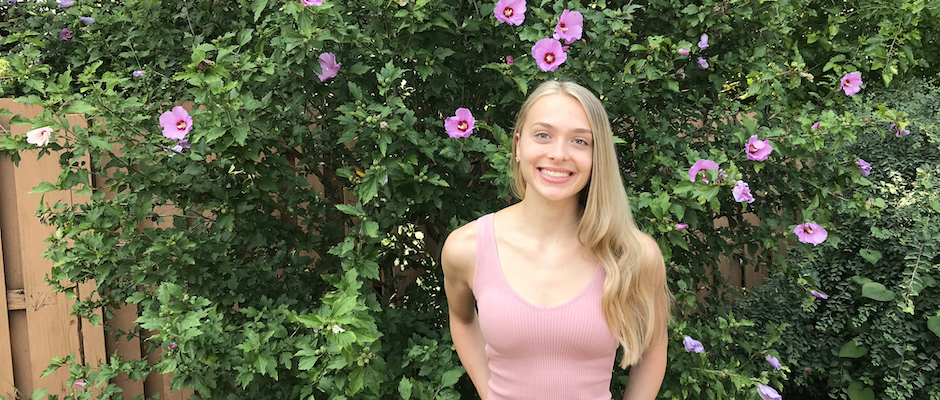 My battle with endometriosis has challenged both my body and mind in many ways. The pain and discomfort I experienced over the last 10 years has been equally taxing on my body as it has been frustrating to not have a definitive diagnosis. My symptoms immediately started when I hit puberty around 12-13 years-old. I started bleeding and it just did not stop. I would bleed for weeks to months on end. Surprisingly, when I was younger, my constant bleeding was not accompanied by any pain at first. The first few times I saw doctors for my never-ending periods, I was told that it was likely since I was young, and my body needed to "work itself out." However, my body was never able to work itself out on its own; heavy bleeding, large clots, and feeling weak or faint was my norm.
At 14, I was prescribed my first birth control pill in hopes that it would regulate my cycles. The pill was able to stop my periods, however when I began the first round of placebo pills, I experienced the worst pain of my life. While the pill stopped my constant bleeding, it caused a massive blood clot to form. I switched from the pill with hormones to the placebo and it signaled for my body to have a period, which is what it's supposed to do. But that meant I had to pass the blood clot that I did not know was there. The pain set in while I was at school. My stomach was cramping, and I was doubled over in excruciating pain. To this day I do not know how I was able to make it through the school day, but when I got home, I ran into my house, up to the bathroom, and I passed a massive blood clot. It was the most blood I had ever seen in my life. After losing so much blood, I discontinued use of that birth control pill.
This incident marked the start of my regular and persistent pain. Not only cramping and back pain with heavy bleeding, but also pain during the few days when I was not bleeding. I continued into high school managing my endometriosis on my own – no medication, doubling up on period products, and sleeping with a heating pad every night. My senior year of high school, I decided my pain and heavy bleeding was becoming overwhelming. I started seeing doctors for it again and was put on a different birth control pill. I hoped it would be different than my experience with the first pill I tried, but it wasn't.
During the first month of pills when I switched to the placebo, I woke up with the same excruciating pain again. It was 2 AM and I had my whole family awake as I cried in the fetal position on my living room floor. I went to the emergency room and when I got there the pain was unbearable, I was sweating, and my blood pressure was high. I was given pain medication but I already knew what was coming. I was about to pass a massive blood clot again. I tried to tell the nurse that I was about to get blood everywhere, but she said, no you are good, there is nothing on the bed. I told my mom I needed to get into a bathroom. She went in with me and I passed two large clots, both the size of baseballs. I couldn't believe it had happened again. I was a mess and crying, but luckily, as soon as the clots passed the pain decreased substantially. My mom walked me back to the hospital bed and we tried to explain what had just happened in the bathroom. To this day I'm not sure if the nurse or doctor that night understood the size of clots and the amount of blood that came out. I was discharged and discontinued the pill once again.
In college, I continued managing my endometriosis on my own by using heating pads and over the counter pain medication. The heavy bleeding, clots, and debilitating pain made it hard to go to class some days, and if I did make it there, it felt almost impossible to have to sit in class for more than fifteen minutes. My junior year I tried to seek out help again. I went to a new doctor. I explained my symptoms and pain for probably twenty minutes. The doctor's first response was, "Jenna, do you have a boyfriend?" I was enraged. This doctor did not believe what I was telling him. He thought I was a young, sexually-active college student trying to get birth control. Meanwhile, I did not want birth control because of what it had done to my body in the past! I never went to see that physician again.
Instead, I went to see my mother's doctor. When I began to see this doctor and explain my history, he was the first one to suggest the possibility of endometriosis. But of course, he explained that getting an endometriosis diagnosis was impossible unless I had surgery. So, he suggested a new management option: birth control injections. I got my first Depo Provera shot soon after. My experience with this option was not great. It didn't really relieve my pain or bleeding, and it actually made me really emotional. Once again, I discontinued this management option.
A few months later I found myself bleeding every single day. 10 days, then 30 days. Around day 60 of bleeding, I was able to see my mom's doctor again. He told me it was likely that different areas of my endometrium were at different phases of the menstrual cycle. As one section was shedding, others were building up, which caused different sections to shed on different days and subsequently explained why I was bleeding every day. I had to take another medication to stop the bleeding, but it was not birth control. I took it for about a week and it decreased the amount of bleeding for a couple months, but not for long.
In May of 2020, I graduated from college with a major in biology and a minor in chemistry and exercise science. I then decided to pursue my master's degree during the pandemic. While a tough time for the world, the pandemic provided me with the relief of taking my master's classes at home. I didn't have anxiety about being in pain and sitting in class. Instead, I could sit at home with my heating pad on my stomach and attend lectures from the comfort of my home. Hoping to go to medical school myself, I jumped on an opportunity to be an ultrasound model for medical students and residents. During the first ultrasound class, students were set to scan the heart and organs in the abdomen. When the doctor in the room was demonstrating what to do, he started scanning my abdomen and paused. He told me it looked like I had a large cyst on my left ovary. He then asked if I had noticed any pain recently in that area. I told him I had suspected endometriosis and any pain I had was just normal for me, so I didn't notice anything different.
I went to my own doctor and had a follow up ultrasound. My doctor told me the cyst looked to be an endometrioma and I needed surgery to remove it. I was referred to an endometriosis center in Pittsburgh where I met my surgeon for a consultation. He said he would perform a left ovarian cystectomy to remove the cyst on my ovary. He also explained we would remove any endometriosis and perform a presacral neurectomy to cut a nerve that supplied my uterus to try and greatly decrease the pain I felt daily.
Things moved quickly, and in February 2021 I had my first surgery for endometriosis. When I got out of surgery and woke up, my mom told me that my surgeon talked to her after the operation, and he said there was a lot of endometriosis in my pelvis. I immediately started crying when I heard those words. I finally felt heard. I felt believed. My surgeon listened to me, knew what I was experiencing, and confirmed my endometriosis diagnosis. To date, the operation is helping me GREATLY. No more daily bleeding or clotting, no more staying in bed all day, and no more daily pain. The care my surgeon provided me in February has truly been life changing.
During recovery, only weeks after my surgery, I found out I was accepted into medical school. I hope to be a physician similar to my surgeon—who knows, maybe I'll become an endometriosis excision specialist. I have definitely been considering it lately. I am so excited to start medical school this August and I am driven to help others with complex diagnoses. That's also the reason why I started my blog Honestly Endo, to reach out to others with endometriosis and chronic pain and provide support, awareness, and empowerment. I hope to carry the lessons and insights endometriosis has given me into medical school and in the future when treating patients during difficult times.
Jenna is from Pittsburgh, PA. She will start medical school at the University of Pittsburgh School of Medicine in August 2021. Jenna is a triplet and enjoys spending time with her two sisters, Nicolette and Kelly. She has been living with endometriosis for 10 years and recently started a blog about her life and experiences with endometriosis. Through her Instagram account @honestlyendo and website www.honestlyendo.com, Jenna hopes to connect with others who have endometriosis while telling her story.
---
Editor's note: Would you like to contribute to EndoStories? Click here to learn how to submit your work.
*Patient stories submitted to EndoFound.org are the views of the patient and not necessarily those of the foundation. All testimonials are from real patients, and may not reflect the typical patient's experience, and are not intended to represent or guarantee that anyone will achieve the same or similar results.