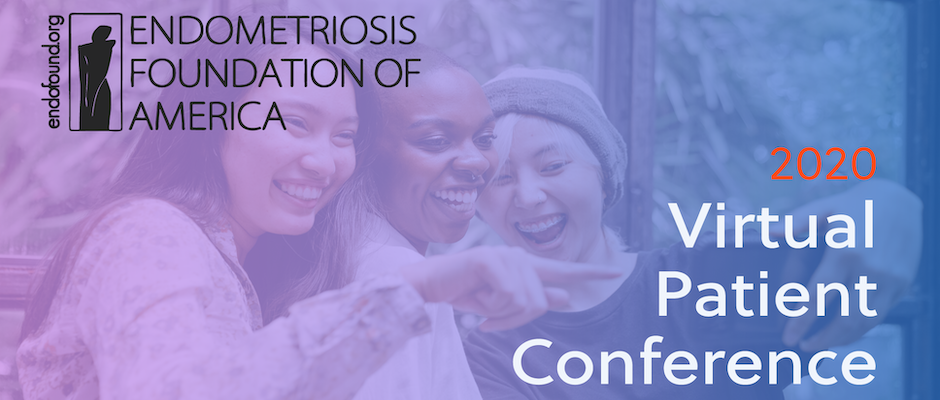 After kicking off on Friday, the virtual Patient Conference continued all weekend with engaging talks and Q+A sessions with endo experts. Saturday's sessions focused on supporting the body and the mind. Dr. Corinne Idzal centered attendees in the morning by talking about pelvic floor physical therapy and mindfulness. Participants were able to see how belly breathing can relax the body and had the chance to ask their burning questions (like, what is pelvic floor physical therapy all about, anyway?). Dietitian Lilia Bolgov continued the theme of supporting the mind and body, but focused on the ways in which we can support our guts with an anti-inflammatory diet. Attendees learned about the many benefits of an anti-inflammatory diet, including potentially reducing pain.
The second half of the day focused on supporting mental health by reminding us that we aren't alone in the battle against endometriosis. The Patient Advocacy Panel served to show that our experiences are not universal within the endo community, and that we can support each other in actionable ways.
Panelists had a robust discussion of their roles within the endo community and explained how intersectionality can impact the experiences we have as patients. Lauren Kornegay, founder of Endo Black and advocate for BIPOC women in the endo community, shared her experience after finally getting a diagnosis. "I went to a lot of support groups and always received negative responses that left me feeling sad about endo and being alone…[I was told] it doesn't matter if you're African American or Hispanic or Native American. It does." Samantha Denae shared that she wants to be the resource to endo patients that she wished she'd had. She speaks with students now to raise awareness about the disease and the diversity within the endo community. Les Henderson, founder of endoQueer, shared her harrowing diagnosis story and encouraged attendees to resist feeling isolated both for mental and physical health. "If I had listened to several OBGYNs, I would be dead. Reach out to someone, because you're not alone." Finally, Kylie Gomez told the story of a viral post she wrote about the experience of having a chronic illness in the workplace and left us all with a reminder: "Your doctor/parent/boyfriend/manager's comfortability and ego is never more important than your health." The conversation these women had during the advocacy panel was rich and hopefully the first of many more to come at future conferences.
The second day came to a close with the stories of McCall Huey, Dr. Deepa Barot, and Natalie Vavricka. All at different stages in life and in their endo journeys, they discussed their diagnoses and how they found their places within the community. It was a reminder that endo doesn't discriminate by age, something that Sunday's sessions would explore in depth.
Day three began with Dr. Laura Payne's discussion of mental health and pain tactics. She expanded on some of the themes mentioned by Dr. Idzal the day before but approached them from a clinical psychology perspective. Dr. Payne explained how the frame of mind we're in can actually impact pain levels. She then encouraged us to carve out five minutes every morning to practice breathing techniques, to learn more about cognitive behavioral therapy techniques, and to pinpoint the stressors in our lives in order to alleviate some of the biggest problem areas.
The largest portion of the day had a medical focus, starting with Dr. Rosanne Kho's session on endometriosis after hysterectomy/menopause. With several real-life patient examples, Dr. Kho demonstrated how endometriosis can affect people at all life stages, even after complete hysterectomies. Drs. Dan Martin and Michael Nimaroff continued in this vein when discussing endometriosis occurring outside the pelvis. After several compelling patient stories that were shared on Friday and Saturday, including Les Henderson's recollection of her endo-induced collapsed lungs, this session brought some clarity to the complexities of endometriosis throughout the body.
Dr. Adi Katz and Dr. Karli Goldstein brought this medical section home by explaining with visuals why endometriosis can be so difficult to diagnose. For instance, many endo patients don't experience the hallmark symptoms of painful periods and might be misdiagnosed for this reason. Dr. Katz encouraged any providers listening to let the patients talk and guide the diagnostic discussion. They concluded the session by encouraging patients to seek other opinions if a provider doesn't listen, to find support groups, and to consider physical therapy.
The conference came to a close with a moving session by Eva Haberg, who shared her own endo story while encouraging patients to continue advocating for themselves and seeking the happiness they deserve.
The virtual Patient Conference was a clear-cut success, bringing together nearly 1,000 attendees together from around the world. Though this year has been unpredictable for us all, the opportunity to come together as an endo community around the globe was unparalleled. Perhaps this will mark the start of a tradition— but here's to a future full of both virtual and in-person opportunities to learn about this disease and get strength from each other as we work toward a cure.
To help EndoFound continue to host free education programs like the Virtual Patient Conference, please consider donating today.