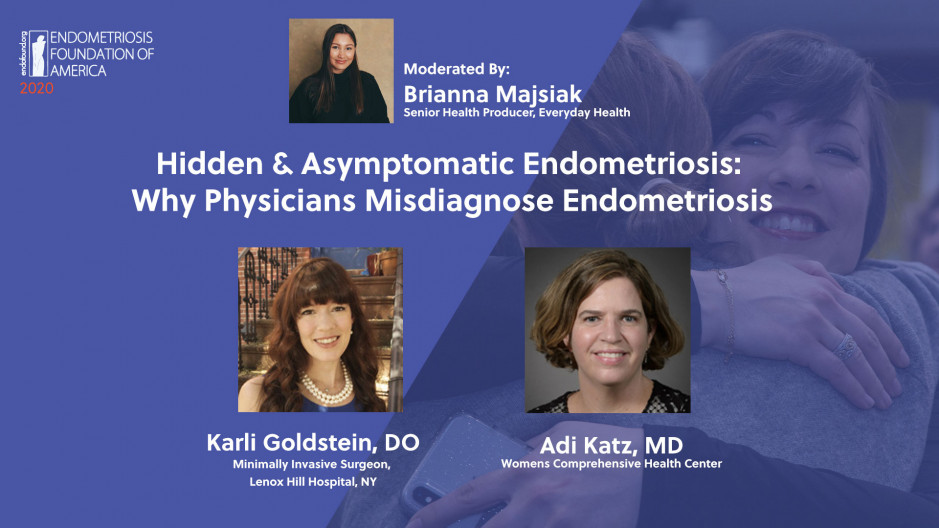 Endometriosis Foundation of America
Virtual Patient Conference, October 16-18, 2020
Hidden & Asymptomatic Endometriosis: Why Physicians Misdiagnose Endometriosis - Dr. Adi Katz, Dr. Goldstein
Hi, everyone. Thank you so much for tuning in today and joining us for the panel on hidden endo. My name is Brianna Majsiak. I am a senior health producer with Everyday Health, and I've been honored to interview dozens of women affected by endometriosis. Today, we are here with Dr. Karli Goldstein and Dr. Adi Katz. Dr. Goldstein, would you be able to tell us a little bit about yourself before we get started?
Dr. Goldstein:
Sure. I finished residency at Lenox Hill hospital in New York and trained for years under Dr. Tamer Seckin, who started the Endometriosis Foundation over 10 years ago. So I've had the privilege and honor to really work hard learning endometriosis surgery and minimally invasive gynecologic surgery, and that's what we dedicate our practice to.
Brianna Majsiak:
Wonderful. Dr. Adi Katz.
Dr. Katz:
Hi everybody. I did my residency at Long Island Jewish Medical Center, then I did a fellowship in minimally invasive gynecology with Dr. Ceana Nezhat in Atlanta. He is also an endometriosis specialist and does a lot of endometriosis surgery. Since that time I've been involved in endometriosis surgery, minimally invasive surgery, resident education, and I'm now located at Lenox Hill as the director of gynecology.
Brianna Majsiak:
Great, thank you both. So I'd love to kind of just get started talking about the seven to 10 year period of misdiagnosis that is so common in so many people's stories. So why does endometriosis have a seven to 10 year period of misdiagnosis and what exactly makes this such a hidden disease?
Dr. Goldstein:
Sure. I can start off, Dr. Katz, you can join in whenever you would like. I think that many times this disease has a lot of cross content into other areas of the pelvis, so with bowel disease and with bladder disease, and often patients have complaints of all different origins. Many women will have a lot of bowel symptoms with their period and may be misdiagnosed for years as just having irritable bowel syndrome or something like that. Many are told they have overactive bladder or interstitial cystitis, or a lot of other diagnosis for surrounding organs ,when in fact these things may be related to their menstrual period and may be endometriosis causing it.
So unfortunately, it's a little bit complex in the way that this presents. Many patients have a different presentation. Not everyone has heavy, painful periods. Som patients do, many patients do, but many have just ovulatory pain or just bowel symptoms. So unfortunately, when there's such a cross array of symptoms and where this disease can hit and locate, it makes it a little bit difficult for most people to nail down. I think there's a lot of misconceptions that very painful periods are normal and heavy bleeding is normal, or there may be a lot of things happening even unfortunately in the medical community that we're telling patients the wrong things, that this is normal, or if it was in their family, that was normal.
So unfortunately, there's a lot of sort of misdirection happening to find the right diagnosis in this case, in this disease. Unfortunately, not all endometriosis, a lot of it does not show up on imaging ahead of having surgery and the only way to truly diagnose it and have a real view of it is by looking at it on surgery and looking at it under the microscope. You can have a good idea ahead of time if someone has an ovarian cyst. So unfortunately, that makes it a little difficult too, is that you can't always find it. We find a lot of patients with early stage disease that nothing shows up on imaging, and so they're told for years nothing's wrong, you're okay, and that makes it very difficult.
Dr. Katz:
Yeah. I totally agree with dr. Goldstein. My mentor, Dr. Nezhat, used to say, it's like paint on the wall. Unless you're in the room, you can't see it because it's superficial. So you're not going to see the lesion on imaging unless there is at least half a centimeter lesion, and there's also no correlation between how many lesions you have and how much pain you have. It's a disease of inflammation and pain is different for everybody. So like Dr. Goldstein said, a lot of women think that this is normal. They had their periods this way, and they're not sure if what they're experiencing is normal or not normal. We also need to be more comfortable to talk about our symptoms and our pain and be open with our doctors and our family and just let them know what's going on.
Brianna Majsiak:
Great. You both touched on this about the imaging not always being a clear indicator and that paying attention to signs and symptoms. What kind of questions should a doctor be asking a patient in regards to symptoms and signs when looking for that diagnosis?
Dr. Katz:
So I think you just, first of all, is just let the patient speak. Just ask them to talk about what's going on. A lot of times they'll just come out and normal conversation when they're telling you about their everyday life, and then specifically try to correlate the symptoms with the periods. A lot of time in the beginning of the condition, it will be pain that starts a few days to a week before the period, lasts through the period, and then kind of tapers off. When you get into more persistent disease that's been present for a long time, patients may tell you that they only have a week or few days when they don't have symptoms, or they have symptoms all the time.
It's also about advocating for yourself and understanding that there's something that's not normal, and looking for those people who are really comfortable with dealing with endometriosis and managing it and helping you through the symptoms. It is a chronic condition, and it's something that you have to deal with over time and you will have to get the right support really, to have the right people in the corner to help you.
Dr. Goldstein:
I agree absolutely. I think that we have sort of a punch list of what we go through. I agree with Dr. Katz as well, that first off, listening to the story. Everyone sort of has a background with this and a story with this and the patients really know more about it than most of us, to be honest, and will tell you everything that you kind of need to know and where the disease is sitting based on how this happened. Many will tell you even what happened in their teenage years and what happened to them as a teenager, in comparison to the kids that they went to school with. They had to stay home or go to the nurse or couldn't manage. I agree with Dr. Katz that a lot of times this starts as something that's around a week, a month.
Then basically, over many years they have tried different therapies that worked temporarily, and then over time they stopped working and then they sort of have a sustained pain almost every day, or at least cyclical in origin and it's increasing. So we ask a lot of things around those other organs too, around ovulation pain, around the bladder, bowel symptoms, and if you have constipation with ovulation and loose stool with a period starting. There's a lot of different key questions and points that can target this. Some women may just have painful intercourse and that may be one of their only symptoms that's really bothersome and it's new and it's increasing and they think, maybe that's normal or maybe that's not right. Some patients may just have infertility as a symptom and miscarriage, and they've been trying for years and failing traditional therapies and IVF. Then when you actually go through this question list, they may have a couple of these things that they're just sort of suppressing and not even thinking about. So it takes a little bit of detective work and a lot of listening. I agree.
Brianna Majsiak:
Great. So it'll be that response from the patient will help you guide where exactly to look for the endometriosis in addition to symptoms and signs.
Dr. Goldstein:
Yeah, absolutely. Generally, when we're looking in the operating room, we'll look all over the pelvis, of course. We'll look at the upper abdomen, we'll do a general survey everywhere. We'll even look in the uterine cavity, but those symptoms really help. Typically, there is really target areas around exactly where they're speaking about and where those pain symptoms are, or that bowel dysfunction is happening or something's happening. So absolutely, it's definitely like a map, a roadmap if you will.
Dr. Katz:
Yeah, I totally agree.
Brianna Majsiak:
What do you use to increase visibility and detection of lesions?
Dr. Katz:
So I think with meticulous, unfortunately it's a surgical diagnosis, so with meticulous surgical technique, really looking everywhere, like Dr. Goldstein said. When we go in, I typically start by looking around the diaphragm, the liver, the upper abdomen, and only then do I go to the pelvis and then really zooming in and looking very closely in front of the uterus, behind the uterus, on the ligaments of the uterus, underneath the ovary. The lesions can be clear or they can be black, they can be white, they can look like scar tissue. So you really want a surgeon that is comfortable with endometriosis. It can also invade other tissue, so there's really benefit to somebody who does a lot of this type of surgery. I know there's also a technique where you can inject a dye behind the peritoneum, which is the clear coating of the pelvis. It's a thin cell layer where you can then see the lesions better, Dr. Seckin does this very beautifully, and help detect more lesions and remove more lesions.
Dr. Goldstein:
Absolutely. Brianna, I'm happy to show a couple pictures if you want to or whatever you want me to do on cue. But Dr. Seckin, he started this aqua blue dye contrast technique, which really is just a little bit of methylene blue actually, a couple of drops. It's a dye that's used in all kinds of surgery actually, in breast cancer surgery, in gyn oncology, all different types. It's just like a stain essentially, a blue stain. We use that and we dilute in three liters of saline and it helps to provide a contrast. You can pick up a lot of these subtle lesions that are only a millimeter to two millimeter, which, if you think about it, is really quite small. But Dr. Katz mentioned earlier, there's no correlation between the size of a lesion or nodule and how much pain it causes.
So we think that every single one of those one millimeter, two millimeter lesions is important. When you operate on someone that's very young, they have only small lesions, but they're in terrible pain and they have debilitating symptoms. So every single one of those guys is, in our mind, like a jackpot. You got it. So any technique that can help visualize that. Some surgeons are using a different type of dye, ICG green, and they're injecting it intravascularly in the blood, and then sometimes it lights up more of the blood supply. People have different techniques on how they isolate this, and it's really what you're comfortable with, and surgically, what gives you the best ability to really track all of these down and see them. That makes a huge difference. I agree absolutely that, when you look at this every day and you're in the OR, and even when you start the case, you see a certain amount of disease and you have a way of doing it.
We start in the upper abdomen as well, and systemically kind of start on the left, then go to the right. But it's funny when you do this dye and when you're staring at these legions for awhile, then I think it's a lot like stars, looking at the stars, too. You see three or four, then you see another one, then you see another one and suddenly you see seven or eight. Oh, I see one I missed before on the right. The more you're in there and staring, you can pick up more. Some of these are just very minute focused, and so it helps to really look at this all the time and see these kind of guys every day. Then you know that this is a white lesion, this is a chocolate lesion, this one is just the scar tissue around it that has a star like appearance.
All of that is important. The fibrosis and the inflammation around the lesions is as important and as painful or problem causing as the lesion itself. We can see that even on patients that are on hormone suppression that really suppresses the color of the lesion, it can turn it white and a little bit more difficult to distinguish, but you can usually still see the fibrosis, the scarring, or the depth of the lesion, the whiteness of it, and the thickness.
Brianna Majsiak:
Wow. Yeah, I think visuals would be great if it's not too much trouble.
Dr. Goldstein:
Yeah, sure. Let me just give you a couple examples. I tried to do things that are not too graphic, but just for everyone's viewing advice, this will show some graphic images. Okay. So this is some of the blue pictures. This is early stage lesions, and we can see here, I don't have a pointer, but you can see in some of this blood and lesion collection that actually there's a lot of little vessels and blood vessels that will go and surround. These can cause angiogenesis, actually new blood supply to these areas, and it helps them grow.
This is early stage lesions, and we can see what the pelvis kind of looks like in the top left. It has pink and vascularity, and so we use the blue to serve as a contrast so that there's not so much pink and redness and you may miss areas. This is a patient ... That's a little darker than it should be. Sorry, guys. It's a patient with infertility actually, that had nothing on imaging and was just failing multiple rounds of IVF and IUI. When we looked inside, she actually had tons of endometriosis. The problem was all of these lesions are less than half a centimeter in depth, and they won't pick up on MRI or any kind of imaging, but she had very subtle symptoms of painful intercourse and infertility. That was it, no other symptoms really, and she had quite a bit of disease.
This is another infertility patient as well, who had a quite amount of retrograde menstruation. We did the surgery on her period and we were able to see there was quite a bit of blood in her belly sitting there. If you look, you can see very deep nodules and areas here. Again, all of this was not on imaging, none of this picked up prior. This last one is a great case too. This is a post-menopausal woman of 14 years post-menopause, who still had terrible pain and painful intercourse. Wasn't able to have it. She was followed for years for a four centimeter fibroid in the uterus, and they said that was her only issue. Finally, she actually had this deeply infiltrating endometriosis and nodule. Once it was all removed, really has pain-free life right now, which is a big deal for someone that was told for 14 years, menopause cures it, you're good to go. So those are just a few little highlights I thought were interesting.
Brianna Majsiak:
Wow. Thank you for sharing that. Speaking of infertility and painful intercourse, what are other indications of asymptomatic endometriosis?
Dr. Katz:
I don't think it's asymptomatic. I think a lot of women just attribute the symptoms to something else or think that this is normal. Heavy bleeding, cramping, urinary frequency, bowel pain when you have your period, that's not normal for women, and it could indicate that there's something going on. It can progress to, I have patients who say, oh, I have shoulder pain every time I have my period, or I have pain under my ribs. This disease can spread in the stomach, in the peritoneal cavity, which goes under your lungs, and to where the rectum is, the bladder. So it can be anywhere there, and after that, it can also invade further into the lungs, into the lymph node. So I don't think it necessarily that there are women who are asymptomatic. Pain with sex is a symptom, heavy period is a symptom, but we tend to attribute it to other things. So like I said before, I really encourage everybody to talk about their symptoms, to talk to the doctor, to really try to figure out what's happening and to advocate for themselves.
Brianna Majsiak:
Awesome. Then one of my last questions, which I'm sure you are probably asked a lot, self-advocacy is so huge in this, but what advice would you give to patients who are in the midst of seeking a diagnosis or who are newly diagnosed?
Dr. Goldstein:
Sure. I think for patients that have this in mind and they think this may be what's happening, first, of course, like Dr. Katz said, going to your doctor and talking to about it. If you find that they're dismissive or don't really listen, or maybe they don't see so many patients with endometriosis, then there's always resources out there looking with the Foundation, Endometriosis Foundation, or finding other ways that you can find a specialist in your area or somewhere nearby. Or even we do a lot of Zoom consults for patients just to have an idea, then be able to get help afterwards if they think that this may be part of their diagnosis or part of the picture.
So there's also a lot of resources online now, a lot of support groups with different patients that even early on, I think that women are more educated, more aware about this, and they're finding more out on their own and even online communities before they even come to the office and have it in a supported environment. But hopefully, you're able to find a gynecologist in your area that at least is sympathetic and can listen. Then if they're not comfortable doing this or they don't really do this on a normal basis and your case is something beyond the scope or something where you require a specialist, then I think there's a lot of resources now online. We're trying to give more and more access.
Dr. Katz:
I also, after surgery or before surgery, I do encourage everybody to be in support groups, to talk about it, to consider pelvic floor physical therapy. That helps relax the muscles of the pelvis and does help with pain. So that's also something to consider. Also, acupuncture. So there's multiple modalities that you can use to improve your symptoms along with surgical management.
Brianna Majsiak:
Great. Thank you both so much. Thank you for your time today and thank you to everyone who is joining in.
Dr. Katz:
Thank you so much for having us.
Dr. Goldstein:
Thank you. Thanks, Brianna, for hosting.