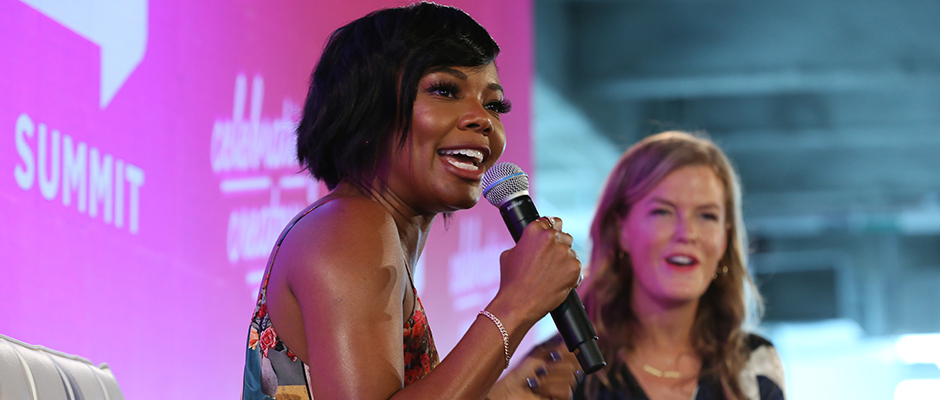 credit: Mark Von Holden for SheKnows
Actress Gabrielle Union got candid about her reproductive health struggles at the #BlogHer2018 Creators Summit conference in NYC on Aug. 8.
The We're Going To Need More Wine author, 45, who has long been open about her mystery infertility and IVF failures with her NBA player husband, Dwyane Wade, explained that she recently found out the truth behind it all.
"The reality is, I have adenomyosis," Union explained to an audience of female bloggers and entrepreneurs. "There is nothing you can do about adenomyosis."
Adenomyosis is endometriosis strictly of the uterus. It occurs when endometrial tissue, the same tissue that normally lines the uterus, grows into the muscular wall of the uterus. It causes incapacitating period pain and pelvic pain as well as heavy bleeding and infertility. If a patient chooses, a hysterectomy may be a last resort to treat the condition.
"The gag is, I had it in my early 20s, and instead of someone diagnosing me they were like, 'Oh you have periods that last nine or ten days, and you're bleeding through overnight pads?" But Union's caretakers didn't investigate further and instead turned to palliative treatment: birth control pills.
"Every doctor I saw was like, 'Let me put you on birth control.' Right? The catch-all? Note: if you are on birth control for anything other than birth control, to address or treat any sort of period issue you are not actually treating or addressing a period or reproductive issue. You are masking it," she said. "The pill can mask all kinds of things. It is amazing at preventing pregnancy; not so great with addressing adenomyosis."
Union hinted that her battle with the condition might mean the end of her trying to get pregnant, saying that she's reached the "end of my fertility journey."
During a heartfelt July sitdown with Dr. Oz, Union admitted that since marrying Wade in 2014, she has suffered "eight or nine" miscarriages to date.
RELATED: Gabrielle Union Opens Up About Infertility on Dr. Oz
"The first one was the most brutal because we told people and we were so excited, and you dream of this moment and those dreams were just crushed. And then [the miscarriages] just happened in rapid succession over the next few years."
But Union is bravely marching on, making sure that by spreading the word about the disease, she can help other women better advocate for themselves in their doctor offices and hopefully more quickly learn whether or not they share the same diagnosis.
"Just know if you are out there having fertility issues," she shares, "you are not alone."
"Fertility is not an older women's issue. It's an issue, period."
Union joins a growing number of celebrities who have bravely spoken up about their battles with reproductive disorders including EndoFound Co-founder Padma Lakshmi, actress and EndoFound boardmember Lena Dunham, singer Halsey, actress Tia Mowry and Real Housewives of New York star Bethenny Frankel.